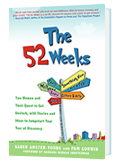 We are so excited! Gretchen Rubin, author of The Happiness Project,  read an advance copy of our book and said…
"We all want lives packed with both fun and fulfillment. With its humor, honesty, and great insight, The 52 Weeks is a terrific resource for anyone who wants to get unstuck."
Wow. This, from the woman that the New York Times dubbed "the queen of the self-help memoir!" We're honored.
Many other galley copies of The 52 Weeks are now out there! It's an industry thing: our publisher (and sometimes us!) distribute advance galley copies to select authors, media and others.
It's pretty nerve wracking.
The 52 Weeks is all about getting out of your comfort zone and even just sending these galleys out was way, way out of our comfort zones! We are trying not to think about it but it's hard not too. Would our early readers enjoy it? Would they "get it"? Were they carrying it around or was it buried under a pile of mail? Would they relate to our stories and understand how we felt? So, here we are, waiting and hoping others also believe our book has some real little gems inside, great advice from the real experts and has value for the millions of women out there who feel "stuck" sometimes. We'll keep you posted on any other early comments! In the meantime, THANK YOU Gretchen for being the first to jump in. You helped us let out a  deep breath and forge ahead.
More soon, Pam and Karen

Leave a Comment (2)

Posted: 08/22/13 10:43 AM