Sometimes you have to shake it up to get "unstuck." Summer is a great time to try new things. So break out of your comfort zone and try something new, even if it's seemingly small or insignificant. In fact, doing one new thing often leads to another. Did we mention that More magazine recently asked us at the 52 Weeks for our suggestions to include in a feature article about how making one small change can make a difference in your life?  We loved working with them and submitted many ideas – some adrenaline inducing, some not. And which of our ideas did they choose to include in their June article?
"Smile. The physical act can trick your brain's neurotransmitters into thinking you're happy!"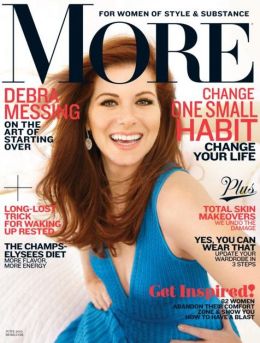 Out of all the more adventurous ideas we submitted, we found their choice amusing. But hey, experts say it works! Here's our list of 52 New Things to Try. We left the smile advice only on More magazine's list for now! What are you trying this summer?
Go on a horseback ride
Take up Saori Weaving
 Do a tandem dive
 Buy a lottery ticket
 Go skinny dipping
Decoupage an old piece of furniture
Eat something you've never tried before
Read a classic novel
Swim with dolphins
Learn a romance language
Travel cross country
Make out with a stranger
Take surfing lessons
Enjoy a candle-lit dinner with your kids
Go paragliding
Mentor someone
If you're always at the farm stand buying veggies, plant your own instead
Take a nude drawing class
Donate your home or time to the Fresh Air Fund
Get your caricature done by a street artist
Become a pen pal to an overseas soldier
Have a photographer take some hot photos of you
See one of the 7 wonders of the world
Watch a meteor shower
Ride a mechanical bull
Play strip poker
Throw a surprise party
Enroll in an improv or storytelling class
Go for a dance lesson
Patent an invention
Write your memoir
Schedule time with parents or grandparents and record the conversations
Learn everything there is to know about every flower you see
Take a flying lesson
Do a random act of kindness
Learn how to drive a "stick shift" car
Do nothing
Go whale watching
Fill and bury a time capsule
Go topless at a nude beach
Give a compliment to someone you don't like
Fall in love
Write a book
Make a picnic by a pond or a lake
Paint a room
Book a cruise, a cooking tour, a bike tour, any tour
Try scuba diving
Get banned from somewhere
Build a bonfire in your backyard and roast s'mores
Get on a train and go somewhere new. Don't map it out.
Eat kimchi
Learn how to play Texas Hold 'Em
Look for our book this fall inspired by our blog! You can now pre-order from any of the booksellers listed below:
Amazon, Barnes and Noble, Goodreads, IndieBound

Leave a Comment (1)

Posted: 06/19/13 11:31 AM