It's Our Anniversary! A year ago we officially got a book deal!
Yes, we know it's been a while since we've updated you or even wrote about anything going on.
So where have we been?
Well, it started with our blog, the52weeks.com. It launched many, many weeks ago in July 2010.
That's when, for 52 weeks, we tried to do something new, different or something we were afraid to do every week for a year and write about it because we felt we'd lost momentum.  Sometimes we succeeded. Sometimes we didn't. But we tried.
Somewhere along the way we decided we wanted to share our story and lessons with others.
We wrote a book proposal. It took a while. We had no idea what we were doing! We finished sometime around February 2012.
We knew we needed experts to help us tell women how to get going again. We called, e-mailed, and reached out to some great contributors for the book.
And then it happened. About a year ago – almost to the day, Memorial Day 2012, we received an email from Skyhorse Publishing. They wanted to publish our book. Pretty cool.
In the end, Over 20 great experts came on board including Lisa Lillien, best selling author and creator of the Hungry Girl brand; top author and journalist Helen Fisher, PhD;  Joi Gordon, CEO of Dress for Success, and many more authors, doctors, artists, therapists and even a comedian and a poker diva!
Then we got an amazing agent, Jessica Papin (yes, in that order).
Then we wrote a book — all year and then some.
So why have we been MIA?
Well, even though our blog was all about getting out there more and getting "unstuck", we ended up, ironically, at home, glued to our computers, writing the book!
But it was a good kind of "stuck".
So what have we been doing lately?
Editing, editing, editing and more editing. We've been reading, re-reading, and fact-checking. This publishing world is a whole new thing for us. Talk about trying something new and getting out of our comfort zones!
And now we can formally announce that The 52 Weeks, the book, is available for pre-order from these sites.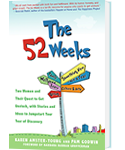 Amazon
The book is inspired by our blog but it is really a companion for getting unstuck. The 52 Weeks is filled with many of our challenges and great moments. Ultimately though, the book turned out to be less of a memoir and more a blueprint for getting out there and creating your own "attainable adventure", with a large helping of how-to advice from our top experts and contributors.
We hope you will continue to look for news from us and spread the word. Our blog will be re-launched later this summer as a companion for the book. We hope our book inspires you and gets you going – whatever it is you want to do or achieve.  Have a great summer and see you soon!
Karen and Pam

Leave a Comment (1)

Posted: 05/30/13 11:35 AM