This is a guest post by Jackie Moffett. She is funny, smart, a former PR maven and an amazing writer. Most important, she is a wife, mother, daughter, sister and a great friend. We reached out to Jackie to write for the52weeks.com after months of following her inspiring journey helping Hurricane Sandy victims. We are including Jackie's story in our book. Karen and Jackie met in high school where they definitely spent more time at football games than giving back. Jackie lives in New York City with her husband, two boys, and her dog Tilly.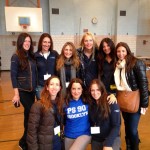 Yesterday I gave $1000 to a woman who lived in a cave.  That was what she told me, in a Russian accent, across a card table set up in a chilly Coney Island elementary school cafeteria: "I live in cave." She meant her home, dark and wet, a home like many others in this Brooklyn seaside town, ravaged by Hurricane Sandy.  The storm had broken through seawalls, barreled through houses and submerged every vehicle.  Five feet of water stood on Ocean Parkway, the town's main thoroughfare. Every sub-let basement, home to countless poor families with multiple children, was flooded and powerless, as was the supermarket, hospital and nursing home.  Price gouging abounded — $10 for milk –- and utility trucks sat idle as bureaucrats fought over provenance, while babies slept on cold floors in the chill of November nights, mattresses soaked, damp blankets rendered useless.
This Russian woman, one of many queued up on a winter day to receive a donation from a rich man who also once lost almost everything precious, spoke to me because I was a volunteer for the Cantor Fitzgerald Hurricane Sandy Family Support Program. I handed her a $1000 gift card from my card table stack and tried to look her in the eye but she would not meet my gaze.  After three months volunteering in Sandy's aftermath, I had come to expect this. Often, the people who needed money most were most loath to accept it.  Because the storm took so much, they held on to their pride like a life raft and maintained a death-claw clutch on their dignity.  The storm took everything, their averted eyes said. Please allow me this.  And so I did.
How I got to meet that woman and give away ten million dollars is a good story, a story of great tragedy and a story of recovery.  In other words, it's a quintessential New York story.  It began with Howard Lutnick.  Howard Lutnick is a famous New Yorker, a man best known for being the CEO of Cantor Fitzgerald during the 9/11 attacks on the World Trade Center, the company that lost 658 employees; among them Howard's brother and best friend.  In the wake of 9/11, Howard, his wife, Allison, and his sister, Edie mobilized to take care of every family member left behind, in every way necessary.  Their effort came to be called the Cantor Fitzgerald Relief Fund. And 11 years later, almost as soon Sandy came ashore, the Fund was expanded to include New Yorkers and New Jersey-ites affected by the hurricane.
In early November, Allison sent an email asking her girlfriends to meet in the Cantor Fitzgerald conference room, located in midtown Manhattan. I arrived to see 15 or so other close friends and acquaintances.  Usually we met over lunch or drinks and talked about things like kids, husbands, schools and basic parenting stuff.  But today the conversation was of floating bodies and raging fires.  It was the same day we learned the fate of two missing toddlers in Staten Island.  Their mother had been trying to flee during the storm surge and lost her grip on her children's hands as she tried to get them in her car. Their bodies were found in a gully at the end of the road. They  were two and four years old.
So there we were.  Mothers of 40+ children collectively. I, myself, had not been in a conference room for eight years and I felt totally out of my comfort zone. I think the same was true for a lot of us.  Around that table sat former power players from finance, law, media, PR, advertising, fashion, and real estate and though our conference table days were long behind us, this brain trust showed no signs of rust or weakness.  We were lionesses, all. In the days to come we would hold each other and weep witnessing the storm's carnage, but today we were strong and the urge to help was palpable.  Now we just needed a plan.
Allison ran the meeting with Howard beside her.  The mandate, she said, was that Cantor Fitzgerald wanted to give $1 million to ten hardest-hit communities in NY and NJ.  Our charge was to figure out which communities should benefit and how to give the money away. Immediately, suggestions flew in from all sides.  There were lots of ideas and lots of roadblocks.  And so it went until, Howard spoke. "This is what I want," he said. "I want to give money to parents with children who lost a lot.  I don't want to be paternalistic and tell them how to spend it.  I just want to put the money in their hands and say, 'Here.  I hope this helps.  And that's it.'"  The room was quiet.
It sounded too simple to work.  Maybe I had been away from the corporate world too long and didn't remember how plans like this pushed through.  I knew that becoming a mother had made me more fearful of things.  Moreover, the practical part of me did not believe that such a simple proposition would succeed.  I could think of countless reasons why this would fail.  And I knew others felt similarly.  But what I came to learn is that in a storm, where everything is upended, safe and practical do not fly. And so I let go.  I believed that the plan would work.  I believed that a small group of my friends could take on the biggest hurricane to date and help people we had never met in towns we had never been.  Because it seems that conviction, mixed with a little bit of New York chutzpah, is as powerful as any storm.
Two days later I was in Coney Island, Brooklyn, with four friends, Councilman Domenic Recchia and a plan to distribute $1000 money cards at local elementary schools.  Domenic, a big lug of a guy, was our ambassador, and someone who had a kind word of encouragement for every passerby.  We walked with him through still-powerless, sand logged neighborhood streets to a parking lot.  The lot had been transformed to an open-air marketplace flanked by FEMA trucks, generators and Red Cross stations.  It was more akin to a Third World displacement camp than to the streets of Brooklyn. Hundreds of people queued for miles; huddled in whatever dry clothes they still had waiting for a donated blanket or bread. "What they really want is bleach," Domenic told us. "Because of the mold inside their houses."  We had seen these houses earlier with their regurgitated candy-colored insulation strewn about front yards; their interiors gutted to skeletal wooden support beams. "You mean people are staying in these homes?" we asked incredulously.  And as he bounded off to shake yet another hand, he answered us over his shoulder.  "Yeah, they're staying.  They have no where else to go."
Coney Island became one of our ten communities. In short order, the roles each of us would assume emerged and as news of our efforts spread, our volunteer numbers grew.  So did we, becoming increasingly adept at managing the process of list gathering and money distribution. We became principal liaisons, translators, greeters and problem solvers.  We gathered often in that conference room again and again, bonding over the shared drive to help, and learning as we went.  We learned to wear fingerless gloves to turn pages of names while we stood in the cold.  We brought candy for the children forced to wait in long lines and coffee for their mothers. And we learned not to expect eye contact.
Many of the people who came up to my card table asked to meet the Lutnicks, who worked at every distribution. They wanted to give them carefully chosen thank you cards, or just shake their hands.  One woman came with a Con Ed bill for $1000, attributable to the space heaters bought to keep her children warm in a house without heat.  She cried as she asked to please meet Howard Lutnick, wanting to acknowledge the gift and the giver.
The storm knocked things down and out and made the powerless even more so.  It has been heartbreaking to watch and life-affirming to participate.  Helping people has made me stronger than ever and solidified bonds with my friends.  For all of us, Sandy was personal. The storm didn't hit other people: it hit our people. There were 19 schools in all and nearly five months later, we aren't finished giving the money away because of snow delays.  I will be happy when we are finished because we will have helped so many but sad not to have the camaraderie and the sense of making a difference.  And to those who didn't meet my eye, not to worry: I still have your back.

Leave a Comment (3)

Posted: 03/17/13 4:42 AM