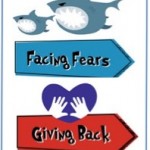 Unless someone like you cares a whole awful lot, nothing's going to get better. It's not. — Dr. Seuss's The Lorax
I am trying to write, trying to work on my book today and I can't. I  can't stop thinking about how many people have been impacted by this horrible storm. The news coverage is incessant. The city is now two cities: the people downtown, still in the dark and truly miserable and the people (me) uptown – generally unscathed but still tense and worried and still impacted by all going on: short tempers, long gas lines, family and friends without power, heat or patience. My mind kept wandering and I started thinking about ways to be helpful in some small way — any way — after the storm. I was also still mad that it took until 5 p.m. to cancel this Sunday's Marathon. Hello? Were there really brains in a room, wasting energy, and discussing it? Earlier, a good friend of mine called, frustrated and exhausted. She is on her fourth day of no power and running around looking for a generator at every Home Depot in the tri-state area. "There is a Nor'easter coming next week," she told me. "Yeah, right," I said, thinking it was a rumor.  "No, really. I just saw it on the news." I Googled a little. She is right. There is some talk about a storm coming. What the &$%*? People are also talking about power in some areas not coming back for weeks.
Why am I ranting on the 52 Weeks blog about the hurricane? Because I had to. Because I can't concentrate right now on anything else. There are two chapters in our forthcoming book that seem right to talk about here:  Facing Fears and Giving Back. Facing Fears is all about, well, facing fears and overcoming personal stuff – hurdles – that keep you from moving forward and perhaps avoiding situations (fear of flying, fear of commitment, fear of change, etc.). But what about other fears? I admit, when the winds were hitting my windows at 90 mph or more I was a little nervous. The post-storm response (or lack of) scares me too. How do people deal with fear and situations when you don't have control? I am revisiting my notes on that chapter. The Giving Back chapter is all about the importance of finding a cause you feel passionate about or volunteering to "get going" again if you feel stuck. It's simple and an old one: help others and you will feel better about yourself. I can't think of a better time. Pam, my blog partner, called me yesterday and said we really should go out and help in some way. I agree. We are looking at the options; I know there is some way we can actually do something and feel better. All I can say is that right now I feel helpless and want to do something other than offer my shower to those without power and water. I am not, of course, immobilized like those sitting in gas lines or stuck without food, water or electricity. I just feel mentally stuck and mad at Hurricane Sandy and its impact on so many. I can't sit and write at my desk right now with all the people out there that need help. And Bloomberg, I am glad you woke up and cancelled the Marathon. Maybe the runners who already arrived in NYC with their running shoes and carbohydrates will get stuck here and can actually volunteer – run around and pass out water perhaps? Maybe, just maybe, when I know people are a little calmer, I can get back to these chapters. For now, it's just a big storm in my head.
Write us if you are volunteering in any way. We want to hear from you.
Little things you can do to stop annoying people and help:
Stop making predictions aloud about how long someone may be without power. You basically have no idea. It doesn't help anyone and annoys people, especially people without electricity.
Don't brag if you have electricity or a generator.
Drop off some clothes anywhere, anyplace. It's a great time to finally clean out your closets. It forced me to admit I don't fit in many things in there anymore!
Cook something for someone.
Give someone a massage or just listen to someone complain.
Bigger stuff you can do:
Stay sane and let us know if you see any runners with nothing to do!

Leave a Comment (3)

Posted: 11/2/12 7:34 AM