This is a guest post by Peggy Barons. Peggy contacted the52weeks.com and told us about how she has been getting unstuck with a group of women in Boston. Pretty incredible. When we heard about everything she was doing, we had to share her story. There is no doubt that what she has crossed off her "52" list rivals any of ours! 
 "I feel very adventurous. There are so many doors to be opened, and I'm not afraid to look behind them" — Elizabeth Taylor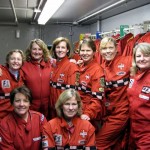 A few years ago I was in my mid forties and was facing yet another long Boston winter with four kids, two dogs and the same dull routine. I was feeling "stuck" just like Karen and Pam from The52Weeks. Let me tell ya, those two women are on to something!
I grew up in Florida and try as I might, I never quite got used to being trapped inside for five months of the year. I tried to convince myself that there were lots of fun things to do, even in the winter, and all I needed to do was get out there and do them. Trouble was I knew I wouldn't do them alone, and trying to coordinate different friends' busy schedules with kids, work, etc. usually ended in frustration. Then I got an idea. I sent out an e-mail to about twenty of my closest friends. In the subject line I posted: Who wants to be in my club? 
In the body of the e-mail I divulged my plan. We were to be the BODS. Babes Out Doing Stuff. I mentioned all the fun things out there in this world and how we always plan to do things but somehow never get around to actually doing them. I proposed that we get together, once a month, and do something, anything – just for fun. I invited these friends, if interested, to join me for lunch at my house for a planning session.
Then the fun began, we decided on the third Friday of every month. We would meet at 9:00 am – do something fun – get lunch – and make sure we were home by three to pick up the kids.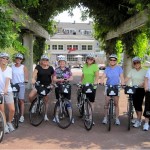 What kind of things you may ask.. ALL kinds of things. In the past few years we've gone kayaking, horseback riding, ice skating, Segway riding, biking thru Boston, race car driving, rock wall climbing, rowing on the Charles River, hiking, foodie tours, snow shoeing, cooking classes, a 50-mile dog sled ride, even simulated sky diving, and more.
The best thing about BODS is the attitude of the women involved. Yes, we all have husbands and kids and our fair share our troubles. Life frequently interrupts with it's own plan, but we try to put all that aside one Friday a month. Take Debi, for example. She was diagnosed with breast cancer while still an active mother of three school-age children. She was scheduled to have surgery one Friday afternoon and needed to report to Brigham & Women's Hospital at 1:00 PM. Trouble was, that was the day the BODS were booked to take a bike tour of downtown Boston. Much to my surprise, there was Debi dressed and ready to go biking with us. "Aren't you having your surgery today?" I asked incredulously. "Yes," she replied, "but I don't have to be there till 1:00 and since I can't eat anyway, I might as well be doing something fun!" and then off we went!
One of the best parts of BODS is there is no commitment. If the outing sounds fun, and you'd like to go – just sign up via e-mail and you're in! Want to bring a friend? No problem, the more the merrier.
My 27-year-old daughter started a BODS Nashville chapter and her college roommate started a BODS LA as well.
We're still going strong here in Boston. We meet every September to set up our schedule and assign who is coordinating what. This fall we have plans to Zipline through the beautiful fall colors of New Hampshire among other things.
We got a late start this year and recently at friend's daughter's wedding it was the husbands of a few friends who approached me wondering when the next BODS outing was happening. I guess doing fun and challenging things makes for happier partners, spouses, roommates – whatever!  It definitely beats complaining again to our significant others! To contact Peggy e-mail her at peggy.barons@gmail.com

Leave a Comment

Posted: 10/21/12 10:03 PM