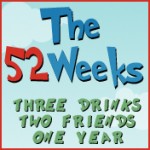 I want to write books that unlock the traffic jam in everybody's head.  — John Updike
What We Tried: To Get a Book Deal & Bring Our Blog and All it's About to the Bookshelves!
When We Got the Deal:  This summer!
Details: Originally launched blog, the52weeks.com in July, 2010. Did a lot of stuff. Didn't get to some stuff. Inspired many. Want to inspire more.
Where We Did it All: Everywhere.
To Keep or Not to Keep: OMG. We Are So Doing This!
We are so excited. We launched our blog, the52weeks.com in 2010. About 5200 weeks later (ha) we have a book deal. We signed a contract with Skyhorse Publishing for The 52 Weeks, a non-fiction book inspired by our blog about getting going again and getting "unstuck." It will be a combination of our story and advice from great experts already on-board. Our book is due out in 2013!
And now we are trying to pull it all together and we need your help!
If you have a personal story that would fit into any of our chapters (see end of post) contact us at the52weeks.com@gmail.com. We're also looking for additional experts in the same categories so tell us if you know anyone we should interview for the book.
After this blog post I need to work on a chapter, appropriately entitled Facing Fears. Yes, Pam and I are excited but we are also first time, new authors and we are scared! Can we get this done? Perhaps it's our biggest "52 Weeks" challenge yet–writing a book!
A heartfelt thanks to Skyhorse Publishing for seeing that our stories, lessons and tips are worth sharing with more people. And a big thanks to our agent, Jessica Papin, of Dystel & Goderich for taking this ride with us. We really didn't know anything about the publishing world and Jessica has been guiding us throughout the way.
In the months ahead we will be pulling it all together and creating a book that will be fun and inspiring for many people, especially women who feel stuck sometimes in one or many areas of their lives. Hopefully, along the way we will still squeeze in some "me-time" but it is unlikely: the fact of the matter is this whole getting "unstuck" thing goes in cycles – sometimes you do a lot of new things and sometimes you don't. Our blog is all about trying new things and getting out there. Yes, earlier today I wished I could be outside doing something new or different. Then, once I was at my desk and in the zone I didn't feel like I was missing anything: I was right where I should be – writing my book. Bottom line? Sometimes you have to stay in one place to get things done and move forward.
What we're looking for: more experts or stories about personal experiences in the following areas:
Relationships, Facing Fears, Giving Back, Introspection, Just for Fun, Flying Solo (if you are divorced or going it alone), Trying Something New, Changing Course (changing careers in midlife or finding what you want to do) and Wellness.

Leave a Comment (1)

Posted: 10/1/12 12:39 PM