What I Tried: Meditation "Express"
Details:  Keep Calm & Carry On (CD); Music to Encourage Stress Relief (CD); Just 10 Seconds (App) and Simply Being (App )(99cents!)
When: August
Where: At home, on a couch, in a car and near a clam bar
To Keep or Not to Keep: Yes, I need it. Definitely great App. Keeper.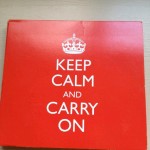 The Back-Story (if you want to read more):
You would greatly benefit from meditation.  I've been hearing this for years. Doctors, therapists, friends, neighbors – they have all recommended, hinted, stated that I should meditate.  Many times it was "suggested" with genuine care and warmth – actual concern in their voices as I often struggle to be a more relaxed, "better" version of myself. Others, if they have had the good fortune of knowing me for many, many years (ha) say it with a bit more conviction as if (yelling?) "Try it. Do something already."
I know they are right. It has been on my "52" list forever. But hasn't my "energy" level helped fuel my many entrepreneurial endeavors? I ask myself.  Doesn't it help at cocktail parties?  Yes. It. Does. But the fact is, I need to calm the F down most of the time. That's the "bad" level of energy. The nervous energy. My enemy. Last year for "52" I tried yoga, Kabbalah and other new things all in the name of chilling out. Some work, some don't.  I am on a perpetual quest to find remedies beyond a new Sauvignon Blanc.  So, meditation keeps knocking at my door and finally, finally, finally I cracked the door open. Surprisingly, it was all because of  a recent trip to Bed, Bath & Beyond. Therapists, Schmerapists.
I love Bed Bath & Beyond for some reason (or "BB&B" for those of you who know it intimately as well!). I think I especially love going there when I've gained some weight and want  to avoid mirrors and pushy salespeople. I love new towels, picture frames, stupid kitchen utensils and I love the one on 61st Street in New York City where you can put your shopping cart on the escalator and it goes up and down by itself (I really need to get out more huh?). So they had one of those CD displays (you know what I am talking about right?). I actually think it may be the last place on earth still selling CDs. Anyway, I  impulsively bought a CD entitled Keep Calm & Carry On and another with the words "Reduce" &"Stress" juxtaposed in the title.  Later I downloaded a few Apps: Simply Being and Just 10 Seconds. During the next week or so I alternated between the stress-reducing music on the CDs (classical, whatever) and guided meditation on the App.  In the car, at home, wherever. The Just 10 Seconds one is more of joke and seriously just says to do nothing for 10 seconds unless I downloaded it wrong or something. The Simply Being App is great for beginners; you decide how long you want to meditate (5 minutes, 20, etc.) and you choose either voice and music or ocean sounds (my favorite) and some incredibily calm woman who must be from another planet guides you through the whole thing. There are simple instructions on the bottom of the screen. It actually worked. No Xanax. No wine. It worked.
A while back my friend Jodi gave me a list of places to learn meditation in New York City.  I cancelled a few times with one of them (The Art & Science of Meditation). It's now back on the calendar for fall. They have introductory group classes regularly. I was also motivated again this month not just by the BB&B outing but also by a good friend that swears she meditates daily at home in as little as 10 minutes.  So finally, instead of waiting for the "big class" I dabbled and did my own kitchen utensil-inspired express version of meditation to get me off my ass to get me on my ass (did that make sense?!). I just needed to start in my own way.  And, to be honest, I was sick of everyone telling me to do it. I guess whatever it takes, it takes.
By the way, when you first download the Simply Being App there is an Albert Einstein quote that reads: Everything should be as simple as it is but not simpler. I didn't grasp it at first but after I meditated (HA) I got it: some things can only be as simple as they can be and I think with meditation, yes, the express version works to get started and if you want to do it everyday for 10 minutes at home it's definitely better than not at all. And I do love the App for on-the-go meditation. But I think the group experience and being taught by an expert is going to be awesome. If I am lucky the instructor's voice won't irritate me and I will be with other equally stressed out people which is always comforting in some weird way. I hear the ocean sounds calling…

Leave a Comment (2)

Posted: 08/15/12 1:14 AM