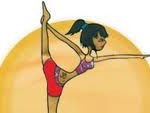 What I Tried: Bikram Yoga Class
Details: Heat, sweat, 26 poses
When: About a month ago
Where: Bikram Yoga East 83rd St. NYC (but you can find Bikram classes worldwide)
The Back Story: In my never-ending quest to find the perfect exercise that I will stick with (running, tennis, body ballet are a few), I decided to try Bikram Yoga.  Not just yoga (of which I semi-regularly practice vinyasa flow) or hot yoga of the vinyasa kind but Bikram — which is a Hatha-based practice of hot yoga consisting of a sequence of 26 set postures repeated twice and done in a room heated to 105 degrees for 90 minutes. Why would I (or anyone for that matter) willingly do this? I don't have the answer to that. But it all started when I recently noticed a good friend literally "glowing." She was giving off such a vibe that I had to ask her what was new or different in her life. Her reply was Bikram Yoga. She insisted I try it and and even told me that it had "changed her life". Let me just say she is not someone who generally preaches or spews this kind of kumbaya crap. I was intrigued.
So I went. It was an awful, insane, crazy-hard experience but amazing too. I went again and then once more. Has it "changed my life"? Well, not just yet. Am I addicted? No, not quite. The third time I did have to push myself to go: I made excuses that I hadn't drank enough water that day and wouldn't be able to finish the class due to dehydration, told myself I didn't have the time, I was tired … the usual stuff. But I finally went. And I do have a strong desire to go again.
To Keep or Not to Keep: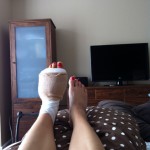 This past Friday morning I had elective foot surgery and will be off my feet for at least 4-6 weeks. I suppose that gives me extra time to decide whether to keep or not to keep Bikram in my life. Hmmm, I wonder if I timed this right before my surgery so the pressure would be off! Ha.
I will say it's a huge time commitment and that's a negative for anyone sometimes: 90 minute class, planning when to go and when you can eat (important not to eat for 2 hours before you practice), drinking the requisite amount of water that day… all sorts of stuff to plan for. And then there is the shower after (a MUST!). You literally leave the class drenched in sweat.  Sounds like a lot, but I am pretty sure the mental and physical rewards would make my "excuses" disappear.
So, my conclusion?  I'd like to fit this into my schedule and make it a part of my routine once my foot heals. It was one of the most difficult, awful yet exhilarating experiences I've had in a while. A true challenge I completely enjoyed (once I peeled the sweaty clothes off ) while hating every moment of it – if that makes any sense. There is simply something oddly satisfying, energizing yet calming about spending an hour and a half in a smelly, muggy room that feels like the inside of a pizza oven, dripping and sweating your ass off, feeling as though you will pass out at any moment, wondering why the clock on the wall appears to be ticking in reverse and this will never end, yet feeling such a sense of accomplishment and invigoration once it's over.

Leave a Comment (1)

Posted: 08/2/12 9:58 AM