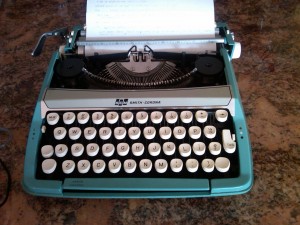 Sometimes old things are just old: old food, old make-up, an old computer, old socks.  Not good. Then there are the times you just feel old – like me the last few weeks! Not a good thing either. Looking "older" often hurls women into a panic: Really not good. My recent, unexplainable obsession with all things old led me to think about the word in general and old things. Old things that I like:  old movies, classic books, traditions, old friends, old letters; something old, something borrowed" – Now these things are good.
Despite our blog's original mission that, among other stuff, touts the importance of trying new things, I was determined to take some time to reflect on and embrace the old.  During a recent unsuccessful attempt to clean out a closet, I found a box filled with old letters from camp, friends, boyfriends and college term papers. There were letters on stationery (remember stationery?) from the 1970's with rainbows, teddy bears and whatever.  I got sucked in and read everything in the box. I am not sure what I was looking for. According to the dictionary, "old" has a number of meanings: relatively advanced in age; made long ago; having the physical characteristics of age; existing for years; exhibiting the wisdom of age belonging to a former period in history. Hmm.
One Politics 101 term paper I found in the box — That's Poli-tainment (I thought it was clever at the time) analyzed the use of mass communications in politics. It screamed "old" and I was too aware that it lacked any mention of social media.
Typed, double-space
I can't believe I used a typewriter in college. I am F@@king old! After I freaked out for a moment, my knee-jerk reaction was to take a red pen and start editing, updating it appropriately.  Or re-enter it into my MacBook Pro and start editing. But I left it alone of course. It was a moment in time. In college. The paper was actually considered "good" then. An "A-" was written in red pen on the last page.
So with that, for some reason, touching the old pages of my term papers,  I became fixated on finding a typewriter and using it for a week.  Of course no one still owns a typewriter. Serendipitously, later that week I was at the doctor (trying to figure out why I felt old!) and during small talk with an amazing nurse in one of those lovely paper robes I mentioned my mission and it turns out she had one! "My husband is a writer and likes to use it once in a while," she explained. "I bought it at a yard sale for him a while back." She was happy to bring it in for me the next day. Life is funny; what are the chances of finally locating a typewriter during a visit to your ob/gyn? I took it home later that week — mint green case and all. I planned on leaving it out in my kitchen and inviting people to try it. I wanted to see their reactions and what they would write. I wanted people to slow down, get off Facebook for a minute and put aside their Apple-addicted, warped-speed selves in honor of the ol' typewriter. I wanted to see how it felt to use it again.
I only guided people if they didn't know what to write.  So, in the spirit of the52weeks.com I would casually say, "Just write something you want to do this summer that you've never done" or "Just write what you think about using a typewriter."  Some of the things people wrote surprised me. Some didn't.  It was just interesting to watch people  — almost as if they were scared to touch it. "It has a weird smell," "What's this black thing (pointing to ribbon); "Did you really use one of these in college?" (my babysitter).  I stopped to think about why I wanted to do this.  I don't think it was really about the typewriter. Like most things in life, the typewriter was only symbolic of a bigger thing for me.  Taking stock. What is worth keeping that is "old"?  Why does "old" often have a negative connotation? Doesn't the expression "as comfortable as an old shoe" exist for a reason?  Old is a relative terms I guess. What makes something old? So here's my list of the old stuff I really like: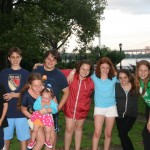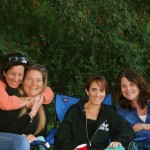 –      Traditions – especially with family and friends. Like recently was the 9th year I have been gathering with college friends and their husbands and kids in a park in NYC.  Priceless.
–      Sexy first lines from classic, great novels: "Mrs. Dalloway said she would buy the flowers herself."  (1925 Mrs. Dalloway, Virginia Woolf) to one more relevant for this post:  "The past is a foreign country; they do things differently there." (1953 The Go-Between L.P. Hartley).
–      I love Woody Allen movies like Sleeper (1973) and Annie Hall (1977). I still watch the Way We Were (1973) or Beaches (1988) when I need a good cry. And, whenever I see my college friend Marni I want to pop-in Dirty Dancing or About Last Night with Rob Lowe.
–      Music. Okay, I adore many new artists;  but I am sure anyone reading this will agree that there's something about "old" music:  Madonna's debut album when she wore those black bracelets we all had; Genesis's Three Sides Live (1982) or anything by Phil Collins. Remember the Go-Go's, Duran Duran and Culture Club? Ha. And, of course if you know me, anything by Carole King.
–      Television? Since we now exist primarily on reality television, there is something strangely comforting about sitcom re-runs like when I catch that Seinfeld episode when George gets a shot as a hand model and he dances through the park. Or, when my insomnia-induced channel flipping brings me to Ross and Rachel on Friends or even TVLand's Lucy and Ethel (strange, Fred doesn't look as old as he used to!).
–      There's nothing like an old sweatshirt when you are home and feeling sorry for yourself
–      Old friends
–      Old love letters from my first boyfriend or letters my mom saved from sleep away camp.
–      An old Mustang.
And the typewriter? I don't think so. But I loved the whole experience and I loved watching people's reactions to it. I also loved watching my daughter put down her iPhone to try it.
Sometimes it's not about doing something new. Sometimes it's about honoring the old, choosing which things to keep, and taking time to remember why we need both. Just remember to get rid of the old makeup and old stuff that has no purpose anymore. That's just clutter (and gross?). And of course, feeling old sucks so we don't want that. Just keep the memories and the stuff that is "good" old.
The annual party in the Park with my old friends is also a keeper. And I am just about due for a chick-flick marathon of  movies in bed.
I am returning the  typewriter this week. It was fun for a short time but I do love my Mac.

Leave a Comment (4)

Posted: 06/13/12 9:48 AM