This is a guest post by Denise Albert– an incredible New York Mom and co-founder of The MOMS — a lifestyle brand and event company. When we read Denise's recent article about starting a new phase in her life we immediately reached out to ask her if we can add it to our blog as part of our "52 Writers for 52 Weeks." In February, the MOMS created and co-hosted the first mom fashion show at Mercedes Benz Fashion Week at Lincoln Center. Denise was a co-host of the half-hour TV show, Moms & the City and A Dad Named David (WNBC's David Ushery). THE MOMS also air in New York City and London taxis. For more about Denise and The MOMS, go to http://themoms.com. This article first appeared in The Huffington Post.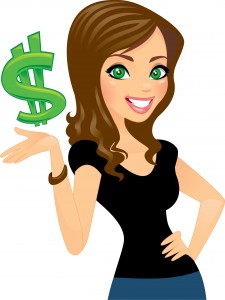 If only I had listened to my mother, I would have always been interested and involved. I will never forget when my parents got divorced and my mom, who was totally involved in my parents' finances, gave very me clear advice: that no matter who I married, I needed to be on top of everything, including all the finances.Every person, no matter what the situation, should know how much their rent is. Every person should know all the information about their mortgage including if they can get a better interest rate. Why are your credit bills the way they are? Do you know your spouse's salary? Are you contributing to a retirement fund? Do you have any investments? Are you saving money? How much is your son's soccer class? How much does the vacation you want to take cost? Why haven't you saved a dollar of your own salary?
I knew my relevant information when I was single but I couldn't answer any of those questions once I got married. I don't even know where the bills are. I don't even know how to log into our online accounts. I've rarely looked at our credit card bill. I tuned out any discussion that mattered.
All of this is no one's fault but my own. All of it bored me. I had no interest and I had a smart and organized husband so there was no need to waste my time and energy on things he could do.
So I never paid a bill. I never asked a question. I never looked at our bank account. I never inquired about our savings. I never showed an interest.
I never should have lived this way.
Now that I'm getting divorced, I finally realized it is time to become involved in my own life. It's time to be interested in my finances. So this week I started over. I applied for a new credit card. I transferred my newspaper subscriptions to my own name. I opened a new bank account. I set it up online. I started a new document with all of my bills, finances and responsibilities.
I will be involved in my life. I will organize my life the way I always should have.
I know I can do it. I've been doing it for three years for my start-up business. I just wish I had done it for my start-up adult life. Then I wouldn't have to start fresh now. I've kept a spreadsheet of my business accounts. I've set up invoices, maintained all bookkeeping details and prepared our business's finances for tax purposes. In business I'm organized. I can handle it all. I just didn't want to do it in my personal life.
Clearly I can do it. It was just easier to have someone else handle what I didn't want to do.
Now I have to begin again, and I can't wait. I just wish I paid attention so I wouldn't have to play catch up now.
So if you are not going to listen to your mother, listen to me.

Leave a Comment

Posted: 05/24/12 9:38 PM