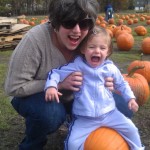 This is a guest post by Nicole Wolfrath. We met Nicole serendipitously through a mutual friend that neither of us knew the other was connected to. It was only through our respective blogs and our appearance at the 92nd St. Y that it all came full circle. We love when good stuff comes from getting out there! Nicole is the founder of Why Parenthood Sucks…Sometimes where she writes as Rookie Mom about being a first time parent to a feisty little 21 month-old girl. She's works full-time in college student affairs and would quit her job to become president of the PTA if she could. She loves to be creative, write, read, decorate cakes, and watch sitcoms with her husband. Her frequent daydreams consist of spending time in a house with a large kitchen and touring the country as author of a bestselling book about the challenges of parenting. We are happy to share her story this week. You can read more of Nicole's posts at www.whyparenthoodsucks.com.
Why did I reach out to the52weeks.com?  I found what Karen and Pam were doing to be very inspiring and their journey of self-growth resonated with my own.  Starting my weekly blog about being a first time parent pulled me out of my rut and in honor of Mother's Day I'm excited to share my story.
I often look at the photos of me holding my daughter the day we brought her home. My husband is beaming at her over my shoulder. Though she was cradled closely in my arms I can see the distance between us. The excess weight in my cheeks and fear in my eyes make me unrecognizable in the photo. It was the scariest day of my life.
I was told by so many people that a baby changes everything but here I was months later, exhausted and anxious, wondering where all the joy that comes with parenthood was. My job was still stressful and our finances were no different. Aside from the additional little person in my apartment, the only new things were my husband and I arguing all the time and a tedious schedule of feeding, changing, and crying.
One night while lying on my lumpy, food stained couch, I read an article on the challenges of parenthood. The author posed a tongue-in-cheek question, "Why does parenthood suck?" Immediately I could name ten reasons why. I jumped off my couch, ran to my laptop and started typing.
My daughter had just turned one and I had found in that first year that having a child brings your life full circle. You start to remember parts of yourself that existed before adulthood. I wrote a lot when I was a teenager and was editor of the literary magazine in college. I'd intended on becoming a journalist, but my career path took a different turn and my writing stopped. That night, having typed out at least three story ideas, I started to feel like the old me.
Those stories served as the first posts for what has become my blog, "Why Parenthood Sucks….Sometimes." It debuted in September 2011 and since then, I've written weekly about my daughter, my husband, and myself. While the stories often begin with my frustrated misery, they somehow always end on a positive note. I am very honest with my thoughts, feelings, and more importantly, insecurities. Topics have included: not knowing how to play pretend; the horror of letting my kid cry it out; and what it feels like for my husband to be the primary caregiver.
Readers confirmed I wasn't alone and that I was saying things they were too afraid or embarrassed to discuss. Many people suggested new topics. A self-described tired mother simply said, "Thank God there is you."
My life with my daughter now fits into two categories: life before the blog and life after. Life before the blog was confusing, judgmental, non-stop and at the same time, stagnant. Life after the blog feels in sync: I feel much more connected to her and to my role as a mother. My marriage has strengthened as well. My husband and I reflect on how we've overcome obstacles and how our love for each has grown.
Some days I feel I write more for my daughter, my husband, or my readers. Mostly I know it's for me: to fulfill a hobby that has been dormant for so long, my need to be a role model for my daughter, my passion for helping others, and to create something much more vivid than pictures and videos to document this time in my life.
It's also a daily reminder that I have other interests and talents that like many people, have been buried under the monotony of full time work, chores, and anything else preventing us from the whimsy we remember as kids. Every week I push myself to tell a new story;  in doing so, I'm brought further out of the rubble of adult responsibility and into the bright, refreshing light of possibilities.
My job is still stressful and my financial situation is still the same, if not worse. My couch cushions are even more lumpy and stained than that moment last fall when I was inspired to start my blog. Most days I can still quickly answer the question, "why does parenthood suck?" But after 34 blog posts and the way I now look in photos — confidently and lovingly holding her — I remember it only sucks sometimes.

Leave a Comment

Posted: 05/13/12 1:33 PM