This is a guest post from John Malik and the first male guest blogger for the52weeks.com. Originally from New Orleans, John Malik is the author of the novel Doughnuts for Amy. He and his wife Amy owned and operated 33 Liberty Restaurant in Greenville, SC from 2001 until 2008. John received a James Beard semi-finalist nomination for Best Chef in the Southeast in 2008,   was a Who's Who in American Barbecue by Bon Appetit magazine and holds the whimsical title of Certified Kingsford Flame Master. John's online essays on BBQ, peaches, kids, airplanes, dogs, root canals, dining with Sara Moulton and trading shots with Tony Bourdain were a highlight of the Southern food scene when he owned 33 Liberty. John began writing stories for his Mom when he was in 5th grade. He has a Bachelor's degree in English from Southeastern Louisiana University and on his honeymoon he rappelled into a 180 foot high cave.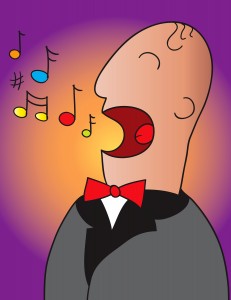 "So John, do you think you're a tenor or a baritone?"asked Tina as she scrutinized me momentarily.  Tina Broussard, our church's assistant choir director and a former opera singer, is smiling her stunningly beautiful smile and waiting for me to respond.
When I was in fifth grade I really wanted to play a musical instrument. I had already accepted that I was a bit different than most of my friends.  Instead of making money cutting lawns or delivering papers, I was tutoring and was often paid with currency far more precious than cash: the use of a favorite bike for an hour, first dibs on a favorite fishing spot or even candy bars and some Jolly Ranchers. It was during this time that I convinced mom to buy me a trombone so I could join our school's jazz band. For a fifth grader desperately in search of cool, I might as well have won an uncontested election as the mayor of Dorkville. The trombone was protected by a cumbersome case that only added to my dork status. Every time I climbed onto the school bus with this thing, the pretty girls I was hoping to impress would have to dodge and duck this 45 pound, blunt-end pendulum.  I managed to soldier on for an entire school year, never quite coming to terms with the trombone or the pretty girls until my sophomore year in college. That's when I took up cycling, which led me to other adrenaline-fueled endeavors. I raced road bikes for a few years, then mountain bikes: I was in love with the adrenaline high that comes from doing something dangerous. I recently turned 50 and was hoping to celebrate by going hang-gliding, which miraculously has eluded me all these years. My wife Amy had another idea. She had already convinced the52weeks.com that I would try something outside of my comfort zone. "Like ice rappelling?" I asked with a mischievous grin.
"How about something that comes without a potential Emergency Room bill?" she replied. You've always wished you could sing. Tina could give you some lessons."
"Hang-gliding?" I stubbornly persisted.
My wife folded her arms and stood her ground. When I finally relented she smiled and kissed me, relieved that she wouldn't have to add another rider to my life insurance policy. So now, determined to learn how to sing at age 50, I stand in front of Tina, a woman that routinely reduces her audience to roars of applause with the subtle manipulations of her vocal chords and once again I find myself trying to impress a pretty girl.
"So are you a baritone?" Tina asked again. "Yes. I'm a baritone." I responded without really knowing what the word meant. Tina saw the look of confusion on my face and then I swallowed my pride and asked, "What's a baritone?"
So with that Tina handed me a book titled Sing at First Sight and we reviewed  some of the basics of the language of music.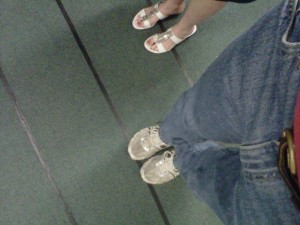 As we reviewed the book she uses with her kindergarteners, she led me to a big, floor-sized staff where her five-year old students can literally jump from one note to another as they are learning the basics of music. My feet were a bit too large to fit between the spaces but as Tina placed her feet on or between the lines on the staff, slowly but surely some of those fifth grade music lessons start to come back to me. As she moved from the lines to the spaces, she effortlessly sang the matching notes and asked me to hum along.  As we got to the middle C range, matching her tone became easier. "That's perfect John!" she almost shouts, "we were in unison, did you hear that?"
I didn't so much as hear it as felt it. We then moved to the piano and we went over the notes again in relation to the keyboard and then I really became confused. Tina started gently plucking at the keyboard and asked me to try and match the sound, first by humming then by holding a note. When we reached the middle C's again, Tina got excited. "You do have a singing voice in there John, you do!"
We kept practicing.  Then it was time for a real song so we flipped through our songbook until I settled on Amazing Grace. Tina briefly twists her lips. She smiles and says "sure John, why not?" (Being a chef, I imagine I would give her the same look if she walked into my kitchen and asked me to show her how to make a torchon of foie gras).
We hummed first as I slowly tried to match her hums and she gently asked me to go  "a bit lower" and soon I matched her hums and she smiled. We do it again but this time at its intended pace.  Then we did it again and incorporated the words. I was amazed but for a few measures I was actually singing.
I am sure it wasn't pretty to anyone but me although Tina told me that she sees possibilities. "I have a schedule of classes that I host through the summer, why don't you take some, just think about it?" I briefly picture myself jumping around her floor length staff intended for kindergarteners, trying to hold notes without stepping on the toes of six year-olds.
"They're adult classes, John."
"Oh, of course Tina, I would love to.
Hang-gliding can wait for another day and my wife is thrilled that I have taken up a pastime that won't draw any blood.
johnmalik@charter.net
Doughnuts for Amy on Facebook
@chefjohnmalik on Twitter

Leave a Comment (4)

Posted: 04/10/12 12:42 PM