"Sometimes I wonder if there's something wrong with me. Perhaps I've spent too long in the company of my literary romantic heroes, and consequently my ideals and expectations are far too high." — E.L. James, Fifty Shades of Grey
50 Shades of Blue
I am reading the "book of the moment", Shades of Grey by E.L. James.   I am (trying) to get swept away in the main characters, Ana and Christian, and their S&M-fueled, passionate encounters. He wraps me in the towel, pulls me into his arms, and kisses me hard, pushing his tongue into my mouth. I long to reach round and embrace him…touch him…but he has my arms trapped in a towel.  I am soon lost in his kiss. Tame example I know but you get the idea.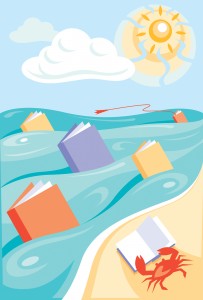 I try to quiet my non-stop brain. I am desperately, futilely trying to relax.  Hot book, hot weather and  a gorgeous turquoise ocean spans for miles in front of me.  I am sipping (gulping?) a Bahama Mama and it's not even noon.  What is wrong with me? Why can't I relax?  I remind myself that it always takes me about two days to unwind when I go on vacation. I love traveling but I hate flying. Despite many efforts to be otherwise, my body tenses in flight and I literally have to decompress once I am on the ground again.  It's taking you a bit longer this time, I think, mad at myself for still being challenged in this area despite my herculean efforts and this blog (partly originally conceived to become a better version of myself and inspire others to do the same).  My daughter, now 11, is growing up fast and happily playing in the pool with other kids, not "bothering" me at all so I can't use the "I couldn't even sit down for a second" excuse.   Why do I feel like a fish out of water in paradise? Why can't I just chill out? Yes, the past months have been incredibly busy. This blog – all about trying new things and facing fears and getting out of my comfort zone has brought many great things to my world.  Was I upset about all I still have to conquer and do?  Was I thinking about my relationships and a million other things?  Yes, But I don't think that was it.  I think like most people I have trouble sitting still and at home I never really stop to just be.  Can I really change the things I want to change about myself? Can people really, really change? I hope I can. I think people genuinely want to. I know I am not alone. That is why we all look to shows, blogs, books and professionals for inspiration or to make changes right?   But  right now I just feel tired and tense. I am trying to get lost in Ana and Christian from 50 Shades and despite transporting language about a hot, decadent affair, I can't turn off my brain. I don't know why but I feel 50 Shades of Blue.  I just do.
50 Shades of Red
I love casinos. I probably love them too much.  For some strange reason the decadence, the noise — they all calm my nerves. We are traveling with other families and kids so it is hard to sneak off to the hotel casino very often. I find myself catching an hour here or there when possible. I love relaxing at roulette or  in front of a slot machine, zoning out. "I am going shopping for a bit," I casually announced on the second day after a bit too much sun and as I was grasping for, desperately seeking my vacation zen. Okay, I did do a little shopping; however my primary goal was to catch an uninterrupted hour at the roulette table.  I couldn't hit a number.   I was playing "my" numbers which are mostly the black ones on the roulette wheel.  (13 black, 6 black, etc.). Each time  I played one of my numbers, it came out as a red number on the wheel (i.e. 3, 21, 32).  The only good news? I was starting to relax. I could feel my thoughts slowing down.  My skin was hot from the sun. I saw my reflection in the mirror as I was leaving the casino.  Too much sun, too red all around. 50 Shades of Red.  Not the right color yet. In the casino or my skin for that matter.  But I think I was starting to relax.
50 Shades of Black and Blue
"Daddy hurt his back," my daughter announced, rolling her pre-teen eyes at me as they entered the hotel room.  I looked at my husband, pain etched on his face.  He has a bad back and it acts up from time to time but this looked bad. "He slipped on a rock in the ocean," she added. Within 20 minutes he literally could not get out of bed.  I am not going to bore my readers with all of the details but to sum it up we had to go to a hospital in the Bahamas and get an MRI, major pain killers and treatment. Much, much later I tried to read Shades of Grey in the emergency room here and there when my husband was finally dozing off from the pain killers.  Needless to say, the environment and that book didn't quite mesh. Getting hurt when you are not at home sucks. We were at the hospital for many hours. I was strong on the outside, rising to the occasion, trying to take care of what I had to do. On the inside I was pretty much a mess and worried and trying to figure out how we would get home if he couldn't fly.  Not a fun 24 hours.  Relief swept over me when the 4 A.m. MRI revealed  that nothing was broken.  I found out later he was throwing a football with my daughter when he fell on a slippery rock while running into the ocean to get the ball. Once I knew he was going to be okay, I selfishly couldn't help but be a little mad: I was pissed that my middle-aged husband was probably flying into the ocean like he was in college with the knowledge that his back was not great to begin with.  I was pissed this happened at all.  I admit it, I was.  Thankfully, after many drugs (for both of us – ha!)  we were able to get home later in the week.  He is now actively going to physical therapy and exploring what the heck exactly happened that made this particular time so much more intense (I don't know…hmm…maybe the football-catching, running in the ocean with your 45-year-old body that usually sits at a desk is a clue?).
I wish I can tell you that our vacation was great but obviously it wasn't. I  never had a chance to completely unwind, never got in my vacation zone and just was exhausted when I got back.  There were, of course, some great moments with good friends and even a moment or two that I successfully got lost in 50 Shades and Christian and Ana.  And, of course, being only 11, my daughter was fairly unaffected and still managed to have a great time. That is what is most important.  And of course, that my loving, cute, annoying husband is okay.
Like Ana and her literary heroes I have to accept that even before the injury maybe my expectations are sometimes just too high. I need to keep working on being "in the moment" and will continue my perpetual quest to relax and change some habits. Being scared in an emergency room away from home and seeing someone you love hurt puts it all in perspective as you can imagine. If I could just have those first few days back back with my Bahama Mama and Shades of Grey….
This Week's "Getting Unstuck" Sticky Notes
Never forget a well-stocked, little "survival" bag including all the prescription medications that you may need based on your own history; traveler's insurance (there is absolutely no insurance accepted outside of the U.S.); cash and an unlimited credit card.  Note: the mini-bar is a good source of emergency supplies if you have to leave a room quickly.
There are many shades of color; unfortunately they all pop up once in a while.
TWO good books, including one you can read anywhere.
And remember, sometimes you have to lower your expectations and ideals and be thankful for what you have.  Just f@@king relax when you DO have the opportunity.  Shit happens sometimes.

Leave a Comment (2)

Posted: 04/4/12 11:14 AM