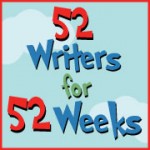 It's your turn now to jump in!  Please allow me to explain…
In the last two months I've taken the plunge – two plunges actually. I guess you can say I "jumped in the waters" – both literally and figuratively – in ways that before starting the 52 Weeks I don't think I would have ever done.
On New Year's Day 2012, I ran into the chilly waters of the Atlantic Ocean off the coast of Long Island, NY for the Annual East Hampton Polar Bear Plunge to benefit the East Hampton Food Pantry.
Then, about three weeks ago, I walked out onto the stage of the 92nd Street Y in New York City to be part of a panel entitled "Women of the Web."
Both times, I jumped in and froze, but just for a minute: literally, when I jumped into the Atlantic and then when I walked onto the stage and a question or two threw me for a loop. Then slowly, the reason for doing both of these things struck me. Both were for good causes. I was giving back in two very different ways: donations for jumping into the Atlantic were going to help out a local food pantry and being on stage at the Y would hopefully provide a little "food for thought" for others.
On that sunny, chilly day I could have gone further into the ocean – pushed myself a little more;I could have gone deeper but I got a bit nervous. Maybe next time I will. On stage at the 92nd Street Y, lights glaring and palms sweating, I could have spoken up a bit more and asserted myself — but I didn't. Next time I'm sure I'll be more relaxed and dig deeper to share more of what I am about. But there were no regrets. No backing out. Only moving forward—and that is very exciting stuff.
And that is why we are now turning it to you. We want you to have a try, to take a small step, or a big leap forward and tell us about it. This past year, we've talked a lot about the importance of taking baby steps — but sometimes you just have to just jump in and go for it.  Run into the water, walk onto the stage–and see where it takes you.
It's that simple.
We've already attracted some great guest bloggers to contribute to the52weeks.com but now we are officially opening the doors to everyone: 52 Writers for 52 Weeks represents a new phase of our growth and the next stage of the52weeks.com.  We want published, aspiring, or reluctant writers (like I was) – who want to write a guest post for our blog.
Here's all you have to do:
Just send an inquiry with your name and contact information and any background you want to share.  Tell us what you want to write about:  what did you do this year that was "new," different or even just ridiculous; or tell us what you plan to do and when you'd like to submit something.  We'll e-mail you back right away and give you the go-ahead. Submissions should be around 500-1000 words.  Photos would be great too.  We can't wait to hear from you!

Leave a Comment (3)

Posted: 03/13/12 11:08 AM