"Follow effective action with quiet reflection.  From the quiet reflection will come even more effective action." – Peter F. Drucker
Last week I appeared on stage with my blog partner at the 92nd Street Y in New York City.  We were part of a panel entitled Women on the Web.  It was our blog's debut "in the spotlight."  Pretty exciting, pretty surreal.  If you've been following us you know that our blog is all about "shaking things up" and doing new things and let me tell ya, this experience definitely fit the bill!  I am sure anyone watching us  would have noticed it was not something we have done before. But we forged ahead, simultaneously trembling and proud. When our names were announced, we walked on stage. The lights were blinding as we took our seats and fruitlessly looked to the audience for our significant others and friends .  It's funny what goes through your mind sometimes; I remember thinking that we had been told we would be sitting in armchairs — chairs that actually had arms. I think I had even subconsciously thought about using the arms as a "crutch."  I remember looking at the chairs as they silently mocked me, thinking "Now what?"  We were nervous but knew we wanted to be with the other bloggers and authors to spread our message and inspire others.  This was truly a "52" – the ultimate representation of what the52weeks.com is all about:  you have to do new things to move forward.  You have to get out of your comfort zone sometimes to grow. Well, we grew alright.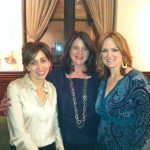 We all candidly talked about the importance of taking risks, how we started writing and blogging and just shared bits and pieces of our lives and experiences. I thought about what forces brought us together with these particular women, in a moment in time, to share and spread a message.
To be honest, when I woke up the next morning, I was glad it was over!  I was also tired and looking forward to reflecting for a few days about the event, our project and the past year.  I was happy it was a long holiday weekend. My original plan was to "recuperate" for a day or so and then reflect on it all, think about the coming months, catch-up on work and plan for the52weeks.com. But I didn't. In fact, I just decided I wanted to do pretty much absolutely nothing except eat, think, take some photographs and enjoy quiet time – away from e-mail, phone calls and being "on."  Here are some thoughts I wanted to share as I look back on our night in the spotlight and my weekend of solitude (with the exception of my husband and 11-year-old around!):
Reflections: The Spotlight
–        There is such a thing as being uncomfortable and comfortable simultaneously.  I would like to make up a word for it. I will circle back.
–        Never underestimate the power of a good blow-out at your neighborhood stylist to boost your confidence (ha).
–        There is nothing like a stage to validate what you are doing.
–        Chairs are a big deal. We probably don't think about them enough. Armchairs are underrated. My conclusion:  sometimes you have to quickly adjust to whomever or whatever is holding you up – literally and figuratively.
–        Sometimes you can just be hanging with a friend, feel strongly about something together, have an idea and a year or so later find yourself on stage.  That's cool.
–        Inspiration trumps nervous perspiration.
–        Pre-spotlight nerves may, happily, lead to weight loss.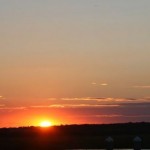 Reflections: Solitude
–        In my opinion, you can only appreciate solitude if you don't have it very often.
–        Doing nothing is doing something.
–        I don't look up enough.  I am not sure why, but I don't.  I guess I could blame my BlackBerry a bit. Looking at the sky is important. This weekend I saw sunsets, flocks of birds confused by the weather and a lot of stars. I don't remember the last time I really looked up.  Mother Nature trumps the spotlight.
–        There is nothing like the freedom of not doing your hair for a few days.
–        Beds are a big deal. A good mattress, books, magazine, movies, junk TV — American Idol, Judge Judy, Chopped… priceless.
–        Post-spotlight solitude may, sadly, lead to weight gain.
Finally, a big thanks to my fellow panelists: Ree Drummond, Sarah Brokaw, Kathryn Finney and our moderator, BlogHer's Elisa Camahort Page. You made our "first time" easy and memorable.
So my few days of "solitude" came to an end. It's busy again this week. Time for another blow-out.

Leave a Comment

Posted: 02/22/12 11:58 AM