This is a guest post by Diana Spechler.  She is the author of the novels Who By Fire (Harper Perennial, 2008) and Skinny (Harper Perennial, 2011). She has written for The New York Times, GQ, O Magazine, Esquire, New York Magazine, Self, Details, The Wall Street Journal, Nerve, Glimmer Train Stories, and elsewhere. She is also a Moth StorySLAM winner and has been featured on NPR. She received her MFA degree from the University of Montana and was a Steinbeck Fellow at San Jose State University. She teaches writing in New York City and for Stanford University's Online Writer's Studio.
As an adult, I've overcome most of my old insecurities. I'll sing karaoke. I'll propose a toast. I no longer panic upon making new acquaintances or  about whether to kiss on the cheek or shake someone's hand. But my negative body image, the demon I most wish to destroy, still shrieks when I address my full-length mirror and taunts me in the presence of food: You're seriously going to eat that? What are you, a sumo wrestler?
I'm tired of that voice. I'm tired of lamenting the same stomach I lamented in high school. I will never have Janet Jackson's abs circa 1998. Why can't my brain accept that and move on to important things? Like global climate change. The unemployment rate. Will Ben find love on The Bachelor?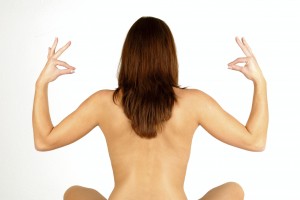 Recently, when a friend told me about Naked Yoga, just the words juxtaposed—naked, yoga—sent a shock of dread up my spine. I thought for a moment about those spider phobes who get locked up in rooms full of spiders, who scream and scream and finally stop screaming, and then they are no longer afraid.
I knew what I had to do.
In New York City, where I live, one may choose from an eclectic menu of yogas—laughing yoga, trapeze yoga, yoga for foodies, for gay men, for children. Because I've been practicing yoga for four years, I'm familiar with the local scene: In this city of eight million, classes are packed to capacity. I've been kicked during warrior three, smacked in the face during spinal twists. When the whole room chants "Ohm," the floor shakes. Picturing those crowds actually gave me courage: in a crowded Naked Yoga class, no one would notice the ingrown hairs on my bikini line. No one would notice my imperfect ass. I'd be one imperfect ass in a sea of imperfect asses.
The day before class, I spoke briefly on the phone with the teacher, a friendly woman named Cindee who equipped me with an Upper East Side address and answered my astute questions, including, "What should I wear?" That evening, I showered, applied eye liner, and blew my hair out smooth, as if I were primping for a hot date. Pointlessly, I dressed in black, the hue of concealment. When I looked in the mirror, my stomach quaked.
I was surprised to find that the address Cindee had given me was an apartment building, and that when she let me in, I was standing in her home. I hung my coat among her coats and followed her through a beaded curtain into a room large enough for no more than six yoga mats, where incense burned and wall hangings of the Buddha surrounded tapestry-covered windows. My pulse began to race. What about the sea of yogis I'd envisioned? The lighting wasn't even dim. The only other people in the room were two silver-haired gentlemen, their mats rolled out on the hard-wood floor. They each extended a hand to shake. I looked around, as if the rest of the students might be hiding.
"Is this it?" I asked. I didn't add, It's just me and two dudes?!
"This is it," one of the men said cheerfully.
When Cindee instructed us to disrobe, I accidentally saved my socks for last, and was, for a horrible moment, the woman in nothing but striped socks pulled straight up her calves. In the next moment, I was fully naked, shoving my clothes into the corner, and then Cindee was telling us to sit, my single most offensive naked position.
I tried not to focus on my rolls, and felt relieved when Cindee, naked and unfairly gorgeous with her toned arms and wild mane of curls, told us to begin in child's pose. At least for a minute, I could hide my stomach. I was less relieved to flip over onto my back and simulate riding a bicycle, elbow to opposite knee in slow motion, my breasts spilling into my armpits.
Throughout the floor series, I kept my eyes closed. As long as I didn't look at anyone — scanning their bodies for tattoos and piercings, didn't glance between their legs to see what their penises were up to, maybe no one would look at me, either.
"We come into the world naked," Cindee said. "We go out naked. But while we're here, we tend to hide inside our clothes." She walked through the room, adjusting hips, the angles of feet, unfazed by our gaping ass cracks. "You'll see that you don't have to hide anymore," she said. The heat was cranking and sweat beaded up on my arms. By the time I rose for the first Vinyasa—plank, chaturanga, up dog, down dog—I was less worried about sucking in my gut than I was about failing. As any New York City yogi knows, yoga is quietly competitive. I wouldn't dream of sitting while my classmates stood in tree pose. I wouldn't pant while my classmates breathed easily. I would keep my face calm while my heart raced.
Cindee was working us—one posture flowing into the next. By the time she told us to stand on the left foot, grab the right big toe, and open the right leg straight out to the side, my self-consciousness was all but forgotten. My left leg trembled from exertion. "Good morning, sunshine!" our genitals cried out.
I kept fluctuating between wanting to laugh—everyone was naked!—and wanting to weep—my waist would never be as sculpted as Cindee's—but as I lay in final Savasna, my eyes fell closed, my body tingled, and I eased into my blissed-out yoga buzz. This is what I love about yoga—the post-class sensation, reminiscent of relaxing in front of a fire after a hard day of skiing.
As I dressed, I was all smiles.
"Not everyone gets it," Cindee said. "Why we do this."
One of the men nodded. "We're a subculture. But just wait. It gets to be like swimming. Soon you'll wonder," he promised, "why you ever did yoga in clothes."
I'm not sure that skinny dipping has ever made me want to burn my bathing suits, but I saw his point. The world had shifted: The scarf I wound around my throat was a noose, the underwire of my bra a cage. I didn't want to zip my coat. Most interestingly, my "rolls" felt like "curves." The feminists would have saluted me. I opened the door to go and waved goodbye to the men, trying mightily to stop picturing their naked bodies.
For places to try Naked Yoga in New York City check out: nakedyoganyc.com and hotnudeyoga.com
This Week's "Getting Unstuck" Sticky Notes:
In life, as in Naked Yoga, often the only one judging you is you.
Most of us will never have perfect abs or perfect anything.  Embrace who you are, not who you fantasize about being.
Baby steps are important but sometimes you have to dive in and face your fears head-on.

Leave a Comment (1)

Posted: 01/19/12 1:07 PM