We've all heard it before:  New Year's resolutions don't work. In fact, according to an article in this week's Huffington Post, psychologist Richard Wisemen says nearly 80 percent of people who set New Year's resolutions fail. Wiseman also says that resolutions can be achieved but most people simply set themselves up for failure. We couldn't agree more and although we are not experts and just two friends, we know from personal experience that reaching too far and too fast just doesn't work. We probably knew this instinctually when we conceived the52weeks.com. So by just making a list of stuff we wanted to do or change about ourselves and crossing them off our 52 lists one by one over the course of a year, it made it all a bit more realistic and real.  Some things worked. Some didn't. Some we haven't gotten to yet and maybe we never will.  Some things we loved and some we just liked and some we didn't like at all and won't be doing again.  And some things were just for fun and for no other reason. That's what we think is great about the 52 week plan: just make a list, cross things off when you can and gain confidence and motivation by doing even the littlest of  things which may in fact give you the confidence and inspiration to do the bigger things.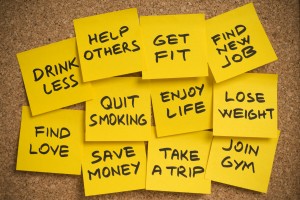 You also have to remember to count even baby steps towards any goal; and you also need to count doing things just for fun because they often lead to other, more so-called important things (trust us, we've been doing it).  There isn't an official "start" time or an "end" time.  Our blog just set things in motion – it got us out of the gate. And forget about the January 1st thing; we started this whole thing sometime in the middle of the summer.  The Huffington Post article goes on to say that resolutions are more likely achieved if you 1) are specific; 2) have support from someone or make it public; and 3) write it down!  The 52 Weeks is all about writing out your list, having a friend if possible to support you, and being specific. We're still checking things off but we also know it's time to get out there to help others do the same. Here are just some of the things we already did in 2011. Hopefully the list of things we did will give you some food for thought and a little inspiration:
Learned to play poker
Drove amazing, impractical  sports cars
Started to do away with some bad habits (or at least take some baby steps!)
Faced some fears (public speaking, flying, what else?)
Took golf lessons, nude drawing lessons and even weaving lessons!
Read more in general and re-read the classics
Remembered to laugh more
Suffered through at least one new and different exercise class
Discovered blueberries, broke up (sadly) with cheese
Experienced Kabbalah and sought other things to feed the soul
Built some confidence:  took rifle shooting lessons, rock climbed and learned how to box!
Explored France even if one of us couldn't seem to get there:  started French lessons, saw more French movies
Volunteered more
Smiled more
Did nothing, intentionally
Took piano lessons (again)
Explored our own city, got out of our routines
Cooked something new or out of the box and baked if we usually cooked and cooked if we usually baked
Repaired some relationships
Got makeovers to have some fun
Did something romantic with our significant others
Learned to Tango
Listened to more music
Took Yoga (again)
Played Tennis (again)
Took nature walks for no reason and walked more —  anywhere, anytime
Explored new careers
Visited Ground Zero
Meditated
Went hang gliding (or inspired someone else to!)
And most of all, don't beat yourself up if you don't check-off 52 "new" or different things — or even 10 things on your list.  We're the ones that started the52weeks.com and we're still trying to get to everything too.
Happy New Year!

Leave a Comment (4)

Posted: 12/30/11 4:08 PM