"I'm astounded by people who want to 'know' the universe when it's hard enough to find your way around Chinatown." -Woody Allen
I recently took my first Kabbalah class. It is something I have been meaning to do for a very long time. I am not sure why it took me so long to get there; I have been seeking something "more" in the spiritual sense for too long. It has also been on my "52" list since the beginning. Maybe with the New Year approaching it took on more of an urgency for me, I am not sure.
The strangest thing brought me to spiritual counselor Eitan Yardeni's Kabbalah class.  How I arrived there was proof (even to me) that the universe works in mysterious ways and sometimes things show up on your doorstep and you have to look at it.  Let's just say it was strange because one seemingly random business introduction led to another person which led to Kabbalah and Eitan.  I contacted Eitan on the phone and he generously spent time talking to me and invited me to the first class of a new 10-week course that was about to start at the Kabbalah Center in New York on East 48th Street.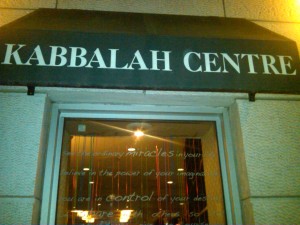 When I entered the lobby it was filled with people of all ages, stages, religions and races, all mingling. There was a great gift shop to my right filled with books and the ubiquitous red Kabbalah bracelets. I was tempted to shop but I knew that I didn't earn any of the jewelry just yet.  I was directed to the 3rd floor and was surprised to see at least 75 people already seated, theater style, facing front where a screen and podium stood waiting for Eitan to start.
He captured my attention from the beginning ("He had me at Hello"). He started with the history of Kabbalah, what it really was all about and what this course was intended to teach us.  He challenged the audience with some amazing exercises that demonstrated how "blocked" we really were – that we experienced life using only 1%  of what we are capable of and that the other 99% was not being tapped at all as we navigate through every day challenges and opportunities. He asked us talk to the people around us to share stories. Most of all, he made me think.
Perhaps the most shocking demonstration was when Eitan distributed a handout that had just a few sentences on it.  He gave us about 20 seconds to read it and re-read it and asked us to count the number of "F's" we saw on the page and then turn the page over in our laps.  Now I consider myself a good editor and reader and as a marketing/PR professional I am constantly proofing things and reading documents.  I counted three "F's".  He then asked the entire class:  "Okay, everyone who counted three "F's" raise your hand.  I raised my hand confidently and so did a handful of others.  He then continued, "Everyone who counted four "F's" raise your hand." A larger percentage of the class raised their hands.  I started to get worried and embarrassed! He continued up to six "F's!  That was the correct number. I was amazed. How did I not count the correct number of "F's" in a simple, three-sentence handout?  He went out to explain what it all meant. Something about that if you didn't count six "F's" you were blocked and you didn't see what was always right in front of you. I was sold.  Countless other examples — both tangible exercises and anecdotes from the history of Kabbalah followed – too much to get into here.
It wasn't until my 40's that I even cared much about spirituality.  This past year I did take some baby steps toward bringing more religion and spirituality to my life, especially after my father-in-law passed away. I wrote about it in Finding My Religion.   And spirituality for me before 52weeks? Well, I lumped it together with yoga (finally went), meditation and holistic stuff and have basically ignored it until this blog when I finally went kicking and screaming to a few things.  Ironically, I probably need "it" more than most.  As I have shared before, I need to slow down, breathe a bit more, be present and all that stuff.  I was fighting it constantly and just sitting on my spiritual ass too much.  I was trying to get by with the wrong tools, with the wrong vices, and in some cases the wrong support.
According to the The Kabbalah Center's web site, the word Kabbalah means many different things to many different people. In a nutshell, it is an ancient wisdom that reveals how the universe and life work. On a literal level, the word Kabbalah means "receiving." It's the study of how to receive fulfillment in our lives. It's a whole new way of looking at the world that can connect you to the kind of permanent fulfillment you may be seeking.
I loved the class. I adored how it made me stop and think. I loved how it started me on the road to react differently to every day events, people, challenges and opportunities. I was mesmerized by Eitan and his introduction to Kabbalah.  I am not sure how it will fit into the big picture for me but it was definitely a new experience (check off another "52") and I hope somehow it becomes part of my routine as I enter 2012.   Now, if I can go to yoga and Kabbalah in one week I just may start to slow down and get some answers.  Or, as Woody Allen would say, maybe seeking the meaning of life is all a bit too much when you can't even find your way around town sometimes.
Getting "Unstuck" Sticky Notes:
"Your soul can not grow if you are a spiritual couch potato." (from this web site).
Dabble, explore and show up — even if you are seeking just a little spirituality in your life.
Count, count and re-count the "F's" but don't be surprised when you are wrong!

Leave a Comment (5)

Posted: 12/20/11 2:17 AM