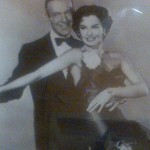 "If you get tangled up, just Tango on…" — Al Pacino, Scent of a Woman, 1992
"You write better than you dance," my husband joked as we awkwardly tried to do the Rumba.   The last time we took a dance lesson was the obligatory, "I am twenty-something", pre-wedding dance lessons 100 years ago. Let me put it this way and I think I've mentioned before:  the year I got married the average price of gas was 1.05 per gallon,  Princess Diana and Prince Charles separated and Gotti was sentenced to life in prison.  The only thing the same today are Hillary Clinton's pantsuits. Back in 1992, our first dance as Mr. and Mrs. Clueless was Eric Clapton's Wonderful Tonight and I didn't need anything even remotely similar to SPANX Shapewear. And just by coincidence, Scent of a Woman was released in the theaters and we all watched as Pacino danced the Tango at the Plaza.
Mr. Sometimes-still Clueless is a closet Dancing with the Stars fan.  On the rare occasion when he isn't working and has a few moments before his ridiculously early bedtime, my daughter and I will catch him watching the show. He used to try to hastily switch channels to hide his addiction; he finally just relaxed about it when the newest season made its debut last month.  Did Chaz Bono gave him the courage to be himself? (Ha-ha). I actually find it pretty endearing:  a pretty big, football-watching guy glued to an addictive dance show on television to unwind.  I am glad he finally "owned" it so I could write about it.
Coincidentally, I've been wanting to take dance lessons… again if you count 1992.  Mr. Dancing with the Stars seemed okay with it actually; it was finding the time together that was difficult.  It has been on my "52" list since the beginning:   I wanted to do something as a couple that was new, active, fun and out of our "couple comfort zone". I also wanted to learn even a few moves that would surprise my body and give me a sense of accomplishment.  The fact is, like most people, we're "average" dancers – if that. Of course, over the years, mostly in our 20's and 30's, there were some tequila-infused moments when we  actually thought we were pretty good but  the Salsa? No way. The Tango? Yeah right.  I just wanted to know what these dances were all about. Would they feel sexy? Would I feel like a fool?  Was I 20 years too late?  So I called Fred Astaire Dance Studio in Manhattan. When in doubt think Fred and Ginger I thought to myself when I booked the lesson.
This location was pretty close to Bloomingdale's, I silently thought to myself. I was glad it was 9:30 at night and the store was closed. I may have been tempted, just for a minute, to beeline to the Lancome counter.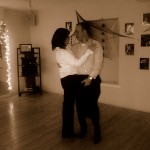 After an elevator ride to the 5th floor, we were greeted at the door by Desi. She was terrific on the phone so it was no surprise she was the same in person.  I looked around at the big dance floor, lights and huge photo of Fred and Ginger and started to feel a bit hesitant.  Thankfully, we were soon greeted by a cheerful, pretty instructor named Gala.  She was warm and immediately made me feel comfortable.  We chatted for a few moments on the dance floor, then she casually inquired about our wedding song and before we knew it, it was playing.  Okay, this was a bit corny but it did the trick: we laughed and started following her confident lead, doing the Rumba and stepping a bit on each other's toes. I had selected a "sampler" private class so we went from the Rumba to the Hustle to the Tango and Salsa all within 45 minutes.  When necessary she danced with each of us and never made us feel uncomfortable or too awkward.  I loved it.  I loved doing this with my "oh-so-busy" husband" and I loved not being on the treadmill or doing my usual stuff.
By the end of the session we were moving a little less awkwardly and smiling with a little more spunk in our step despite the fact that it was past a certain someone's bedtime. That is what mattered most – our moods.  I am definitely considering doing this again.  Certainly with Gala as our teacher and definitely when Bloomingdale's is closed.
This Week's "Getting Unstuck" Sticky Notes:
If you're with the same significant other for a long time, shake it up and try something new together. Sounds simple. It's not.
Never underestimate the power of dance to feel connected.
And, of course: If you get tangled up, tango on.

Leave a Comment (3)

Posted: 10/13/11 4:18 PM