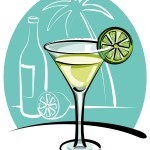 Note: This post was written before Hurricane Irene was approaching.  I hope everyone is safe and sound and enjoys the last week of August now that Irene has passed…
One Tequila, Two Tequila, Three Tequila…More! —  adapted from George Carlin
The Hamptons is a popular summer destination for many New Yorkers.   There are beautiful sunsets, great restaurants, perfect beaches, adorable shops, sizzling cocktail parties and much more.  It sounds wonderful right?
But this writer finds herself very restless around mid-August every summer.  This feeling usually coincides with my gray roots popping out on my head and seemingly no time to get them fixed. Guests are coming and going and my 10-year old daughter is in day camp for the month so I can't really leave unless I want to abandon her – ha.  Despite the beautiful locale, I want to escape to an exotic destination. I want to stop worrying about the lawn, my barking dog and filling up the gas tank. Other women thrive and love it here in August; I find myself fantasizing about room service, some culture and a great margarita on a beach that doesn't require a permit for admittance. This is usually the time I also try to accept the fact that my ambitious, summer plans for self-improvement (carefully written on paper in June) are fading fast from my brain as I count the days until school starts and I get my life back. Is someone reading this and relating at all?   Are my gray roots the only "frenemy" I have at the moment?
But then my blog partner, Pam, came to visit me for a few days. Pam to the rescue: she arrived while I was "alone" during the week desperately seeking adult company in the evening. There is nothing like a best friend and she showed up  just in the nick of time. Her girls were in sleep away camp and we had a pretty appealing mission:  taste-test a new Cuervo product that was sent to us from The Balancing Act, the national morning show that airs on Lifetime Television each morning.  Our assignment? Drink it, report back and write about  Cuervo's "Zero Calorie" Margarita Mix. We wondered how it would stack up against Bethenny Frankel's popular SkinnyGirl Margarita – one we had both tried previously. According to Cuervo, Zero tasted great and had no calories.  They graciously sent us a bottle of Cuervo Tequila Gold and Zero Margarita Mix and wanted us to test drive this new product targeted to female consumers. We were game. In fact, we embraced it as an opportunity to do something new for our blog, the52weeks.com.  Our blog was all about doing something new, different or something we were previously afraid to do each week for 52 weeks.  We had both done a few new things here and there this summer but have yet to write about them. Perhaps the Tequila would get us writing again!
"We can't just drink Tequila for one of "our" 52 weeks," I said passionately, feeling like it would be totally disingenuous and a cop-out. "We started this blog to really tackle our own to-do lists," I added.  "I know," said Pam.  "But we can have fun and spend time together.  I thought about it. She was right.  Didn't we start this blog to also just do fun things together?  The Balancing Act invited us to do this  for them so why not?
To be honest, I was not in a margarita "mood" as the designated night approached.  My daughter was around and I knew that this was going to be a far cry from my Tequila-infused college nights.  To go beyond just drinking for this week, we decided to make an authentic Mexican dish to add to the experience. Pam diligently researched Mexican recipes on the computer while I wallowed in another room trying to figure out what was bothering me beyond gray roots.  She uncovered an authentic steak taco recipe and a new recipe for guacamole.  She even ventured out without me to get the ingredients (perhaps sensing my mood and taking the bull by the horns?).  Coincidentally, I had purchased the Margaritaville a few months ago – an amazing high-tech blender.  Despite its name it can be used for any frozen drink.  I still had not learned how to use it but the reviews from family and friends were favorable.  Believe it or not my daughter was an expert since she had watched Daddy use it numerous times since May.
While Pam chopped and measured, my daughter made a frozen margarita for both of us (nothing like keeping your kids busy to minimize their complaining).  Pam and I enjoyed the frozen version and the straight-up version and agreed we liked it better than SkinnyGirl but we weren't sure why at first:  was it the calories and sugar we missed? Did our palettes simply get used to Cuervo's Classic Lime Margarita Mix from our younger years? In the end we agreed that customizing our margarita was what we liked best about Cuervo's new "Zero" Mix; Bethenny's stuff is pre-mixed so you can't customize your margarita!  Soon, we were rushing to serve authentic steak tacos, chips and homemade guacamole so that the minor in the house didn't starve (the authentic Mexican dishes took longer than my usual boring kid-friendly meals). Okay, so it wasn't the ideal setting to recapture our wild, college Tequila nights but most importantly we spent time together, ate pretty good food and had a 10-year old bartender taking care of us.  Not bad.
I decided to take the Mexican thing further; so a few days later I stopped in a top garden center to see what I could find out about Mexican plants and flowers (hey, learning something new is also what our blog is all about). I went to Silas Marder – a top-notch garden and gallery center in the Hamptons that I have never been to despite my years out here. I talked to some experts who told me about Mexican plants and flowers and discovered the Mexican Heather plant which requires very little maintenance.
Finally, just to top off the "escape to Mexico" experience I brushed up on a few useful Spanish phrases (it unfortunately brought back memories of my strange high school Spanish teacher).  Now, though, I was armed with important phrases if Pam and I ever have time to jet off to Mexico for an adult vacation without a care in the world.  Remember the great movie The Shawshank Redemption?  Andy, the main character, confides in his best friend Red that he wants to go to Zihuatanejo, "A little place on the Pacific, because they say the Pacific has no memory".   Years ago, when I was young and needed little sleep I used to drink Tequila and have little memory of the night before upon awakening.  I am happy to report that with age comes wisdom: I am glad I remembered everything about the night before. College years are fun to remember but not actually relive (I am not sure my body could handle it anyway). There's something about drinking Tequila the right way, with the right food and the right company (including my daughter) that makes getting older so wonderfully sweet – even with artificial sweetener.  Thanks Cuervo.
Oh, and don't forget the ice! Or as they say in Mexico and the Hamptons, "No olvide el hielo!"

Leave a Comment

Posted: 08/29/11 2:38 AM