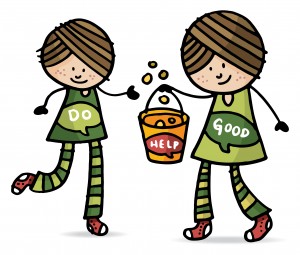 Unless someone like you cares a whole awful lot, nothing is going to get better.  It's not.  — Dr. Seuss

I can't stop thinking about Lauren Spierer,  the young woman  from Westchester who has been missing since June 3rd.   As  the days and weeks pass, hope seems to fade.  For whatever reason, her disappearance haunts me.
Recently I found myself shopping for ridiculous things. I was in Claire's for the 3rd time in 3 weeks  — one of those kid's stores that sell fun, inexpensive stuff that  somehow still adds up to a mortgage payment when you check out at the register.  I was on my 10,000th day of running around like an idiot buying "oh-so-absolutely- necessary- items" for a 10-year old girl going to sleepaway camp for the first time. "You haave to, haave to make sure she has crackle nail polish," one of my friends told me.  "All the girls bring a costume to wear for Halloween in July," another told me emphatically. Now, of course their hearts were in the right place, I know that. They were simply trying to help The Virgin Sleepaway Camp Mom.  I took a deep breath and tried to absorb the fact that I now had to put together some kind of costume for my daughter in July as well as October.
But then I stopped for a moment:  for me to mentally survive the preparation —  the insanely time-consuming, mind-numbing task of labeling, packing and organizing her stuff and not forgetting anything important or I will fail as a mother, stuff – shouldn't I balance this somehow with so-called more  "important" things?  Maybe this was the perfect time to look at my "52" list, especially the volunteering part of the list. I needed to cure my brain from the weeks of searching for cot-size bedding (try finding that in New York City).
So in between all the brain frying tasks, I decided to squeeze in some things that would help others. It was the perfect time.
I started by reaching out to help find Lauren.
I am not tooting my own horn here; my outreach was partially selfishly motivated to preserve my remaining brain cells and stay sane. It was my attempt at trying to make a difference beyond my daughter's two 50 inch trunks.   My blog partner Pam and I have been planning to volunteer more as part of our "52" lists.  We spent a day cleaning our favorite park (see post) and we both have many more "give back" ideas on our respective to-do lists.  One of our regular guest bloggers gives back by helping Haiti become self-sufficient. But for some reason I have been deeply affected by Lauren's disappearance.  I started by Googling and finding findlauren.com — the web site set up by her friends and family.  I knew I could not just take off and go to Indiana to join a search team so I started with a small financial contribution to the search (less crackle nail polish is a good thing in my house right now) and then I sent an e-mail offering my help in any way I can,  especially if they wanted to tap my 20+ years of experience dealing with the media, writing —  whatever they needed. I suggested some ways to use the media more effectively for their search — advice culled from years of advising clients.  I wanted to help Lauren's family.  So far, other than a form letter response, they have not gotten back to me looking for my assistance.   I will report back on what- if anything happens but I fear that time is ticking away. I just felt compelled to do something.
Later that day I saw Asaka, one of the nicest guys who works in my building. I have known him for years. I met his daughter a few months ago when she came to the building to sell candy for school. This time, I took a few extra minutes and asked him how she was and if she was excited for the summer. "Yes, she is so glad school is over," he said.  "Is she going to camp?," I asked automatically — a knee-jerk question in my sometimes insular world.  "Yes, with the Fresh Air Fund — she is going upstate," he said with a smile.  I thought about this nice man and his family and I guarantee you his wife was not running around like a lunatic trying to find the stuff I was.  "That's great," I said.  "Say hi for me. See you later."  The next day I called The Fresh Air Fund and I am in the process of talking to someone about mentoring some middle-school kids in the fall related to my professional background or just donating some time to help more kids like Asaka's daughter go to camp in the summer.
A few days later I was reading an old issue of O magazine and one article talked about this web site, freerice.com. For every vocabulary word you correctly identify they donate 10 grains of rice to the World Hunger Program.  Freerice's main goal is to end world hunger and it also proudly boasts that it's educating the world at the same time.  This is all possible because of corporate sponsors.  I found out that Freerice is not sitting on a pile of rice. By playing, you earn 10 grains at a time — you generate the money that pays for the rice donated to hungry people. I thought that was pretty amazing. So I signed on and in the end I stopped at 500 grains of rice.  I made a difference in about 10 minutes and can sign on anytime to add more to my score.
As the week was coming to a close and I was labeling the last pair of socks for my 10 year old, I received an e-mail from one of this blog's fans, let's call her Jenna.  She has been following The52weeks.com since the beginning and we've been e-mailing here and there about life.  It turns out that she is a graphic designer (semi-retired), mother of two kids and wanted to help me and the blog in any way she could. "I would be happy to send you some designs for your book proposal," she said in the e-mail when I shared with her a book was in progress.  "Really?" I said. Um… great!" I replied, surprised by her continued interest.   "How much would you charge?", I asked.  "Nothing," she said. "It's like design therapy for me.  I am happy to do it for you."  I wasn't sure I heard correctly . Why would this new person in my life do this for no fee and absolutely nothing in return?  We never met and only exchanged about 10 general e-mails.  I felt funny accepting her offer but she insisted.  She is super talented and I think she just wants to stay busy right now as she faces some challenging personal stuff in her life.  I am sure down the road it will come back in spades for her.
Good Karma goes a long way.  Pay it forward. Whatever. Maybe Jenna's design gift to me was the universe confirming that even doing little things for others comes back to you in some way.  It felt great to put away the labels, give back a little and know, in the end, that the biggest difference I made this week, as difficult as it is, was cutting the umbilical cord even more:   my daughter was ready for camp.  I even packed successfully and that was important too (trust me).  But somehow I also made it my business to help out — even a little bit —  in other places – little stuff, big stuff – it all matters.
p.s. My daughter loves her crackle nail polish.
This week's "Getting Unstuck" Sticky Notes:
Even small things can make a difference.
You always have more time than you think you do.
Even a seemingly frivolous errand, like finding the perfect nail polish,  often has a bigger meaning.

Leave a Comment (2)

Posted: 07/6/11 1:15 PM