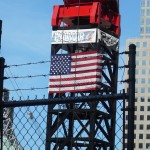 I am in the process of moving. While my family is excited about this next chapter and the new possibilities that await us, we are going tentatively, with many, many mixed emotions.
I have been thinking about how many memories and emotions are tied up in all of this.  And one such big memory is being in this apartment on 9/11.  Equating the horrific tragedy of 9/11 to merely making a move to a new apartment may appear incredibly trite, I know.  But most of us remember exactly where we were and what we were doing at the moment of terror and destruction—and I was in my apt. — this apt.– that I am now getting ready to leave after 20 years.  I was a new mom nursing my 2 week old daughter with my 18 month old tugging at me – counting the minutes until my husband returned home from voting that morning (it was primary day in NYC ).
How do you neatly pack up things and put them away for good? How do you put closure on a big chapter of your life but not forget about the past?  You don't.  You ultimately unpack them again in a different place or in a different way. But you learn to rearrange them, place them differently, and fit them into your future in a way that will allow you to move forward for the better.
Visiting the site of the former WTC was something I've thought about doing for the past 10 years… but never did until the 52 Weeks project. I had lived it in real time.  I had watched from my balcony window as the billowing smoke rose to the sky for days and smelled the acrid air even way uptown.  I suppose I wasn't in a rush to see the aftermath in real time.
The last time I visited the Twin Towers I was a second grade teacher taking my class on a school field trip. It was an exciting day, filled with new experiences. Many of my students rarely left their insular inner city neighborhood so this trip was a very big deal for all of us. We rode the subway downtown, took the elevator to the top with our ears popping all the way and marveled at the majesty of the view.  I've often thought about how there were no kids on a class trip that day on the 107th floor as I had been just months before. How my colleagues were at school comforting all the kids on the second day of school that day and I was home on maternity leave.  I've thought about all of the "what if's" that so many of us have.
Today, my husband works across the street from the site of ground zero.  Thankfully he was not yet working for this company on 9/11 but he now has a front row view to the daily progress of work being done and the transformation that has taken place during the past 10 years. I've driven by the construction site when I've given him a ride to his office on rare occasion but I've never visited the area on foot known as "the pit". First, busy with my newborn and toddler, then back to work, and the days became weeks and months, then years…
With the recent killing of Osama bin Laden and the impending 10 year anniversary of 9/11 quickly approaching, it brought a flood of mixed emotions up.  I had no desire to go dancing in the streets when he died but a short time after with the upcoming opening of the 9/11 memorial, President Obama's visit to the site, my daughter's 10th birthday approaching, recent conversations with my children, and our impending move, I knew it was time to check this off of my 52.
I got myself up very early before the day began and headed downtown alone. I was there before most of the tourists arrived, just as the groggy construction workers were starting their day and still working on their first cup of coffee and arrived even before the mass of the commuters would soon bellow out into the narrow streets of downtown.
I was immediately struck by two things: The massive size of the "footprint" and the fact that all around me, life went on. The area is, after all, still a busy thriving active business center in the heart of NYC.  Amidst the K-9 dogs, the cement trucks, the newspaper vendors, the visitors, the security details, there were people just trying to get to work. Rushing and pushing and knowing that they had to move forward.
I will say that, as a NYer, I am used to the crowds all around me all the time, but as morning commuters began to spill out of a Path train exit, I was met with the scary feeling of all those people rushing away from the destruction on that day. That didn't hit me until I went to visit. The enormity of it is also hard to imagine until you are actually standing outside the "pit".  The site is massive. It was sobering to think of that. But soon, the vibrancy comes back…a sunny morning on the day I visited,  there was life at the site, a real positive energy.
There is not so much to see as much as there is to feel, but you can now see a beautiful tower rising above the rubble and ruin. The memorial pools are visible too. An American flag hangs proudly on a crane stating "We Will Rebuild" – sadly with barbed wire all around it.  Lots of noise (it is not a quiet memorial), trucks, piles of building materials, and a few remaining makeshift memorials. But visually that's it. Yet, I couldn't bring myself to leave.  I finally walked over to the 9/11 Memorial Preview Site . This is a small exhibit located half a block from the WTC complex set up until the completed memorial site and museum opens. It was a simple yet truly profound experience to visit that exhibit. There really are no words.
Memories and emotions are triggered in strange ways.  As I start to pack up for my move, I am reminded that beginnings and endings come in all sizes. We have to move on no matter how hard it can be to get going sometimes. Whether you are mourning a simple personal change, or a massive life-altering world changing tragedy, the important thing is to move forward, keep going and be hopeful and strong.
This week's Getting Unstuck Sticky Notes:
In order to move forward it's necessary and okay to look back.
Moving on doesn't ever mean forgetting.
Acknowledge the bad memories but preserve the good ones.
Be strong, hopeful, and keep going.

Leave a Comment

Posted: 06/20/11 12:49 PM