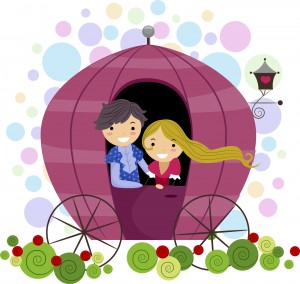 I love being married.  It's so great to find that one special person you want to annoy for the rest of your life. — Rita Rudner
When I read a few months ago that Glee actress Lea Michele had joined PETA (People for the Ethical Treatment of Animals) in a campaign to end horse-drawn carriage rides in New York City, I knew that I had to add Take a Carriage Ride in Central Park to my 52 Weeks "to-do" list. Then CBS News did a piece a week or so ago and I knew the effort to end the rides was heating up again. With my luck, if I didn't get moving, I would schedule a time to do it and they would no longer be legal in New York City!  Another motivating vision was convincing my "I-have-no-time-for-this-and-its- kind-of- nerdy-and-annoying-but-I will-do-it-for-you-anyway-husband" to finally go with me and we would arrive to find Mayor Michael Bloomberg holding a press conference near The Plaza announcing the end of horse-drawn carriage rides in Central Park – adding yet another thing to his "you can't do this in New York City anymore either" list.  But thankfully, that didn't happen.
So last week (or was it the week before?), we scheduled (squeezed in) a day to meet at home around 6 p.m.  Flying in the face of what anyone would define as "sexy, get-in-the-mood" activities, I had to make sure that my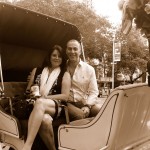 daughter's homework was done and that she ate some kind of food resembling dinner.  The babysitter arrived and we bolted out the door with some cash, our camera phones and some info I had hastily printed from the Central Park web site.  Wound up from the day and a little irritated that I couldn't just leisurely get ready (please remind me what that is!) for this new experience with my husband, we started walking and tried to transition from day to "date" mode but it was a bit useless for me.  I looked at the time and decided at this rate we would miss the "perfect carriage ride hour" so we hailed a cab on 5th Avenue.   Bad move:  the cab driver talked incessantly on phone (what happened to that particular law Bloomberg?); there was terrible music playing and in my stressed state I kept nervously touching the "touch-screen" to stop the noise until I realized it was the driver's radio!  We continued to Central Park in stop & go traffic while my husband returned emails and stared at his BlackBerry trying to finish his day.  In his defense this was early for both of us to "relax" and the transition was difficult, but I was determined to make this happen! Did I mention I screamed at the driver?  Very attractive.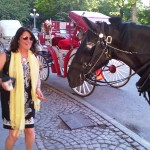 Thank G-d for Paul. As soon as we departed from the nightmare cab ride we were greeted by this charming man from another era with a sexy Irish brogue and a top hat!  Although there were numerous choices of carriages to choose from (who knew there were different styles?!) I was immediately drawn to Paul and his top hat; he really sealed the deal when he took out some carrots and directed me to give them to his horse.  "Her name is Dream," he said with that amazing voice that reminded me of Colin Farrell. Despite some irrational fears of ridiculous and not-so-ridiculous things, I was pretty comfortable taking a carrot from Paul and feeding this huge horse before we pulled ourselves up and on the white, half-top Cinderella-style carriage with the red, slightly worn but plush interior.  Paul chatted a bit with us as he held on to Dream's reins but also knew when to stop talking.  He took us at a nice pace going west on Central Park South to the nearest Park entrance.  Despite being a veteran New Yorker, I was immediately caught up in the experience — it was something new and so different for me. There was no horrible music, Paul didn't talk on his cell phone or look at any type of electronic device and neither did my husband (or me for that matter!).  The leisurely pace of the carriage ride was a welcome escape from the usual maddening speed of life and New York City in particular.  It was also surprisingly quiet perched atop a carriage. We saw some places I don't recall seeing in the past on foot or bike (The Dairy, The Pond and Hallett Nature Sanctuary) and we passed some places I have been but had never seen from this vantage point (Wollman Rink, Victorian Gardens in the warm weather) and other places.  I think the whole ride was about a half hour and about a mile long but it felt longer and we actually talked about nothing and just enjoyed it.  We both marveled at the fact that we had never done this and vowed to do it again with perhaps a bottle of champagne in hand for the second ride.  We took some photos and said good-bye to Paul and Dream and made our way to dinner in a whole different mood —  e-mails, homework, bad cab rides – all distant memories.
Getting back to PETA and their mission to eradicate these amazingly popular tourist attractions and, in my opinion, rid New York of something unique and iconic, I would say, use your efforts, resources and energy to perhaps get rid of any bad apples who are not ensuring the proper treatment of horses or following the rules set up by the union that governs the rides. But please:  do whatever you have to do to preserve the experience of the hansom cabs in Manhattan. And that goes for a few politicians (State Senator Tony Avella and Assemblywoman Linda Rosenthal) who have also joined the effort to stop what they call is an "antiquated" practice.   If it's antiquated, so be it. We need a little old world stuff back in this Twittering, sexting, fast world.
I sometimes think the New York of yesterday would have been a better place for me:  the slower pace, the horse-drawn carriages for getting around, the gentlemen in top hats.  Men like Paul are hard to find and just their presence can lower your blood pressure.  As it turns out, my husband and the ride, in the end, had the same impact as Paul, unfortunately without the sexy Irish brogue but I'll take it.  I don't think of Sinatra or corny songs very often (okay, maybe I do!) but I certainly couldn't help remembering that one song that night:  Love and marriage, love and marriage…go together like a horse and carriage….okay, okay, give me a break here…I think it was also the theme song for Married with Children sitcom.
Maybe Anthony Weiner should do some damage control by leading the fight to preserve the rides in the park. Let him tweet and Facebook about that.  Maybe he can tweet Glee's Lea Michele about working on this worthy cause together, as a team.  Only then could he possibly save his reputation with this particular New Yorker.
This week's "Getting Unstuck" Sticky Notes:
Always take some time to "vacation" in your own city.
If you walk, run; if you run, walk.  If you take the subway, take a cab; if you bike, walk. You get the idea. Just change it up.
Invest time in your relationships and don't keep doing the same things together.
Never underestimate the potential for a sexy accent to completely alter your mood!

Leave a Comment

Posted: 06/9/11 10:16 AM