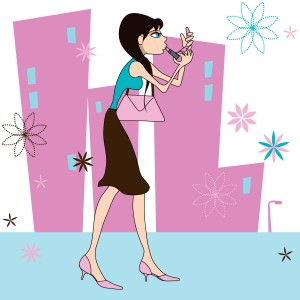 This is a guest post by Jami Kelly.  She is happily single, lives in New York City and is continuously getting "unstuck" doing amazing, interesting things.  If  some of her great adventures motivate even one person to do something new or different — even something small —  the52weeks is doing what it was intended to do. Jami is a marketing professional and is currently writing her first novel.
It seemed to me that the desire to get married – which, I regret to say, I believe is basic and primal in women – is followed almost immediately by an equally basic and primal urge – which is to be single again" – Nora Ephron
Let's face it:  we all know that being single is different than being married.  Of course, each has its own unique set of "stuff" – both good, tough, challenging, rewarding. But generally, when you're single, you have more opportunities to try something new so getting "unstuck" is not as challenging as it may be for my married friends who often have a few kids at home.  At least for me it isn't. But even you single folk may need a little nudge now and then, so here's my "top ten" list for getting yourself unstuck – based on my experiences over the past 52 weeks.
#10 – Strike a Pose. I have avoided Level 2 yoga classes like New Yorkers avoid movie theaters for fear of bed bugs. Yoga is supposed to be relaxing, not work! But I  "enjoy" my gym workouts a bit too much and just haven't gotten to Yoga at all. Recently, I was rained out of my normal Thursday morning run up the FDR, so I decided to hike around the corner to Yoga Works and go for it.  I expected to feel physically weak and out of place. I did;  but I also realized a few things:  I could "bind." I could lift my toes up in "crow pose" for a split second – hey, it counts. And I don't have to climb the wall in hand stand if I don't want to. And I don't want to. At least not yet. So now that I've survived Level 2, I can comfortably return to Level 1 where I can relax. After all, it is yoga.
#9 – Turn Up the Volume. I have a stereo system from the last millennium with one working speaker (and one that works when it is "in the mood") and enough broken, plastic CD cases to fill a bookshelf. My music needs a makeover. I had no speaker hook up for my iPod at home, so I splurged on a $60 docking station.  Now, all my favorite songs sound new – I can hear words and notes I'd never noticed. So how does this count as getting unstuck? Well, I may have Karen's recent post about Carnegie Hall to thank for that.  I'm going to load up my iPod with every genre of music I can think of and listen, with my new "sound system," as the songs were intended to be heard. Jazz, classical, country (okay, Lady Antebellum might not really be country, but I'll keep working on it). Any suggestions?
#8 –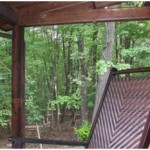 Little House on the Hudson. Last summer I rented a cabin in the woods in beautiful Dutchess County, New York.  I rented a car, which is colossal, since living in Manhattan, I rarely drive. I grilled on an outdoor barbecue, which is also colossal for the same reason. I sipped local wine while sitting in a rocking chair on my porch watching the sun dip behind the tall pines.  I entertained friends from the City. But mostly, I just hung out with myself and my thoughts. People asked, was I was afraid of being out in the woods alone? Not really, if you take the bears out of the equation. It was the weekend of Chelsea Clinton's wedding in nearby Rhinebeck and yes, I did consider crashing. But Owen Wilson was nowhere to be found.
#7 – Strangers on a Eurail. I traveled and hiked the Swiss, Italian and French Alps with a tall, handsome, almost-stranger. We'd met once in Manhattan at a networking party for media professionals. I was the media professional. He was the crasher (red flag, anyone?). When he asked me to join him for an "adventure" (he was living in Geneva and I was traveling to the area anyway) I consulted a few friends, then ignored their advice and met him there anyway. I will leave the rest to your imagination given the limited space here, except to say he spoke four languages, looked like Harrison Ford, and built me a campfire on the side of a mountain. Indiana Jones and the Temple of Swoon.
#6 –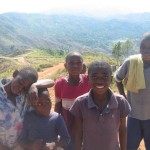 Haitian by Association. When I heard Sean Penn speak about how the media attention had died down only months after the Haiti earthquake while the need was only growing stronger, I felt moved to do something. And then I woke up the next morning, went to my job and forgot about it. Until a friend of mine from said job quit to start Community2Community, (C2C) a non-profit whose mission is to establish self-sufficiency in Haiti. The next thing I knew, I was among a crowd of Haitians at a jam-packed fundraiser in Bed-Stuy, Brooklyn. When my friend handed me the microphone to share my experience as a volunteer, I spoke about Sean Penn. I spoke about the people of Haiti. I spoke about being Jewish,  and I spoke about how we can't stand aside while others suffer. And it was there and then I was proclaimed "Haitian by Association." It's an association of which I feel proud to be a part.
#5 – Match Schmatch. I signed off of Match.com. Now that may seem like the opposite of getting unstuck – you sign on to Match to get out there and take a risk, not off of it. But after a zillion go-nowhere dates, I'm taking an even bigger leap of faith – actually steadily dating one of my "Daily 5" (i.e.- the five prospects Match sends to your inbox each day).  I look forward to potentially feeling the good kind of "stuck" – with M – assuming he'll have me as his glue. (I didn't just ask someone to go steady in a blog post, did I? No pressure, honey!).
#4 –
Guatemala or Bust. Costa Rica wasn't enough. I had to give my mother an even bigger heart attack by traveling 14 hours by plane, van, and then boat to a remote little town on the edge of Lake Atitlan, Guatemala. I took writing classes while looking out at a spectacular view of three volcanoes. I contributed to the very local economy by buying hand-woven tote bags and scarves with personalized tags from "Isabel," the woman who labored over her spinning wheel to weave them. I watched local artists capture the scenery in their paintings. I drank margaritas (not frozen!) made with brands of tequila I'd never heard of. And I learned that scorpions in that part of the world are not poisonous when a friend of mine was bitten and lived to tell about it. (Sorry Mom, but there's a world out there!)
#3 – Listen to Sally Struthers. I was so touched by the colorful native dresses and dark soulful eyes of the children in Guatemala that I signed up to sponsor one with Children International. Ana Cecilia stole my heart. Her picture hangs on my refrigerator, with a note saying how much she enjoyed the coloring books and markers I sent her. There is a dearth of shoes for children in Guatemala, but thanks to Children International, Ana now has a pair of black school shoes.
#2 – A Novel Idea. My life may sound interesting, and maybe I enjoy telling stories about my escapades. I know, I should write a book. So I am. I'm halfway through a draft of my first novel about the choices women make in life and love. Stay tuned!
And the 10th way I've gotten unstuck during the past 52 weeks:
#1 – Start blogging. Welcome to my first post! Thanks for reading. If you know a single person who needs a nudge, please pass it on. Gee, this is really quite a list. It's exhausting being me. I should take a break and cozy up on the couch for a while. Nah! There's always the next 52 Weeks!
---

Leave a Comment (20)

Posted: 04/15/11 10:05 AM