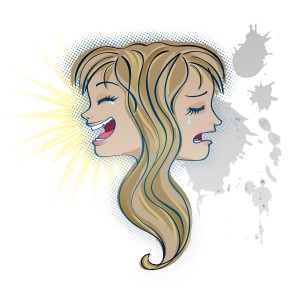 "If we couldn't laugh, we would all go insane." — Jimmy Buffett
I don't feel like writing today.  I am mourning the loss of a childhood friend who died last week after battling breast cancer for a year and a half.  I found out on Friday; funeral was Sunday.  I just had lunch with her a few weeks ago when she ventured into the city with her two amazing boys, ages 11 and 15.  I am mad. I am angry. I am so sad.  Life is so unfair.
A week or so before her unexpected passing, I was in one of my moods, which of course, in retrospect makes me incredibly mad at myself now that I am reminded, once again, about what's important and what's not. Procrastinating about something, I decided to get a quick manicure.  I went into a "new" neighborhood place and regretted it within 5 minutes: the woman doing my nails was irritatingly slow and incompetent.  My mood worsened.  Just as I was about to start crying for no reason, a big burly guy walked in and the entire place lit up with his energy.  He had come in for a pedicure and manicure and was amused to see there was another guy in a chair getting his nails done.  "I can't believe there is another guy here today," he exclaimed in a big voice.  "And he is a normal guy!"  The big guy was larger than life and just happy.   Despite my mood, I couldn't help smiling – he was just funny.  I was still getting my manicure when he finished his pedicure (yes, that's how slow my person was) and he plopped down next to me and said, "Well…you've been here a while! Do you know you have nice hair? (He really is crazy I thought to myself).  "What about me? Do I have nice hair?" he asked.  I didn't know where he was going (he had almost no hair). So I said, "Not really, but you are funny."  For the record, this was not a flirtatious exchange; it just happened innocently and naturally.  "I am a stand-up comic," he replied.  "No way!" I said.  "You're so funny, I just knew it".  He made me laugh throughout our whole conversation. His name is Michael Rakosi. He told me he appears at the Comic Strip on the Upper East Side. I vowed to go see him in the coming weeks.  All I know is that my mood lifted and I, once again, was reminded of the power of humor and laughter.  And then I remembered that one of the things on my "52" was to go see more comedy shows and just try to laugh more. Sounds simple but it was on my list.  I never go to comedy shows anymore (too busy, not planned in advance, whatever).  Years ago I used to go to Caroline's and other places in the city and I loved it. There is only so much imbibing one could do without needing to shake things up a bit.  Comedy shows. I had forgotten about comedy.  I just read in the New York Times that Comix, a great club that opened in 2006 had closed its doors. Maybe I wasn't the only one not going to comedy clubs anymore. I knew I needed to laugh more while the clubs were still in business.  Later that week, serendipitously I had a chance to see a another really funny person on stage.
I had gotten tickets months ago with a friend for our every-few-month-outing to a lecture or event at the 92nd Street Y.  There are certain friends that you do certain things with:  Helene and I go to lectures and events at the 92ndY as a way to see each other.  It turns out this time we would be seeing Whoopi Goldberg interviewed by Judy Gold, another comedian.  This was not planned after the "AHA" moment at the nail place.  This was just a happy coincidence on my calendar; it could have just as well had been an evening with Mayor Bloomberg since the tickets were bought in December and I quickly said "yes" when we went over our calendars.  From the minute I sat down I didn't stop laughing.  Whoopi was honest, real and just naturally funny as she candidly shared stories about her kids, fears and life.  She talked about her fear of flying (which I could relate to) and how she was so terrified at one time that she took an anesthesiologist with her on a plane to literally knock her out until she landed (I fantasized about having a private jet and an anesthesiologist myself).  The hour and half went quickly and I successfully forgot about all of my stupid problems and bad manicurists.
I read Gretchen Rubin's The Happiness Project blog a lot.  She often writes about laughing (even at yourself) to successfully increase your happiness level.   She's definitely right.
As I am trying to get through this week after my friend's funeral, I thought about trying to appreciate each day and laugh more in the future.   Why is it so important?   Why do we forget to laugh even when we are not dealing with sad or life-changing stuff?    During Stacy's illness she was on Facebook a lot.  She showed incredible bravery and candidness throughout her battle against cancer.  My weekly articles for The 52 Weeks are automatically posted to Facebook and I often felt weird putting out my weekly challenges trying to get out of my rut by going to yoga or trying to stop eating cheese when I knew there were many people out there, especially her at this time, dealing with terrible challenges.  Stacy only commented on one post I wrote in the last 26 weeks, Seven Days of Smiles.  Basically the post was about an experiment I did one week where I acted opposite of how I would normally act (yes, just being nicer and more "in the moment" because according to studies you will feel the way you act).  Stacy liked this post. She commented how important it was to remember to be nice, laugh and smile, especially to the people you love.  She got it. She knew.  The thing about Stacy was that she knew this way before she got sick. She just got it.
The key of course is to try to remember to laugh and smile when you're just going about your daily stuff. So, the next time I want to rip the stupid nail file out of a manicurist's hand and start crying, I will remember the funny guy I met a few weeks ago at the nail place, I will remember to try to live the Seven Days of Smiles experiment for more than a week and most of all, I will always remember that Stacy would have yelled at me for being in a "mood" and to just laugh and smile a little more.  We'll all miss you Stacy.
Here are this week's "Getting Unstuck" Sticky Notes:
Life just sucks sometimes.
Remember to laugh often — at yourself and at other things as much as possible.
Surround yourself with people and places that make you laugh.
Smile more, try not to be a bitch and remember to tell the people you love how much you love them, regularly.
Sometimes  a seemingly annoying experience can lead to a good thing — like a comedian in a nail salon!

Leave a Comment (3)

Posted: 03/4/11 12:29 PM