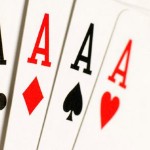 Life is like a game of poker: if you don't put any in the pot, there won't be any to take out. – Jackie "Moms" Mabley, comedian
A dark smoky room filled with men, the muffled sound of chips hitting the felt table, and silent tension hanging in the air is what one usually imagines. A brightly lit classroom filled with women, the sound of squeaky metal folding chairs, and giddy anticipation filling the room was the reality.
The World Series of Poker Tournament this definitely was not. Instead, 20 chatty women of varying ages, shapes, sizes and backgrounds were seated around two big round tables which were covered with crinkly white paper tablecloths ready to learn the game of poker – No Limit Texas hold 'em to be exact!
I'm taking a women's only class on how to play Poker at the 92nd St. Y for the next three weeks.  And once again, as so many times before throughout my 52week journey, I came away with something other than what I expected.  I've always wanted to play cards or be a part of a "group game" so suffice to say this was the perfect opportunity to try something new this week, break out of my comfort zone and just get out there. What I didn't expect was the easy camaraderie I felt with my fellow card shark wannabes after just one class, the wonderfully diverse group of people I met, and discovering that playing poker isn't just about playing poker.
I am not a gambler. I don't go to Atlantic City or Mohegan Sun and have never been to Las Vegas (see my post). Other than Go–Fish, Spit and an occasional hand of Gin Rummy, card playing is not something I do on a regular basis either. I knew about straights and pairs from childhood games of Yahtzee and as far as I was concerned, a full house meant the old TV show with Bob Saget, John Stamos, and the Olsen twins when they were still sweet and adorable.
So I was totally out of my element. Ellen Leikind, the instructor of the class, was an amazing teacher.  She's a fast talker, a real NY woman with her own style and flair, and from what I sense so far,  a bonafide poker player who definitely knows her stuff.  A marketing executive, she took her love of poker and her business savvy and acumen and founded a company, POKERprimaDIVAS which offers corporate events and teaches professional women to play poker in order to build confidence, provide team building, develop strategic know-how, improve negotiating skills, and just have a great time and be social. She also teaches classes like the one I was in and recently wrote a book, PokerWoman: How to Win at Love, Life, and Business using the Principles of Poker which discusses both the psychological as well as the technical aspects of the game in relation to business and women in general. Ellen left her job in the corporate world, tried her hand (no pun intended) at a bunch of different things – (kind of her own "52″?), and found her passion. I didn't expect to hear this story from my instructor but was inspired when she shared this. It was then that I quickly realized the class wasn't just about learning the basics of poker. Ellen's on-target spin had me in agreement that this is also about helping women get what they want and move forward. It made the class that much more interesting for me, knowing that I was there as part of my "52″. I plan on reading her book.
The class was challenging. It was fast paced, our teacher didn't pander to us, and most of the participants, while there to have a good time, were also there to learn. The  rules of the game, thinking about my opponents as well as my own hand, strategizing, remembering new vocabulary and poker slang such as flops, rivers, backdoor straights, little blind, big blind… It was so much more than I initially thought it would be.  But I absolutely loved it!  Once I had the basics down, I was hungry to play.  I was cautious and unsure at first but as the evening wore on, a tentative confidence grew. And while there was definitely an element of competition by the end of the night, somehow the atmosphere stayed fun and relaxed.
As with so many other things I've recently tried, I have my work cut out for me in the next two weeks. There is much more to learn and a lot more to practice before I play in our own Texas hold 'em tournament at the end of the class. But I'm definitely not planning on folding yet. Deal me in…
This week's "Getting Unstuck" Sticky Notes (so cliché but so true):
You do have to be in it to win it.
You really do gotta know when to hold 'em and know when to fold 'em.
Get out of your comfort zone and take a risk.
And as Ellen, my instructor says: If you want to be in the game, you have to be at the table.

Leave a Comment (5)

Posted: 03/22/11 9:58 AM