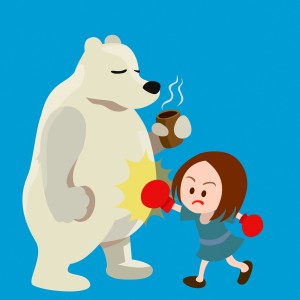 Seventy percent of success in life is showing up. — Woody Allen
Mark Wahlberg (Micky Ward) in the Oscar-nominated film, The Fighter:  Aging quickly.  Lives in Lowell, Massachusetts — tough neighborhood.  Endless monotony, potheads, crackheads, gloomy.  Supportive girlfriend. Trying to get "out" of his neighborhood, win the title and rise above his situation.
Me:  Aging quickly this winter.  Live in New York City – especially tough neighborhood this month. Endless snow storms, potholes, ice, traffic, still eating too many crackers, gloomy.  Supportive family.  Trying to get my ass anywhere in this weather that will allow me to continue 52weeks without losing my mind.
I saw The Fighter last week.  I enjoyed it but it certainly wasn't my favorite movie of all time or even this season.  It did, however, remind me that boxing was on my "52" to-do list.  I've always wanted to try it; just never have.  I also heard it is one of the best workouts if you want results, increasingly popular among women and even hot in Hollywood.  So this week, I decided it was the perfect time to put on the gloves and punch something, anything.  I was angry. I was angry about all the really important stuff in the world that is unfair and I was angry about the "little" things like wanting to sleep more, the garbage piled up in the streets, and feeling like I ran a marathon just to bring my daughter to school in the frozen tundra that is now New York City.   I was mad that, despite some small steps in the right direction, I still haven't made some necessary big changes in my life and I was just mad that I haven't seen the sun in months.  I was pissed. I was in the perfect "boxing mood".  In fact, an article I recently stumbled upon said boxing is the only fitness exercise where you can hit without being arrested.  That's what I needed this week.
So I called John.  John and his wife Stephanie own The Process Fitness in Manhattan on the Upper East Side.  Over the years I have dragged myself to their gym when I feel like I need someone to get me back on track or stay on track or start again or get out of a rut.  I wish I could say that I trot happily to my appointments but I don't.  It's always a mental battle for me to stay on track, get on track or just show up.  But I know they are always there, waiting, willing and able despite my inconsistency and irritating e-mails about changing my appointments.  Snow days, kid sick days, not in the mood:  it's dark and cold out and getting there – just 12 blocks away – lately has felt like the biggest mental hurdle one could imagine.
This week I was scheduled for a regular training session but I called John and asked him if I could box instead since I know he has the equipment and often boxes with clients.  He was agreeable and we confirmed the day and time.  John gave me a thumbs up when I walked in the door.  I showed up. That was huge for me this week.
After a short warm up he helped me put "inner" gloves on that reminded me of my biking gloves (they were actually pink!) and then put the boxing gloves over them.  My hands couldn't breathe. I immediately wanted to free my hands but I didn't have much time to think about it because he put on training "mitts" and held up his hands and showed me how to jab (one-two) and then cross over and alternate, left-right, left-right.
I was a little uneasy of course (anything out of my comfort zone lately is making me feel this way) but soon I got the rhythm and did numerous sets.  He alternated my boxing with crunches, squats, push-ups and other exercises all while my gloves were on.  Drinking from my water bottle became a joke but I guzzled some water anyway, spilling it as I clumsily grabbed the bottle between both gloves.  My heart was beating fast; yes I was a bit nervous to try something new this week but it was also intense cardio.  Once or twice I felt like stopping but I plowed through it and felt some of my anger at the world dissipate as I boxed with John.   Clearing my head was easy since I had to focus on just surviving the session. John was great, reassuring me that I was not the only one that found boxing really difficult, especially the first time.   I needed the pep talk. Thanks John.
So I didn't love The Fighter. I didn't love boxing either but I felt great after my session.  I may do it again to stay in shape.  Not sure.  All I know is that I showed up and that was the biggest knock-out of the week.
Now…where are my cheese and crackers?
This week's "Getting Unstuck" Sticky Notes
Just show up.  According to experts (and not just Woody Allen) showing up is more than half the battle.
Try new things.  If you don't shake it up, you will be bored.
Drink a lot of water, even if you have gloves on (winter gloves included). For some reason, unless I am working out, I don't remember to drink enough water.  For the record, it is possible to hold a water bottle with boxing gloves on. You just may look ridiculous doing it and who cares about that?

Leave a Comment (2)

Posted: 02/3/11 11:33 AM