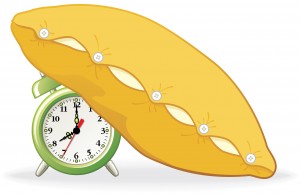 "There's one thing that's really great about waking up early, and it's not jogging or greeting the day. It's just that that's when they make doughnuts." – Kathy Griffin, comedian
Some people are, by nature, early risers: best work done before 9am.  Me – not so much… I am generally not what you would call a "morning person". I get up early every day because I have to — responsibilities await; but would much prefer a later schedule.  When I first started teaching I remember being chided by my colleagues that I was in the "wrong profession". Teaching tends to be an early morning gig.  I like the hustle and bustle of the day and then the quiet of the night- that early morning calm just doesn't do it for me. My husband and kids go to bed, I get my second wind and begin to get busy. And yes, I am writing this now—late at night!
So needless to say, early morning weekend parental obligations are not my cup of tea either. But last weekend, my daughter had to attend an early, VERY early morning school entrance exam on "the other side of town".  Say it ain't so….But I decided to make the best of this change in routine. It was an opportunity to pursue a "52".
The cold, icy NYC morning definitely did not help. It has been a brutal winter here on the East Coast and honestly, the last thing I wanted to do was get unstuck. I would have been quite content and happy to drop off my daughter, head back home, and stay "stuck" in my warm cozy apartment.  But here was a chance to check out a neighborhood I just don't get to very often, mostly because it is clear across town and well – you've heard it before, "the everyday stuff" just gets in the way. I mean, who has two hours to kill and the time to haul crosstown and then downtown merely to explore the sites and sounds of a different neighborhood, whether early in the morning or late in the day?
I don't usually drive around the city in my car all that much either.  NYC is much better to navigate on foot or by public transportation but two subways or an expensive cab ride didn't sound like such a great idea.  I just wondered what I'd do with the car…
Grumpy mother and grumpy Daughter huddled into said car and I dropped J off at her appointment, then briefly thought about turning around and heading back home, but I didn't.  Instead, I looked out my windshield and saw the most beautiful early morning site….nope –  it was not a gorgeous sunrise.  It was the absolute Perfect Parking Spot! Everything about it was just right—no meter, no alternate side of the street parking or fire hydrant a little too close, no parallel parking necessary, in the perfect location… To score a parking spot in NYC like that is like winning the lottery to some. I felt like George Costanza on not one, but two Seinfeld episodes (too funny to go into – but you should really watch them if you never have).
Check one for first positive early morning experience.
Off through the streets of Chelsea and the Meatpacking District I went. I had a final stop in mind but thought I'd walk around a bit first. The city that never sleeps was so tranquil.  There was a beautiful calm in the air. Most of the stores were still closed (guess I'm not the only one that likes to start my day mid-morning!) I walked through the freezing rain enjoying the quiet and the empty streets and headed to my destination, which I knew would be open at this hour of the day.
Early morning at Chelsea Market (http://chelseamarket.com/ ) was just a very simple, nice way to start the day. The place is technically a food market but it is so much more. One of those destinations that you always read about but just don't get to because after all, it's just a food market and you live uptown on one side of the city and this is downtown on the other side of the city.  Except that it's not just a food market. Chelsea Market is housed in what was once the National Biscuit Company (NABISCO) Factory (home to the creation of Oreos, Mallomars, and Animal Crackers!).  The actual building and the surrounding area has a rich history and is interesting in itself but the factory has now been converted into this hip spot.  It is not so unlike other food markets around the country, but what sets it apart is that there is much to explore about the building itself;  music, specialty stores, artwork, interesting architecture, history.  The Food Network TV studios are also housed there with many of their most popular shows filmed on location adding an additional pulse to the place.  So it's not just for "foodies" or gourmands.
I spent the morning meandering. Although I heard that most days it can get very crowded, it was rather mellow. Check two for another early morning positive.
Peppered with mostly regulars, it had a real NY flavor. While wonderful tourists are what makes the heart of this city beat, it was nice to just be among "locals".  I watched two little brothers squeal in delight as their dad bought them pickles from the Pickle Man, eavesdropped on an early morning Foods of NY tour (the guide was incredible – plan on putting this on my to-do list), inhaled the aromas coming from the massive bakery ovens and watched through the glass walls of the open kitchen as some bakers worked their magic. I admired the space, checked out a temporary photography exhibit and some permanent sculptures on display, warmed up with my coffee, had an unbelievable scone,  and wandered some more.
I really had no expectations. It was after all, just a glorified food mall. But I made some simple discoveries this week – there's this wonderful marketplace tucked away in an inconvenient location, getting out so early in the morning really lifted my spirits (I guess the early bird does catch the worm) and, of course, scoring that elusive parking spot in NYC can make you feel pretty damn good!
But tomorrow I'd still like to sleep in…
This week's "Getting Unstuck" Sticky Notes:
Make time to fit a little something in by pairing it with another activity or responsibility.
If you are a night owl, get up early once in a while. A different time of day equals a different perspective.
Explore another neighborhood and get out of your zip code, even if just for an hour.
A change in your morning routine can get you going for the rest of the day.
Don't give up looking for that elusive parking spot!

Leave a Comment

Posted: 02/17/11 9:45 PM