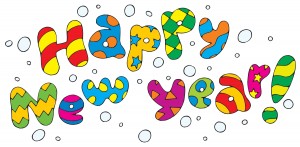 Cheers to a new year and another chance to get it right. – Oprah Winfrey
It's the beginning of a new year and time for that yearly ritual when many of us size things up, make resolutions, throw out the "old ways", promise to bring in "the new" and start all over again.
Don't worry, I am not about to list my resolutions. I don't do resolutions. But lately I have been asking myself what The 52 Weeks has meant to me so far and how I can continue to make things even better. This blog project started as an honest and genuine way to "get out there"- to have some fun, to face some fears, to try new things, to get back in the game. But now I am looking at it differently. Priorities have begun to shift. While I am still all about all of the above and getting unstuck alongside Karen, and will continue to follow through with my list of 52 as well as add some new and previously unplanned 52's – I now realize that as we're almost halfway through, it is no longer just about trying to scale a rock wall, bungee jump, clean out a closet, or call a long-lost friend you just found on Facebook. The question for me has now become what makes me willing or want to do any of these things? What is motivating me to keep going and what am I learning?
For me, it's a combination of a few very basic ideas. Here are just some of the things I've figured out so far:
getting support from others, whether a gentle nudge or a major kick in the ass, makes a difference
a very annoying alarm clock to get me out of bed is important, especially when I have signed up for a super early class of some kind
doing for others and with others as well as for myself and by myself  is quite alright
realizing it really is the little adventures and moments I'm enjoying the most
trying things more than once is the way to go (I still don't like kimchi (see my post) and most spicy foods but I'm not giving up yet)
fear is okay and can actually be a good motivator
All of this sounds like a bunch of BS, I know. But, at least for me,  it really is the truth.  When I started this, I thought it would be the exciting 52's that would reinvigorate me – but it truly is becoming about those "little" moments; those are the the ones that I am finding the most fulfilling and what motivates me to keep going on my 52 week commitment. It's also about that feeling that comes after, not necessarily about what's happening at the moment.
It is hard to break old habits and patterns. Believe me, I wrote the book on that one.  But it does happen. Really. Anyone can do just about anything as a way to get unstuck. Everyone's list is personal and unique. All it takes is a little motivation. Think about it.
Happy New Year.

Leave a Comment

Posted: 01/13/11 11:47 PM