"It's not you, it's me…"
"You're giving me the 'It's not you, it's me' routine? I invented 'It's not you, it's me.' Nobody tells me it's them, not me. If it's anybody, it's me." George, Seinfeld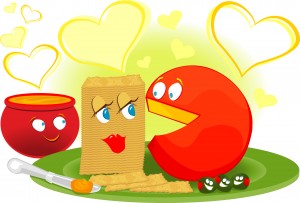 It's over.   I just can't continue with you on a daily basis – even a weekly basis anymore, at least for a while.  I want you every day and I just can't have you anymore.  I've had enough of you to last forever and I want to stop craving you.  "It's not you, it's me," I thought to myself.
I broke up with cheese this week.  I can't eat it anymore.  If I continue eating it I will constantly be struggling to lose that "extra" weight.  If I continue, cheese will have won.  I eat it too much, usually accompanied by crackers. But I seem to find a way to eat cheese with every meal — it's ridiculous:  cheese and crackers; cheese on my sandwich regardless of what I am eating; cheese omelettes.  I am a cheese addict. I can't stop eating it, especially this winter as I fight the frigid temperatures, snow storms and the cravings that come with it.  Even when I have "cut back" in the past, I purchase the fat-free cheese as a substitute.  Why any human would want to eat fat-free cheese is beyond me; rubbery, slippery, no taste and doesn't melt.  You can't fake cheese.
So this week, as part of my "52" I decided to break up with cheese.   It falls into the category of sometimes needing to make little changes, one step at a time, to make bigger-picture, lifestyle progress.  It's similar to They're Not Just Blueberries – my first post for the52weeks. For that one, I vowed to eat some blueberries everyday for a week, hopefully embracing the daily fruit habit for the long-term.    The major difference this week is that I am giving up something; for Blueberries, I had to add something new to my daily menu.  A big distinction.
For the record, I am not a candidate for the Biggest Loser or anything. I just constantly want to be 10-15 pounds less than I am and this winter has brought that number to a new level that I don't want to accept or really discuss in detail. Put simply: my jeans don't fit.
Day 1: Couldn't go cold turkey. Tried to be proud of myself as I carefully measured one tablespoon of shredded cheese and scattered it over a piece of whole grain skinny toast which I then melted in the toaster.   A long time ago I remember Weight Watchers had said the tablespoon-measuring cheese thing was good versus slices, etc.  At least I wasn't picking mindlessly.
Day Two:  Made the mistake of cooking Chicken Parmigiana for my family.  The good news is that it was a hit.  I actually even had the willpower to make a piece, on the side, sans mozzarella cheese.  The bad news?  I was starving at 10:30 at night when the house was finally quiet. Or maybe it was just emotional eating? Not sure. I found myself eating Wheat Thins and cream cheese and watching Millionaire Matchmaker on Bravo. Not funny.
Day Three: Newfound determination. I am really mad at myself.  Throwing out all the cheese in the house.  Family will have to deal with it. The fact is, I don't think they really care. Here I go; I am throwing out the cheese.   Had my first cheese-free day in ages.
Day Four:  I think pizza will be making an appearance here later.  I happen to be meeting friends for dinner tonight. Husband is working late. When one of these nights happens I usually order a pizza for sitter and daughter. It's a routine they have. They love it.  I will be out to dinner.  Will there be leftovers that tempt me after some wine and a "dinner with girls" (i.e. big salad)?
I did it. Leftover pizza went untouched.  I went to bed.
The week continued without cheese consumption.  I am not sure if I will do this forever. My goal is to just be in control of my cheese consumption and enjoy it as something special rather than look for it daily like an addict.  I will keep you posted on my dysfunctional relationship with cheese. Like I said earlier, sometimes baby steps are important to move forward and trying to eat better this year is one of my goals.  I know it's just cheese, but like the blueberries,  it became symbolic of some of the things I need to change. The thing is though, I know for me, if I try to change too much at once or do it all at once, I end up crashing and going back full force to whatever bad habits or patterns I have.  The last thing I want to do is find myself "friending" Kraft's Fan Page on Facebook. So I choose this week to just continue working on my food habits a bit.  I hope I have the willpower to stay out of that relationship for a while, at least until my jeans fit again.
Here are this week's "Getting Unstuck" Sticky Notes:
Don't have things around that will tempt you.  If they are not there, you can't partake.  For me that includes cheese and brownies.  Don't pretend "others" will eat them.  For the record, if you are a New Yorker, Fresh Direct's frosted brownies are incredibly good. Don't ever, ever order them, even under the guise of "for play dates".  I am the only one who ate them last month when they arrived.
Don't kid yourself. Sometimes, you are who you are no matter how much you may try. Know your weaknesses and deal with them; get help when you need it.  Weight Watchers is a great place for support when trying to shed the pounds; and just calling my blog partner Pam is probably a good idea when I feel I need some support.  And, by the way, if you are over 40 years old and even THINK you are savvy about technology, you're not. Recently, I found a great, part-time assistant. Princeton graduate. Smart, just starting out.   I hate Twitter, trying to "get" it, but I don't. I Like Facebook sometimes. Need Twitter to help get the word out and inspire others with this blog. And, if I ever want to properly tweet with Kraft or other cheese addicts, Ms. Princeton will help me.
Enjoy each day — with or without cheese. Tucson shooting. So horrible, so sad.  Why this guy was even out and about in the world is beyond me. Scary.  Be aware, but don't live in fear. Report people who seem dangerous and unstable.    Just had to remember the victims of Tucson in this post as I obsess about cheese. It puts it all in perspective.

Leave a Comment (8)

Posted: 01/20/11 11:33 AM