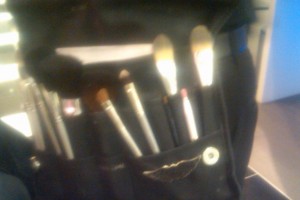 Beauty, to me, is about being comfortable in your own skin. That, or a kick-ass lipstick. – Gwyneth Paltrow
I just read in Real Simple magazine that the average woman spends about 8 years shopping during her lifetime. That's pretty amazing.  I thought about this statistic for a moment and suddenly felt grouchy:  during the last few years or so I have "fallen behind" in the shopping department. I guess I was either lazy about it, or as we say often say on this blog life just got in the way. Frankly, I am finding that as I get older, shopping feels more like a chore than anything pleasurable.   I remember shopping for hours with girlfriends, looking at things for no reason, sampling, taking our time. It was fun.  Now it's time-consuming and sometimes just a pain-in-the-ass.  Even when I find myself "in the mood", I usually have other deadlines or priorities. I just find it impossible to get to the stores lately.  I mean, who has time to leisurely shop anymore?
So it was time:  it's time to update the wardrobe, shake things up and throw out the pre-millenium, closet-cluttering jackets I will never wear again. The task before me was overwhelming so I decided instead to tackle my little vanity desk where I keep all of my cosmetics. I looked in the mirror while doing this. Ugh. Yes, the last few weeks have been trying and sad as we continue to mourn the loss of Abe, Grandpa and Dad (see post); but I also knew the dull, pasty skin in the mirror was due to the frigid temperatures and an outdated routine. It was time to purge and replace. Some items in my drawer had also been there for an incredibly long time and were no longer safe for human use; diving into the tubes, creams and brushes felt like some progress without giving up two days in the real world to tackle my closet.
Late that same night, I was speaking with Pam, my blog partner, for the 10th time in 24 hours and I mentioned my desperate need for new makeup and coincidentally she said she was in the same bacteria-ridden, labels-peeling-off, out- of- everything-boat.   Gross I know, but that was our reality at the moment.  Yes, we have been frantically trying to carve out time for our 52weeks commitment each week; yes we go for manicures and haircuts and other little rushed "maintenance" stuff when we can; but for some reason we were both really behind the eight-ball in the cosmetics and  skincare department.  We looked at our respective schedules while still on the phone and set a time and date to go together for a little make-over and some new make-up.  We had holiday shopping to do anyway (as women and mothers it is always less guilt-inducing if you can multi-task and not make yourself the focus of an outing; why do we feel that way anyway?)
A few days later I found myself rushing to meet Pam at Bloomingdale's, gift list in one hand, make-up wish list in the other. We didn't really know which counter to go to but found ourselves at Lancôme and I was introduced to Morgan, a freelance make-up artist there for the day.  She was stylish, very "New York" and certainly, at least from her own make-up, knew how to apply cosmetics (which at this point in my life I think I forgot how to do for some reason).  I plopped down in one of those director chairs they use for these public makeovers. Pam, still thinking about which counter to go to, patiently sat next to me and watched. I told her we should take photos of our outing (http://www.facebook.com/the52weeks?v=photos).  I thought about what I was doing. Should I research this a bit more and go to a private appointment somewhere that was calm, where someone truly analyzed my skin and color palette? Yes, probably. But I looked at this as the fast-food of makeovers ("McMakeover"?) and that's all I felt I had time for right now. Better than nothing, I thought to myself.
Morgan started by removing whatever make-up I had on my face. It felt refreshing and good to be face-"naked" but I started feeling a bit self-conscious sitting in the middle of pre-holiday Bloomingdale's-land.  Then I remembered something about Kathie Lee and Hoda going without makeup on the air this past spring and I decided to go with it and enjoy (did you know that 40 percent of women would be embarrassed to be seen without makeup by a friend or co-worker?).  Morgan expertly removed all, gave me a quick but accurate skin analysis and started applying foundation.  I chatted with her a bit, embarrassingly admitting that I think I was using the same Clinique foundation since my bridal shower (about the time Clinton was running for President – BILL Clinton).
What I loved about Morgan was her confidence about her choices for me. It was as if she immediately knew what I was doing wrong and corrected it:  go lighter on lip color; stay away from powders on too dry skin; foundation should provide good coverage (unsaid…"for your age"); exfoliate at home; eyebrow tips and on and on.  I kept asking Pam what she thought of some of Morgan's choices.  She liked the lighter lip color but didn't hesitate to announce that my blush needed to be toned down. I proceeded to the checkout counter after Morgan did her momentary magic and purchased a lot of the stuff she recommended. At about the same time, Pam decided just to stay put and started her make-up application with a different artist and had an entirely different experience.  Let me put it this way, she seemed to get crankier with each stroke of the brush or sponge.  I thought she looked great as her guy stood in front of her, dipping and dabbing but I could tell Pam was not a happy camper.   She finished and went to buy a few items but I could tell she was counting the minutes to wipe away the proof of her "McMakeover" as fast as possible.
I went to return something, we lost each other for a bit and I could tell we both had other things on our mind.  We said goodbye as we both continued with our errands, counting the precious remaining hours until we had to go to school pick-up and frustrated I think that our experiences didn't "match-up".   The next day we had a heated debate on the phone about whether covering gray hair was "required" maintenance for women our age. I felt it was required. Pam thought it wasn't.  Stupid debate. Personally I think we just didn't connect on this makeover outing. We had two different experiences:  I liked mine a lot; she couldn't wait to get out of the chair. Not sure how or why we got on the topic of gray hair but I think I said something about how time-consuming even basic "beauty" maintenance was for women.  I think our little "argument" was more about the rushed "McMakeovers" but for some reason the makeover outing and getting on each others nerves reminded me of a scene from the movie Beaches when Hillary (Barbara Hershey) and CC Bloom( Bette Midler) are mad at each other and in the cosmetics department of a big department store in New York:
CC Bloom: "Hillary, what do you think? Is this color nice?"
Hillary: "I guess".
CC:         "Well, is it or isn't? Be specific".
Hillary: "No, it makes you look like a corpse. Is that specific enough for you?"
Okay, okay so Pam and I didn't connect on this makeover thing and it wasn't, by far, the best "52" experience either of us had.  But I can honestly say that sometimes there is really nothing like a best friend or a kick-ass lipstick when you really need to escape the serious, mundane and reality of day-to-day life — even if you disagree about the experience or the importance of covering gray hair…

Leave a Comment (1)

Posted: 12/21/10 12:18 PM