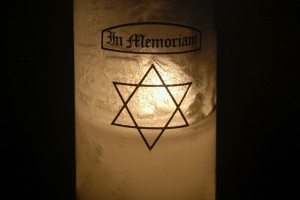 My grandmother was a Jewish juggler: she used to worry about six things at once. – Richard Lewis
Last week my father-in-law died.  It was so sudden that I need to create a new word to describe it. One minute we were lighting the Chanukah candles on the East Coast and the next minute we received a horrible call and were learning the sketchy details of his passing at his home on the West Coast.  My husband was inexpressibly close to his father — that rare closeness, the foundation for everything that makes my husband who he is today.  Remaining steady for him and my not-yet, 10 year-old daughter is truly testing my strength as a wife and mother.  I lost my own father in 2002 while still reeling with post-partum hormones. You can't understand the emotions of losing a loved one unless you have gone through it before.   I still miss my Dad terribly.  I loved my father-in-law from the minute I met him over 20 years ago.  But a foreign feeling overcame me with my father-in-law's passing that did not occur when my own father died and I am not sure why:  I felt the absence of a spiritual and religious person who could help me and my family through this difficult time.   It was a strange awakening.
I have to share a little background so that anyone reading this can comprehend why this was unusual for me. Yes, I am Jewish.   I guess I could say I feel completely culturally Jewish and had what I thought was a "Reform" Jewish upbringing.  However, I have never felt a true religious connection to Judaism — the reasons too numerous to detail here.  I could blame it on many things but I won't.  The fact is I was just never inspired to unabashedly delve into it.  My daughter does go to Hebrew school (perhaps somewhere deep down I want her to have the connection I never had, I am not sure).  I have been dropping her there, two times a week, for three years. I take full blame when I share the fact that I never made any effort to know the Rabbi at our temple. And finally, yes, I love the holidays – both the serious ones and the festive celebrations – but my inspiration on these special days is more about being with family and eating. Let's see..to lighten my mood right now a few other indicators? Bagels and  Chinese food on Sundays of course; I cook a great Kugel, sure. Worry a lot? No question.  But that's it. Until now.  My father-in-law died and I didn't really feel I had a Rabbi to call.  Not good.
I thought about why I didn't feel this way when my own father passed away.  Was it because I was still adjusting to motherhood and couldn't function in general?  Was it because I am now in my 40's and unfortunately more aware of the life cycle and shit happening even to people in the prime of their lives?  Or is it simply because there finally comes a time when everyone just seeks more of a spiritual and religious connection?  Am I just late arriving for the services?
My brother-in-law and sister-in-law happen to have an amazing relationship with their Rabbi – a Chabad Rabbi.  They are not even very religious but were drawn to this wonderful man years ago and have developed a deep, meaningful relationship with him. "I just didn't like our local Temple", my sister-in-law explained. "It was like Temple Chanel," she joked trying to lift my spirits.  "All they cared about was the wrong things."  We used their Rabbi for my father-in-law's funeral and for the Shiva.  I was grateful he was around.
A few days after the funeral though I made THE CALL.  I called "my" temple and asked to speak with the Rabbi.  And I did.   He said all the right things of course.  We spoke for a long time and he answered some of my questions and was open and sincere about getting to know our family. He told us that this Friday they will say a prayer for my father-in-law at services; we plan on going.   I even started researching the Chabad movement to determine if perhaps that was the way for me to go or maybe the Chabad Rabbi I met  was just the catalyst to get off my agnostic ass. I am not sure.  All I know is that this week, during this really tough time, I felt the need to connect to a comforting, spiritual and religious voice. I felt the need to explore my religion like I never did before. And I vowed to make it a part of my life going forward.   Religion wasn't really on my "52" list per se, but now it is.  Finding my religion for the first time is going to take more than one week but I felt like I was a bit less stuck in terms of this part of life than ever before and I didn't really know how stuck I was.  And, the52weeks.com is all about getting unstuck and getting more fulfilled. It's funny how you can still get a bit unstuck, in mourning,  without even leaving your apartment.
I miss you Abe and always will.

Leave a Comment (10)

Posted: 12/9/10 11:56 AM