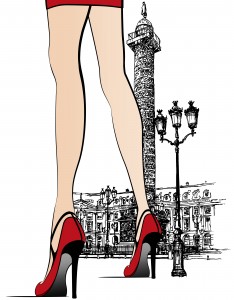 Think left and think right and think low and think high. Oh, the things you can think up if only you try!— Dr. Seuss
Here I go again with the French stuff. Despite having yet to make it to Paris (read about this ongoing quest), I continuously find myself drawn to French food, vintage French posters, French films and just the idea of what France is all about.   Note: this post is NOT about French, France or shoe shopping. It's about inspiration.
I didn't know what to do this week from my "52" list.  I was overwhelmed with reality and didn't feel inspired to shake it up or do something different; I looked at my list and wondered where to find the time for the many ambitious adventures I wrote down last year.  "I had no idea how hard it was going to be to stick to this 52week thing," I found myself saying to a close friend.  The blog was conceived from such a genuine place – feeling "stuck" and wanting to do new things each week.  "I knew it would be," she said.  "Doing something new or different each week and then actually writing  about it sounds exhausting!"  I shrugged, nodding my head in agreement. I didn't know what to do this week.  Just in case there is any doubt, I have no regrets about taking on this challenge and there certainly have been some good weeks — but just not this week…or so I thought.
So just as I was feeling like this, looking at the cloudy, gray skies and looking for inspiration, I stopped in a shoe store (retail therapy?) and  overheard this attractive woman talking to a salesman at the store; and then, without warning, she started speaking French and becoming angry.   After she walked away I overheard the salesman explaining to a manager that she was irate about shoes that were supposed to be held for her that weren't.  Being a bitch and yelling about shoes never sounded so good, I thought to myself.  (I have been talking about learning French for as long as I have been talking about going to Paris!). So the next day I ordered the Rosetta Stone's Learn French Level One kit.  I also called the 92nd Street Y and the French Alliance about classes in case I decided to go with a human instructor (yeah, try fitting language classes in, I thought to myself).  I hadn't planned on tackling French yet but the shoe shopping experience and a recent, accidental visit to one of the best vintage French poster places in the city made it seem right.  Just making the calls and a purchase didn't seem big enough for The52weeks but I reminded myself of something Gretchen Rubin of the Happiness Project says which I need to remind myself of often:  "remember if you have even just fifteen minutes, you can get something done."  That's where I am going with this.  Thanks shoe lady. Thanks Gretchen.
And then I thought about inspiration. Who was inspiring? Who had we inspired (if anyone) with this blog?  I needed to step back and think about what gets us going to make changes and do something "out of the box" which is not easy when you've actually committed to it! I mean life gets in the way even with the best intentions.  And, as I have said before, we get in these ruts and patterns.  How do some people seem to do it so effortlessly? Here are just a few stories I have heard since The52weeks launched this past summer.  I make sure I look at them when I feel overwhelmed by this commitment:
–My close friend, Rochelle (guest post coming next week!)  actually went gliding this past summer, soaring above the Hamptons. Yup, that's right.   She's never done it and just wanted to do it.  Warning to my readers: if you know me well, you know I will never do this. If you don't know me well, sorry to disappoint.  Being high in the sky for no reason will never make it on a "52" list of mine. But thanks to "R" for inspiring me to keep going on my mission.  Knowing you can do something a little "scary" (or a lot!) gives you confidence. She claims 52weeks inspired her and gave her courage as she navigated the possible end of a 25-year marriage and the skies over the Hamptons (note: secured permission to mention this!).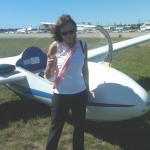 –          A newer Friend, let's call her "W", has gone back to school for a whole new career.  She is doing this full-time, juggling family and life and still manages to look incredibly put together.  Just that in itself is an inspiration.  Forget about the huge school thing; can I possibly ever feel "together" again?  Sometimes you have to change your course and W is doing this.
–          One of my oldest and dearest friend's husband just ran in the marathon again. He is not the same man I met 100 years ago. Now he works out more than most humans. We have spent a lot of time together over the years.  After a weekend together this past summer and a night of too many margaritas, he still jumped out of bed, training gear on, and ran, ran and ran, determined to train each and every day.  He doesn't let anything get in the way of training. He was not always a runner.  His passion for running started only a few years ago I think.  It's important to find new passions.
–          My friend and tennis partner "H" finally faced something she hasn't been able to in years:  she finally cleaned out her parents' house after avoiding it for years after they passed.  It was very difficult for her – beyond difficult. She had grown up in that house. She had moved back in that house after her divorce. It represented much more than a house to her.  She took small steps, she cried, she stayed in bed one day because it was all too much. But you know what? She did it.  She never thought she could.  Sometimes big things need to be done in baby steps.
There are so many more and I am constantly looking for inspiring stories so send me something you did this year that was big or small or that you want to do. Anything to keep me moving on my 52 weeks of hell. Oops, oh, I mean "enlightenment", oh I mean "fun", oh I mean "growth"!
Sometimes you just need to look around for inspiration:  My friends, Dr. Seuss, the Shoe Lady and a popular blogger and author named Gretchen are all keeping me on track this week.  I am hoping to speak a at least a little French by the time I go to Paris…Quand je vois de nouvelles chaussures à Paris je les prendrai avec moi à ce moment (When I see new shoes in Paris I will take them with me at that moment). I love inspiration from anywhere.

Leave a Comment (3)

Posted: 11/9/10 10:22 AM