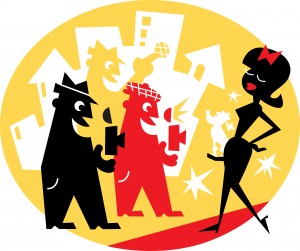 Max is a confident, personable guy who is well-suited to be on camera. Good-looking and put together (at least whenever I see him), he always seems to be "camera ready". I, on the other hand, while confident, am not only camera-shy, but one of those people who always manages to get caught in my sweatpants or with my hair sticking up when I bump into the ex-boyfriend or my best frenemy at the supermarket. Generally not "camera ready" .
Max is also my real estate broker.  You see, I am in the process of selling my NYC apartment and looking for a new one.  In addition to brokering real estate deals, Max sometimes appears on a local TV show seen on NBC/LXTV's OPEN HOUSE called The Hunt.  In the show, realtors take their clients out and about to look at available real estate properties which may be of interest to them.
A while back he asked me to join him on one of these TV shoots. I politely said, "No, thank you."  For some crazy reason, he thought I'd be a good fit for the shoot.  I'm sure I knew what he was thinking. Pam's a friendly, poised, outgoing person, and always quick with the witty retorts. She'd be great at this! At least that's what I hoped he was thinking. (Ha.) What he didn't know was that even though I can command the attention of 30 1st graders in a classroom and have been called a "Chatty Cathy" more than a few times in my life, I do not like to do any kind of planned public speaking.  Center of attention-NO; off to the side attention-YES. He asked me again. "Thank you, I'm flattered but I really can't." I didn't tell him that even though I like to have a good time, I am the one at parties playing the music, not the one dancing to it.
A week or so later Max emailed me to say that a shoot was available again and wanted to know if I was interested this time around. I guess the third time's a charm, because I finally agreed. I must admit–I was more than a little curious, and it was also time to just face this fear.  It would be fun as well (or so he told me). It was definitely something new. While "shooting a local TV show" is not on my "52", overcoming fears and having fun are big goals that I  am trying to accomplish as part of my list of to-do's. And this covered both. All of this plus knowing I'd get a nice lunch and a day out finally got the best of me and I caved! Perhaps this would be my "fifteen minutes of fame". Reality TV here I come.
Our "film crew" for the day consisted of Alex and Adam – two affable, twenty-something hipster guys who served as our cameramen, sound and lighting crew, interviewers, and comedic warm-up coaches.  As for hair and make-up, well I was on my own there. This was local TV after all.  While the operation was relatively bare bones, it was still interesting to see what goes into filming and creating a production. Sound and lighting had to be checked, my mike pack wouldn't stay where it was supposed to be; gaffes, giggles, flubs, retakes, camera angles, marks… I can only imagine what must go into the making of a large scale production.
I was nervous in the morning and felt rather uncomfortable standing in the street in my heels and coat as I spoke directly to the camera with no prepared lines. Some people stopped and watched, others couldn't care less, and then there were those who gave the annoyed look that we were in the way of their rushed AM commute. Just a typical NY morning. Okay–this wasn't so bad. Max and I visited the first apartment, did some "filler scenes" walking around the neighborhood the rest of the morning and then broke for lunch. By the afternoon, I began to feel more at ease and even got a bit punchy (you really have to remember that you are "miked" and every word is heard by the cameramen AND being recorded). I tried to forget the cameras were even there. Let me reiterate that I tried (easier said than done). A few more takes, some question and answer footage to shoot and it  was "a wrap"!
The final piece still has to be cut and edited so I wonder how much of my close-ups will actually wind up on the cutting room floor. But it was fun to be the center of attention for at least a little while and I must admit, that even though I still don't like public speaking and am insecure about seeing the final product (it airs sometime in January), I got caught up in it by the end of the day.  I came home exhausted and was dreaming that my assistant would be waiting for me at the door with my glass of wine and a foot massage. Instead, I was greeted by my family – my daughters needed help with their homework, my husband was ready for dinner and the litter box needed to be changed.
Ah, the life of a star….

Leave a Comment (1)

Posted: 11/15/10 10:03 PM