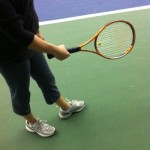 You're in pretty good shape for the shape you're in. — Dr. Seuss
Lately I've been looking for a different sport or type of exercise to explore (the running didn't last–see post). I really want to check this off of my "52". It's just that trying something new can sometimes be a little daunting. So this week, Karen (my blog partner and friend) and I decided we'd help each other move beyond our comfort zones and lend each other moral support, expertise, and a chance to try something out of our element. Easier said than done? We'll see.
My idea of a workout? Vinyasa yoga class. Karen's idea of a workout? Hard-hitting tennis game. My exercise comfort zone? Non-competitive, and definitely not too sweaty. Karen's comfort zone? Very competitive, and preferably sporting a shiny glow by game's end.
I'm sure you know where this is going…
I played (and I use that term loosely) tennis this week. Karen will join me (again, loose use of the term join) in a yoga class next week.
I donned my yoga pants for tennis (the only "workout" clothes I own); Karen will don her "tennis" sweats for yoga attire (they look a lot like "yoga" pants, if you ask me).
My sneakers went on; her sneakers will come off.
My heart raced for a solid hour (hard hitting workout or just out of shape?); she (in theory) will take relaxing deep breaths (I know that is difficult for her!).
I reached for the shots; she will reach and stretch.
Lots of noise and laughs during tennis; a keen sense of quiet and hearing one's own breathing during yoga.
She was my coach; I will be her silent cheerleader.
Adrenaline rush; internal calm.
In their own way, both can be the perfect mental and physical release.
I expected to feel intimidated. After all, I hadn't picked up a racket since the 3rd grade. Instead, I was offered kudos for my solid attempt at playing. No pretenses, no "one up-manship" or bravado; just one friend encouraging another to try something my mind and body were so unfamiliar with.
Karen pushes herself to play tennis regularly even when she'd rather be doing anything but. I admire that. I hope I can offer the same inspiration to her when it is my turn.
This week's "52" wound up not being about playing a game of tennis for the first time in many, many years. Rather, I found myself realizing that reaching out to others to both help and be helped has as much to do with getting unstuck as getting off your own ass. You don't  have to go it alone. Sometimes you need a helping hand when you are trying new things and striving to find what's right for you.

Leave a Comment (2)

Posted: 11/27/10 4:43 AM