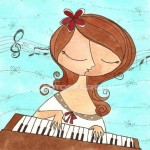 "Put your left hand here and play D and A," Barbara said to me.  I hit the note tentatively, feeling the eyes of my husband, my two kids, my daughter's play date AND the piano teacher on me — all holding their breath.  While I was a bit unsure about this it was definitely a different feeling than the last time I was a student learning to play the piano.  I was probably about 7 or 8 years old when my parents started having me take piano lessons. I suppose it seemed like the natural thing for them to do. We had a beautiful piano in our living room, my older sisters were taking lessons, and my cousin was an accomplished and classically trained pianist. I don't really remember if I expressed an interest in taking the lessons or if it was one of those things my mother thought was "the right thing to do".  What I do remember is that my piano teacher's name was Ann, she would always sit next to me in a metal folding chair that my mom put out for her once a week and I was always called in for my lesson when I was out in the front yard playing with my friends. I don't think I practiced that much but I do remember playing a childhood version of Ode to Joy (doesn't every kid learn that?) and a few other catchy tunes that still pop into my head on occasion.  Then, at about age 11, I went to gymnastics camp, sprained my shoulder while attempting a vault and couldn't take lessons for a few weeks. For some reason I never went back to the piano. And that was the end of my piano career (or so I thought). I sometimes wonder if I purposely flipped off of the vaulting horse so I could stop taking lessons. I just don't think I was that excited about the piano at the time. But as I got older, I would often "try" to remember how to play something, secretly wishing I was one of those people who could just sit down and have the music spill off my fingers.  In college, I even signed up for lessons as part of some required music credits but I was either put on a wait list and never got into the class or didn't want to get up for the 8:00am practice sessions. Who can remember? A lot of my college memories are a bit hazy (but no need to go into that!).
I suppose I've been toying with the idea for a while now, thinking about things I'd like to try again as an adult, things I wished I had followed through on. My daughter expressed an interest in piano a few years ago so now my husband's old upright that we moved from the in-laws is being used for her lessons.  There it sits, in my living room, taunting me. Sometimes I'll try to tickle the keys, hoping I can make a little music and let loose but I remember very little.
So I added this to my "52" and finally decided to take some lessons to see if I really want to pursue this again, but this time it was my choice to try something new…again. I asked my daughter's piano teacher for a trial lesson.  Although I was a bit apprehensive at first, Barbara's teaching style suited me (although is was a strange role reversal for me sitting there with my daughter's teacher!). Barbara takes a very individual approach with each of her students so no two lessons are ever the same for anyone. She put me at ease as she had me "try" a piece she brought for me and then read some music. I think I surprised both of us when I was able to get through the Beatles song she selected for me to try.  I can't say that it all came right back-but it was definitely buried there.  I'm hoping it gets uncovered more. Throughout the lesson, Barbara gave me words of encouragement and said I have the potential to be a "piano player". I believed her.
I once heard someone describe the piano as a "friendly" instrument because it is so inviting and just about anyone can sit down, hit some keys and make a relatively pretty sound. Other instruments take enormous amounts of practice and learning about holding, blowing, or positioning before success comes at hitting just the right note. That's what I like about the piano and about moving through my list of  "52". It's accessible and inviting. Doing something for personal satisfaction but also something to share with others. It's a good thing to try something new…again.

Leave a Comment (2)

Posted: 10/4/10 1:55 AM