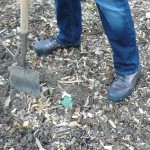 Karen and I have been progressing through our "52" for 16 weeks now and while we've both had some similar experiences and outcomes, they have always been parallel. She does her thing and I do mine — until now.  It's one thing to be there for a friend embarking on a journey in spirit but it's another to actually be there with that person. So this week, we ventured out as a team and tried something together. Whether or not the same "experience" would occur for us both was yet to be determined.
And what better thing to do with your girlfriend?
Plan a day of beautifying together. However, this day of beauty wasn't about us, it was about our local park.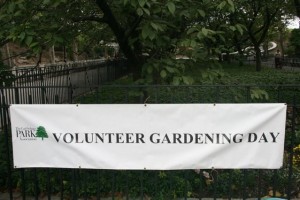 As a city woman raising two kids in the concrete jungle, Carl Schurz Park is basically my "backyard". Unlike the grandeur of  famous Central Park, this park is truly a neighborhood destination and a bit more intimate. Situated along the East River on the Upper East Side of Manhattan, the park has dog runs, playgrounds and areas for all ages, a promenade, park benches and chess tables, and lots of local happenings from outdoor movie nights to the annual Halloween Howl where dog lovers parade their beloved pooches in costumes every year to the delight of all.
Since we've both put "volunteering more" on our "52", this was the perfect meeting of the minds and what better way than to give back locally to a place that we take full advantage of but that needs ongoing assistance to keep it going strong. The Carl Schurz Park Association is an incredible volunteer organization.  So we signed up to help do some gardening this week. And we worked! No pretty planting or pruning or even weeding. Nope – we mulched, we raked, and we turned soil. We shoveled compost and carted wood chips in wheelbarrows.  Dirty, repetitive, sweaty hard work – and it felt great! Along the way, Karen took way too many photos and didn't know where to put her "purse". I chatted up way too many people and complained that my boots were getting ruined. Daughter #2, who came along for the day, held steady, was a busy beaver and performed like a trooper. Of course, we met the usual characters that make NY the quirky, wonderful place it is. But we also were fortunate to meet some unbelievably committed people who give so much of their time and energy to this wonderful cause and keep the park going. Inspiring and interesting folks–just to meet people like that is exhilaration for me in itself.
Working alongside my friend, my daughter, and the fellow volunteers in this small local way was a good thing. Was this the most earth-shattering, altruistic endeavor I could have embraced?  Of course not – but a few laughs, a sore arm the next day, dirty boots, and knowing I did a little something to help not just my little backyard but the backyard of my neighbors was a day well spent.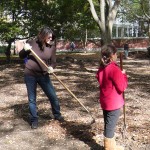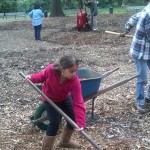 Leave a Comment (1)

Posted: 10/21/10 1:58 PM