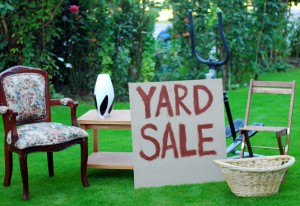 Forget about bungee jumping:  Try being over 40 and thinking about a new career. Now that will make you shake in your new Manolo Blahnik studded fringe boots (or, in my case, new, New Balance sneakers).
I think, for me, it started with baseball cards. I was a "tomboy" for a few years when I was a kid. They don't use that word anymore (a good thing) but that's what I was.  I remember "flipping" cards with boys my age in my suburban neighborhood. I loved the possibility of "winning" that special card. It was the thrill of the hunt.   I still have my baseball card collection.  My husband has his.  Sometimes we take them out and look at them and check out their value on the Internet.  I still love that feeling of finding something rare and valuable or unique.
Today, I feel the same passion for antiques and exciting flea market finds as I did for my old Thurman Munson or Tom Seaver baseball cards (Google who they are if you need to!).   And, although I currently seem to be drawn to more "contemporary" choices for decorating overall, I love the thrill of the antique hunt and a good "find".
Whenever possible I go to flea markets and antiques shows.  My daughter and husband usually roll their eyes and make a bee-line for the nearest ice cream parlor when I decide to take one of these detours. I even find myself following those neon-colored "Yard Sale" signs stuck on random trees on weekends. Even just walking around these places relaxes me.  It's my yoga.  It's my meditation.   Oh, and in case I am not getting my point across, when Antiques Roadshow made its debut 14 years ago, I secretly watched it more than Ally McBeal and Friends – and this was pre-TiVo!  The only problem with this obsession?  I don't really know what I am doing.  This year I want to change that.
For the record, I have worked peripherally with antiques; some of the PR clients I have represented are interior designers. And yes, I have even written articles about design Showhouses and antiques for magazines and newspapers.  Deadline-driven research fueled by interest.   I guess I am just drawn to the whole industry. I've tried to educate myself. But the fact is, without guidance and Googling at my fingertips, I would likely get confused between a cleverly-decorated porcelain egg and one from Faberge.    So on my "52" list is the following question:  could there be a new career for me in the world of antiques appraisal?    At the very least, I wanted to be able to go on EBay and or walk into a charming shop in Upstate New York and know what I was doing.
So last week I started the process of exploring how I could possibly, despite years of work in another field and various "breaks" for motherhood and life, embark on a new career at this point in my life. I started on the computer of course and found out that the Brooklyn-based Pratt Institute has one of the few really amazing programs for art and antique appraisals. They actually collaborate with the American Society of Appraisers. According to their Web site, "it will prepare you to become a skilled appraiser and have a thorough appreciation of collectible items" (I wonder if there is a "Tag Sale Strategy" elective-ha).
I decided to seek out the woman in charge.  Although it was a program in their Continuing Education program, I worried about taking a class… would I, the over-40 student, be the only antique in the room??  I think if you haven't been "to school" since your 20's it's just hard to get your head around going back to school for anything other than an occasional cooking class or Gymboree with a toddler.  The school seems amazing.   I loved everything about the program described.  Additional research brought me to the New York School of Interior Design (NYSID) in Manhattan.  They have some great individual courses  you can take to get a taste of a career change rather than dive-in for a full semester (design, art, antiques). I am signing up for one starting in January.
Next I decided to call a wonderful old friend and someone I have done business with who started a company a few years ago called MYOB (Mind Your Own Business). MYOB is specifically about helping women discover their personal passions and use them as a guide as they consider re-entering the workforce (or just switching perhaps and finding new directions?).  Considering my focus this week, I thought it was the perfect time to chat with Pam. "Women often develop new passions later in life and often times don't realize that these 'passions' or 'hobbies' can become careers," she told me.   So many interests, so little time.  Pam just launched a new blog, Pam&Vix — take a look.
There were other calls I made and places I went this week as I explored the world of antiques and appraisals.  However, I will say this:  it's not going to be easy.  There are daunting statistics out there regarding women and job changes after 40 – especially in this economy.  I do know though that getting passionate about new things and directions is a big part of what this blog is all about. So I still am psyched that I found the Pratt Institute program and the NYSID and started this ball rolling.  Even if a major "career change" doesn't happen, I know that I will enjoy the course I signed up for and anything I learn will certainly help my Ebay experiences or my prowess at charming antique shops!
And maybe, just maybe, if I score that big antique find from taking a class or two,  I can actually go buy those amazing new Manolo Blahnik studded fringe boots and not feel one bit of guilt about it.
Oh, last Antiques Roadshow comment:  Have you seen the hysterical GEICO commercial spoofing the show?  Viewers see a fake Antique Roadshow where a professional appraiser is looking at a fake 'bird in the hand' brought in by a woman. "The fingers are perfect, and the bird is in mint condition," he says. "In auction, conservatively,  'the bird in the hand' would be worth, hmm, two in the bush.'"   Really funny. Check it out.   Happy hunting (for shoes and antiques!).

Leave a Comment (2)

Posted: 10/13/10 10:33 PM