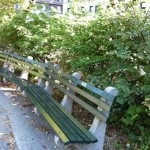 The first two visits were easy. In the past three weeks, I've been lucky enough to see two very dear and usually faraway friends. My bestest friend from college who moved to Australia too many years ago was unexpectedly in New York for only a few hours before catching a flight when she gave me a call.  I dropped everything and raced to Queens to visit her. It is not often that we get to see each other these days and it leaves a hole in my heart that she is so far away. But the distance and the limited times we get to be together always seem to melt away the minute we are together. Although she was back in the States because her father passed away and grief surrounded her, our short visit was filled with the usual laughs and giggles, catching up, non-stop chatter, and smiles that we so easily give to one another. I'd like to think it was a comfort as well as a needed distraction from the sadness and the tears shed over the loss of her dad. Several days later, an old friend of mine that I grew up with, lost touch with, and recently happily reconnected with also came to town for a short visit. Again, I dropped everything, rearranged my schedule and headed down to Tribeca. I had an amazing evening with her. She now lives in Kentucky, so it is not often that we get to see each other either.
But this third visit was a little different. While I dropped everything and fit my old friends into my hectic schedule, I've been finding lots of excuses with this one. Let me explain. Two and 1/2 years ago, a very special friend of mine passed away suddenly. It was unexpected and tragic. While it sounds so cliche, truly not a day goes by that I don't think about her. She wasn't a friend who had been in my life for many years – we were in the infancy of our friendship – but she was someone that I knew I'd be friends with for a long time to come. You just know those things.
A charming, old fashioned green park bench with a sweet, shiny engraved plaque on it that her loving husband and daughter adopted through the Central Park Conservancy has been dedicated in her name. This is her memorial. I've been to "the bench", as her friends and family affectionately call it, many times — but I've never visited alone.  So this week, I put a date on my calendar to visit  "the bench" and the memory of my friend…
It was the perfect autumn day – crisp and sunny, birds chirping, the wind blowing, a few trucks honking in the background (this is NYC, after all). I sat for a while, watching the joggers and bikers, mothers with strollers, and dog walkers go by on a beautiful October afternoon and quietly picked at my sandwich. I'm not sure what I was expecting. My thoughts drifted to snippets of times spent with my friend….images of holding hands as we ice skated around Wollman Rink like two little school girls, while our daughters (best friends too) watched in horror and utter embarrassment; sneaking Bloody Marys in her kitchen one chilly November afternoon; listening to her tough love when I needed a kick in the ass; remembering she had been there for me and so many others sharing her unconditional love, no matter what; and just thinking how she was that rare person who lit up a room and made you want to be in her presence.
I probably could have stayed there all day. The park is glorious this time of year. And I miss my friend. But my bittersweet mood and happy memories would have soon turned melancholy and confused. It was time to go.
The day awaited and I intended to embrace it.  That's exactly what she would have done too.

Leave a Comment (1)

Posted: 10/13/10 11:19 PM