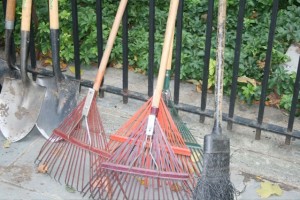 "Where are the tote bags? I'm not leaving the premises without tote bags. I was promised tote bags and tote bags I shall have."   Seinfeld's Kramer, volunteering at PBS, in "The Pledge Drive" episode
I couldn't remember the last time I did something just because it was a "good" thing to do. I am not talking about helping someone cross the street, giving extra brownies to a neighbor, helping in my daughter's classroom when needed or attending fundraisers with my husband or friends.  I am talking about really just going to do something to make a bit of a difference.   I used to do pro-bono work for charities as part of my real job, but its been years.  I mean, let's face it: the brownie contribution is really selfishly motivated since I don't want them around the house after dark.
I think what finally made me go to this "to-do" item on my "52" list (volunteer for no reason) was an e-mail I got last week. A fellow parent shared her praises for this blog (thanks Lisa!) and simultaneously shared a story about "another woman challenging herself and trying something new".  Her friend Michelle who had traveled to Africa last year had seen a huge need for schools for kids orphaned as a result of urbanization or HIV/AIDS in Botswana.  I was almost embarrassed.  My nude drawing class, golf lesson, relationship "repair" experiment and my other weeks weren't even close to something of this magnitude.  In this blog's defense though, my year-long project is more about getting "unstuck" and doing new things every week right?  In any event, I was in awe of this woman who went on vacation and then started this massive undertaking (www.thesoutherncrossschool.org).
So feeling inspired, I went online and decided to start in "my own backyard" and found volunteering opportunities with the Carl Schurz Park Association.  I called Pam, my blog partner, and we set a date to go together to help at one of the Association's regular volunteer gardening days.  I looked at my calendar. I was supposed to go to Bloomingdale's that  Saturday. I know this sounds ridiculous but I was seriously in need of some stuff, including some housewarming gifts that were now very late.  Too bad.  Scratch-out Bloomie's. Pick up a rake. Get out the gardening gloves. That was the plan.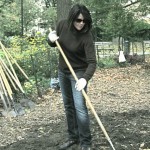 Pam and I have been enjoying this park in our neighborhood for years.  Carl Schurz is a real neighborhood park and rich in history.  It is also the home of Gracie Mansion –  the symbolic and elegant home of New York City's Mayor.  I've taken my daughter there since she was born, bring my dog there and have gone to their great art shows and other events.  I have spent countless hours there; it was the perfect place to spend a little more time —  just for the sake of keeping it nice.  The Association is amazing. It's comprised of all volunteers in all shapes and sizes who just work hard to make it a great place.
Pam brought along her daughter who was adorable and actually made me remember what it's like to just do something because you are enjoying it.  She didn't complain once as we lifted heavy shovels filled with compost to condition the soil.  For the first hour I annoyed Pam with my too-frequent picture taking (see some more photos in Pam's)  and tried to push visions of Bloomingdale's Clinique counter out of my head (pathetic I know but I was out of everything all at once). But then a funny thing happened. When I forced myself to just be in the moment and really looked around at the volunteers (many who have been doing this for years) I remembered how cool it was to be a part of something bigger than my own stuff.
At one point, Pam was stuck using the wrong tool to spread these wood chips evenly over the soil.  She finally got the proper rake and said, "This is night and day!  It's so much easier now!" and for some reason we just started laughing.  She then started talking to various people and educating herself about what they did here and what we were doing. I give her credit; I wasn't feeling chatty and just wanted to get my hands dirty now that I was actually doing this and feeling the Zen of gardening – ha.   Our shoes got dirty. Pam was bummed she wore her new UGG's and she laughed at me for not changing purses and bringing a good "bag" with me.  I admired her brown vest that she swore was 20 years old and from the Gap.  I snuck away to make a call or two at one point but for the most part we helped that day.  It was good to get our hands dirty – literally and figuratively.  I am not sure what charity I will choose to spend my efforts and time with in the future; for a long-term commitment it will likely be something that has hit close to home – maybe the fight against Parkinson's Disease or Heart Disease.  However, just to help once in a while at one of these gardening days is definitely on the agenda.  And, unlike Kramer, I wasn't even missing that tote bag when I left.


Leave a Comment (4)

Posted: 10/21/10 1:58 PM