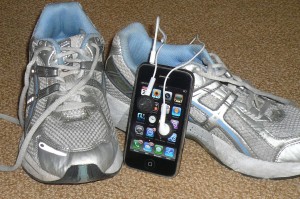 I downloaded an App from  Apple's iTunes store this week. Not so different, new or exciting? Well, it wasn't just any App. It was something that represents a big "to do" for me.  And then, I actually did it.
What did I do? I went running. And I used a silly little App on my iPhone to help me get started. I suppose a little background is in order…
Committed exercise has always been an obstacle for me. I don't exercise on a regular basis, have never partaken in the latest trends — no spinning, Physique 57, or step classes way back when. The truth is, I just don't do any organized exercise on a consistent schedule. While my friends are training for the marathon, pole dancing, or going to Boot Camp, I usually spend my energy thinking of excuses — "need new sneakers", "could use a personal trainer", "have no time". I guess you could also say I've been one of those "lucky ones" too, so it was never a huge issue. I am slim, live a "healthy-ish" lifestyle, and am able to stay fit doing the minimum–an occasional bike ride on the weekends, lots of walking, and some yoga classes. I am able to put regular sugar in my coffee, eat Oreos, and still fit into most of my old jeans.
But it feels wrong not do something more formal in terms of exercise. It's embarrassing already and stupid, I know. Poor role model for my kids, as well as irresponsible that I am not taking better care of myself as I enter the "next demographic".  And if I am being brutally honest, things are starting to "shift" a bit now and I still want to fit into the old jeans. The mental and physical benefits are paramount-being stronger, happier and healthier, but I who am I kidding- I still would like to look good too!  Trying to be consistent with exercise has always been something I want to do. Now it is time to finally really try. Karen took her  baby steps a few weeks ago (see her post). Now it is my turn.
So I bought an App. What better way to try something new and out of my comfort zone than to do it in this way in this age of technology we now live in. Plus $2.99 was a lot cheaper than hiring a personal trainer. I don't particularly like running, so not sure why I chose this as the "thing to try". But maybe I will change my mind.
Couch to 5K talks you through a 30 minute workout slowly building up from walking and running to (theoretically) running a 5K in 9 weeks. I put my earphones in, pressed play on my phone and listened to my new virtual friend as she helped me begin something new this week. "Welcome to Couch to 5K, begin warm up now", Cybergirl said.  Five minute warm up, 60 seconds of running, 90 seconds walking, 90 seconds running… A half hour later, mission accomplished.
Full disclosure-my husband came along for the first time. Even though I had my cyber pal with me,  a real live person is the only one that can make you feel sheepish if you don't follow through. Downloading an app is one thing, but pride, guilt and embarrassment is also a wonderful motivator! Here are a few of the details–my headphones didn't work halfway through the run (glad my husband was there and I was able to quickly plug his headset in), the path I ran/walked at Carl Schurz Park was filled with one too many puddles after a huge rainstorm, I definitely need to buy a sports bra, and it was hard. I did not enjoy it–but I finished.  Not sure of the distance I actually ran/walked. The program works you toward a 10 minute mile or 30 minute 5K but that doesn't really matter.  What matters is that I ran/walked for 34 minutes and didn't cheat.  I followed Cybergirl's instructions, completed what I set out to do and will do it again day after tomorrow. (Cybergirl said I needed to rest for a day in between!)
I live along the NYC Marathon route and every year I cheer the runners on from my balcony.  I watch in awe when the Achilles Club athletes pass by, cheer in amazement when the elite runners swoosh past and then the mass of runners come, and get choked up when that last walker is escorted through the streets of NYC and walks into the night to get to the finish line at Central Park.  And every November I say, "I want to run the Marathon one day." Within a day or two I snap back into reality, because I remember that I don't really like running and I can barely commit to an exercise routine.  Perhaps that's part of the reason I am choosing to try out running.  I want to find out what all of the hype is about. Maybe it's like thinking you don't like Brussels sprouts even though you've never really tried them.  Maybe it's like Sam-I-Am finally trying the green eggs and ham in the much loved Dr. Seuss story. I am not planning on running the marathon, but I do hope to be able to run a few miles at some point.  Honestly, did I feel rejuvenated, invigorated, and felt like I accomplished something? Not really. I was hot, sweaty, had wet sneakers from all of the puddles, and really had to pee. I really didn't like it all that much – yet. But I'm going to do it again day after tomorrow and keep at it for a while.

Leave a Comment (3)

Posted: 09/14/10 12:40 PM