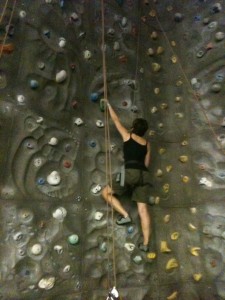 Moving forward is what this project is all about. While that may be interpreted in different ways by people, for me it is all about pushing myself to just "do" in all sorts of ways that I have never done before and hopefully get others motivated too.  So far, some weeks have been about emotional growth, other times it's just been about having some fun, and in the coming weeks and months it might be intellectual or spiritual. Then, of course, there is the physical aspect. For this week's "52", I committed to get out there both physically and mentally and still managed to have more than a few laughs (as well as some bumps, bruises and a really sore shoulder) along the way.
I decided to try my hand at rock climbing. Remember my Spy Day list?  Well, I was about to make good on it! It's just another thing I've always thought about trying but just never did.  Why not? Who knows?
Rock climbing, while a physically demanding sport, is also a mental game, I learned rather quickly. Strength, endurance, and agility are all needed but it is the use of your brain that is really the most demanding part. Not only do you have to push your body to go just "one more step" you have to know where that step is. Strategically mapping out where to place your hands and feet as you hold on for dear life is a bit different than running or biking or doing a downward dog in yoga class. Definitely unlike the limited physical exercise I push myself to do on a not-so-regular basis. This wall in front of me was going to be a much bigger hurdle to conquer.
I corralled my friend Stacy to join me this week.  City women that we are, we visited an indoor climbing wall at a local Sports Center. There would be time for the great outdoors if we ever mastered this…We donned our climbing shoes and stepped into our harnesses, buckled and clipped ourselves in (thank goodness Stacy is a former flight attendant and knew her way around a seatbelt and buckles – I couldn't have done it without her!), and we were ready. Next was chalking up the hands. Like two school girls, we giggled our way through the early part of the evening. Stacy's sweaty palms, the distraction of our cute climbing instructors and the dancers and gymnasts auditioning in the gym next door to us for an upcoming Broadway production of Spiderman, the Musical (I swear!) all added plenty of levity to our night – even if many of the climbers wouldn't lighten up.  We were there to learn and try our damnedest too, but we were also determined to have a good time.
During the first round of climbing exercises, I hovered toward the back of the line and went last in my group. I started to think now that I was not such a big shot, would make a complete fool of myself in front of total strangers and wouldn't be able to do it like everyone else. They all seemed in much better physical shape than me.  Oh yeah- and a lot younger than me too.  I definitely did not want to be the one in the bunch that couldn't do it. In my self-deprecating way and as my defense mechanism, I tried to make some jokes with our instructor, but he would have nothing of it. He maintained his composure and was quite serious.  A real mellow dude. The anxiety of this could have gotten the best of me, but I reminded myself I was there for a reason. GO!  I. Made. It. To. The. Top!  YES!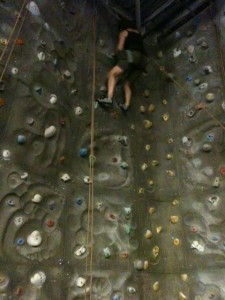 But that was just the beginning. It definitely got more challenging. After each climb, my instructor/belayer calmly told me that I did great. I think that might have been part of his training — tell the 40-something woman who comes to try rock climbing for the first time that she's doing great when she really looks like an idiot up there. As the night wore on, the routes became more demanding, but I gained confidence and courage as I ventured up the face of the wall. While I still wasn't rushing to the front of the line, I was no longer hanging back. I really did find myself ready for more with each new course. I began to map out my steps, looking ahead for the next hold or feature in the rock wall, thinking where I should place my foot or hand in order to reach higher or take that next step.
I was relatively successful during my night of climbing.  And damn proud of myself too.  Stacy was also amazing! It was great to have the support of a friend. Would I do it again? Absolutely. Do I need to work on getting stronger? Definitely. Will I ever go outdoor rock climbing where there is not the security of knowing that the matted floor is beneath me in case I slip? Not sure. Was it scary? Nope, not really. It was a lot of fun — but hard, sweaty fun. The experience was more satisfying than I would have thought.  The triumph was real when I made it to the top on some of the more difficult courses, but the satisfaction that I successfully tried something so off of my usual path and took that "next step" was really what made me feel happy and then content. This week, Karen took some really important steps too (see her post).  She is reaching for new heights in different way, working on a very different strategic climb. Can I scale a wall for my spy adventure now? Perhaps – but I now know I can still get up a tree to retrieve a lost Frisbee, climb the fence when my kids throw their ball over, and more importantly, I can confidently push myself mentally and physically as I keep taking a "next step".

Leave a Comment (5)

Posted: 08/9/10 2:20 PM