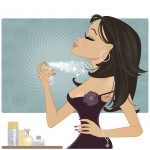 'Where should one use perfume?' a young woman asked.'Wherever one wants to be kissed,' I said." – Coco Chanel
Ahh…romance, passion, Paris, perfume. This past week I went to see a great film, Coco Chanel & Igor Stravinsky. I know this seems "unworthy" of being on my "52" list but let me elaborate before you inevitably think, "Big deal, going to a movie. Why would that be on her list?"
This year alone I have seen Toy Story, Despicable Me, Disney's UP, the Alvin movies, Seventeen Again (with Zac Efron no less) and countless other 3D movies for the under- 12 set – all choices driven by my nine year-old and her friends.  Now I will admit seeing Zac transform into a middle-aged Matthew Perry (Friends fame) held my interest for a bit longer; it was simultaneously intriguing and unappealing watching an old "Friend" literally look old.  I have been craving a good movie – or more accurately a film – produced specifically for adults and preferably foreign, including some steamy love scenes and a mentally engrossing and challenging script. I wanted to see a film that children would not even be allowed to see. I wanted to be swept away to another time and place and I wanted subtitles.  I wanted a romantic movie, kisses, champagne.  This one had that and more with a little Chanel No. 5 thrown in. It also had the added personal appeal of being set in France and the romance of Stravinsky's music – symbolic of two other things on my 52 week list.  Oh, and the intrigue of Chanel, the woman herself. Her sense of fashion, her mystery, a look at her early career in post-war Paris in the 1920's, her classic fashions. She was strong, independent and always so chic.  What more can an exhausted, romantic need on a hot summer afternoon?
My blogging partner Pam was going to an entirely different movie this week (see her post) and I loved the fact that the heroine in her movie was also super strong and did incredible things.
I couldn't wait to sneak into the theater alone, drink my Diet Coke and eat popcorn in peace.  For the record, I was a film minor in college. By the time I was a sophomore I had studied Truffaut, Godard,  the Film Noir period and learned about the origin of film.  I didn't pursue it intentionally. I was just always drawn to the classes and before I knew it had enough credits to add it as a minor.  My roommates couldn't believe I would go to these classes (often at night) and possibly miss Knots Landing (remember that show?).  I was simply hooked at an early age and loved good films. But somewhere along the way I found myself predominantly at movies that are promoted at McDonalds.
Coco Chanel and Igor Stravinsky wasn't, by far, the best foreign film I have seen but it met all of my criteria for recapturing this passion from my college years:  sultry love scenes usually associated with a forbidden love, a plot set in a foreign country, beautiful period-appropriate scenery and a good story.  To top it off I saw it at the Paris Theater – one of the classic, wonderful theaters in New York City.
In Manhattan many of the theaters are crowded and noisy, playing 6 movies or more at a time. The   seats are squeezed together and it's not always the most pleasant experience. Not at the Paris Theater. It's a true cinemaphile paradise.  It was a French film. It was the perfect theater.  It's funny (and annoying?) how I keep finding myself seeking France in some way yet never actually getting there.  But this excursion wasn't really about trying to capture Paris stateside (I already wrote about that experience in Disney).  It truly was about going back to my love for good cinema.
Even the crowd was different.  I felt like I was surrounded by serious film-goers all looking for the same thing.  The pretension was a bit too much though when, before the movie even started, I momentarily looked at my silenced Blackberry (habit) and was told by the woman behind me to please put it down. I wasn't on the phone or even sending a message or reading it. I think I was just compulsively looking at for no reason. The light had simply bothered her. I of course put it down but laughed for a moment thinking that this would certainly not have happened at Toy Story while also thinking she should take a chill pill. It was after all, just a movie wasn't it?
Not to forget Stravinsky (and I did love the music) the movie showcases the infamous debut of his classic Le Sacred du Printemps (The Rite of Spring) among other pieces as background music throughout the film. I just discovered that The Rite of Spring was further popularized through Walt Disney's Fantasia.  A little ironic that I can't seem to escape some association to Disney?
After the film, I found myself thinking about the bottle of Chanel No. 5 I had sitting on my dresser at home and that I hadn't touched in years.  It was coincidentally week 5 of my 52Weeks. A little dab here, a little dab there – "anywhere I may want to be kissed" isn't that what Coco said?  Hey, ya never know. Chanel always knew what she was talking about.

Leave a Comment (4)

Posted: 07/29/10 3:45 AM