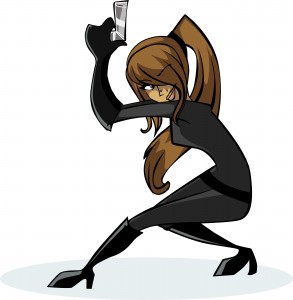 My silly little secret? For as long as I can remember, I have been intrigued by all things "spy" related – espionage thrillers, cheesy spy novels, undercover agents, TiVOing repeats of Alias, La Femme Nikita, and The Bourne Identity, even decoding the secret meaning of messages in my big sisters' diaries way back when. I kept tabs on the recent Anna Chapman/New Jersey Spy Ring scandal and diligently followed the Valerie Plame affair on the news a few years back. I love the fact that my husband speaks some Russian.  I was once even able to convince my family that after a full day of exhausting sightseeing through the hot streets of Washington D.C. they really did want to go the the International Spy Museum because Mommy thought it would be worth it! I've adopted or earned a few aliases over the years  but of course I cannot divulge them. The fact that the only time I use said aliases and characters is when I create Wii people with my kids is secondary. I just love all that cloak and dagger stuff.
So what would be more fun, frivolous and appropriate than planning a Spy Day for a "52" ? Easier said than done.
The fact is, a lot of organizing has gone into this (I guess this is when all those years of covert CIA training comes in handy). I applied for clearance and had a background check at a local Pistol Range. I was approved! I bought a new motorcycle helmet, in case I really do learn to ride with Karen (its on her "52"). I actually already have a helmet, but a very old one. Full disclosure: my husband owns a Harley – early midlife crisis.  I got pregnant, he got a Harley (but that's another entry…). I "researched" different martinis this week – doesn't there need to be a martini somewhere along the way (shaken not stirred, of course) during my adventure? Found a great wig store along with an awesome lingerie shop. I figure every good female spy  (excuse me – intelligence agent) needs a few disguises and a hot piece of sexy lingerie –  even if I'm not Angelina Jolie or in my 30's anymore. And I'm taking a rock climbing lesson tomorrow – you never know when I might have to scale a wall!
To finish off my week of preparation and get me in the mood, I went to see SALT, the new summer spy thriller. Now wait – before you roll your eyes, let me explain.  Sometimes seeing a movie is not just seeing a movie.  In fact, my blogging partner, Karen, saw a film this week too as part of her "52" (see her post) for different reasons and an entirely different experience. And though it was pretty nice to go to a movie all alone on a day off; no kids, friends, or husband, in middle of the afternoon, I really was there as part of my "fieldwork".
The theater I chose is one of the usual kind in NYC that are actually built underground.  Space is at a premium here in the Big Apple. Ticket in hand, I descended down three levels into the depths of the theater.  Was this what it would be like to enter a "safe house" or a "war room"? Okay, now I was just being ridiculous. I sat down to an already darkened theater and let the sights and sounds of the movie vicariously take hold.  Isn't that what going to the movies is all about?
I am not about to give a movie review and won't give out any spoilers, I promise. Let me just say that while this was not the best spy movie I have ever seen, it did its job. It set the mood for me. Whether you are a fan of hers or not, Angelina is one kick-ass woman! She was tough, sexy, and got the job done. Of course, there was some movie magic involved, but she owned the role and and made most female moviegoers think, at least for a minute, that we are capable of great feats. The movie was fun, exciting, entertaining, implausible, full of escapism.  It was everything that planning a ridiculous Spy Day or merely planning anything to get "unstuck" should be all about. Me a secret agent? Hmmm.
Check back. I'll be heading out on my mission soon.

Leave a Comment (4)

Posted: 07/29/10 12:00 PM