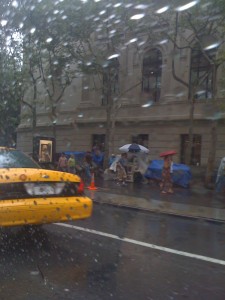 96 socks, 40 pairs of underwear, 32 tee shirts, and 14 towels later (along with a host of other stuff that filled 2 enormous duffel bags each), the labeling and packing was done and my two girls were on their bus to sleep-away camp this week. I knew I was getting to my "52" very late in the week, but better late than never.
So I ventured to the Metropolitan Museum of Art today to pick up my ticket to climb the BIG BAMBÚ exhibit.  I had been planning this for two weeks. For those of you who don't know about this, I will briefly explain. "Big Bambú" is a "sculpture" designed by twin brothers, Mike and Doug Starn, atop the roof of the Metropolitan Museum of Art. It is made up of thousands of bamboo poles (3200 to be exact), lashed together to form a complex structure that will rise 50 feet above the Roof Garden and up to 110 feet above Central Park when it is completed by October. It is an ongoing work-in-progress. There are pathways, steps, and walkways all being assembled by rock climbers (under the constant direction of the Starn brothers) tying up more and more bamboo stalks daily using a variety of knots to lash the poles together.  It really is hard to imagine anything like it, unless you actually visit it. I had gone to the rooftop and walked underneath the canopy of the sculpture two times before and was enthralled by it, but hadn't toured it from above. Today was that day.
I double checked the list on the website for all of the guidelines:
no open shoes or flip flops (had my sneakers on); √
no dresses or skirts (had my shorts on – I guess people 50 feet below can look up your dress); √
photo ID; √
no backpacks or bags; √
not pregnant; √
no heart condition; √
no fear of heights (well, maybe a little); √
The list continued on, but you get the gist…..all seemed to be in order.
The one thing I didn't check?  The weather forecast.
As I walked there, a light drizzle began. No problem – a passing sprinkle. I waited in line (a looong! time) and got my ticket.  The light drizzle became a rain shower. No problem, I thought again. My tour isn't scheduled until later in the afternoon – I was sure it would rain itself out by then.
You guessed it. The skies opened. A full-on downpour! And my climb was cancelled. Just like that.
And sometimes things happen – just like that. By the time I got home, I had dried off and my disappointment and frustration had cooled. I turned on my computer and the Dr. Seuss quote written on the bottom of our blog homepage popped up at me  — "And will you succeed? Yes indeed,  yes indeed! Ninety-eight and three quarters percent guaranteed!" I guess this was the one and one-quarter percent he was talking about?
I'll be back next week — after I check the weather report.

Leave a Comment

Posted: 07/23/10 7:40 PM