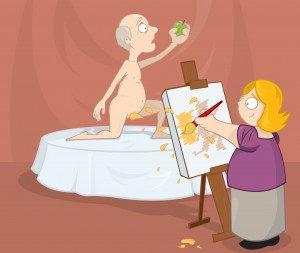 Very few people possess true artistic ability. It is therefore both unseemly and unproductive to irritate the situation by making an effort. If you have a burning, restless urge to write or paint, simply eat something sweet and the feeling will pass. – Fran Lebowitz
Anyone who has been following my exploits these first few weeks will know that I usually kick things off with a quote. Some are silly and some are prophetic. The one above from Fran Lebowitz though made me laugh and was truly appropriate as I set out last week to take my first art class (or at least my first since Madonna's "Like a Virgin" was number one on the Billboard charts). And, it wasn't just any art class. I signed up for a nude drawing class. A live model, charcoal and an adorable studio on the Upper East Side that has been there for 25 years that I never knew existed. I was psyched.
Why did I want to draw? I am not sure. All I know is that for the last five years I keep buying those professional-looking art kits that they sell in framing shops and other places. It's like someone who cannot resist an impulse buy at the supermarket — People magazine perhaps? Inevitably I am at some art supply store or toy store or framing shop to buy a gift and I am pulled, as if by magnetic force, to those all-in-one "Learn to Draw" kits. I have four, sitting unopened on my book shelf. Unlike my blueberry experience though, they don't shrivel up and spoil. They incessantly taunt me. At least with fresh fruit I can throw the evidence away and temporarily forget about not doing something I set out to do. The kits always remain shiny and tempting.
So I decided to go to a professional. It's like when you try to work out everyday regretfully accept that you just have the kind of personality that needs a trainer or a buddy because you just don't get to it as much or as long as you should.
And so I walked in.
Fabrizio Art Studio is, in my opinion, one of the best kept secrets on the Upper East Side. I had researched other studios and schools and it was one of the few that offered classes a la carte without making a long-term commitment. This was critical as I set out to find a class; I wanted to experience a real studio art class but I was hesitant to get married to a series of classes. I was also a realist in this situation: Fran Lebowitz's words (warning?) were in the back of my head and I knew that I was unlikely to uncover some inner Picasso that has lurked beneath for years. A pint of Ben & Jerry's New York Super Fudge Chunk® was waiting in the wings in case I had to face reality.
Dino and Patricia Fabrizio, husband and wife owners, greeted me warmly as I entered the studio. Immediately I sensed how passionate they were about their place and art. It was a cozy room. About 10 stations were set up with stools and professional, tilted art tables. I liked how the room felt. I loved the supplies. Easels were available upon request. I liked that I didn't have to feign competence. Dino sat with me and explained some drawing basics as we waited for the nude model to arrive. A Romanesque-like bust sat on the "stage" for us to draw while we waited. It's funny when you think about how different everyone is; I couldn't imagine being able to stay still long enough for someone to draw me (add the nude component and that brings the anxiety to a whole other level!). I do want to master the art of stillness. But for now, I have trouble sitting long enough to just get my nails done at the corner "10-minute" place. Dino explained some basic drawing techniques. I had no idea that basic shapes such as a circle, square, cylinder, triangle and so on form the basis of almost every figure drawing. Pretty cool. He was patient and knowledgeable. If I saw him on the street I would think he was my neighborhood butcher or a friendly retired pharmacist. But when he showed me how to hold the charcoal, when he was almost "one" with the pencil, that is when I was truly in awe of his love and experience for all things art.
Students of all levels were at the other stations. Some, I was told, came regularly. It was a diverse group – all ages, all types. I loved the "group feel" coupled with the truly private, independent experience.
Then she walked in. I am not sure what I expected. She looked like a dancer. Petite, slim with a pleasant demeanor, she had a quiet confidence and ease and appeared to have done this numerous times before. I quickly learned that there would be a series of "poses". "Do a '5', a '5' again and then a '10' and a '20'", Dino said to her as she shed her simple summer sundress. I quickly learned that the numbers he was shouting out referred to the number of minutes for each pose and generally progress from simple to more complicated stances. A large drawing pad was in front of me. Charcoal was in hand. My first attempt was actually not too horrific. Dino explained that I needed to be "loose" with the charcoal and "follow-through". I was surprised to hear that phrase for drawing; long-ago memories of hours on the tennis court came back to me; I also heard it at my recent golf lesson. I just didn't expect to hear it while drawing. My next few attempts were pretty bad. Dino tried to encourage me and said just to keep drawing. And then, surprisingly, on my fourth try, I actually felt the rhythm and Dino exclaimed, almost proudly, "There ya go, you're finding yourself now!" I think he was trying to make me feel better.
Drawing, for me anyway, was relaxing. I was actually able to sit still and get into it a little. I liked the quietness of the room; the ability to focus and try something new. I took some photos, chatted with the model during her break (sundress included!) and even had a few words with Dino's wife Patricia as she painstakingly helped a student with a sculpture model of some sort. I loved the place. I liked drawing. I think I would like to go back. I will see how I feel in the fall. One thing I know for sure though: my pint of Ben & Jerry's will be close by in case, in a simultaneously rational and desperate moment, I listen to Fran and just reach for something sweet and let the feeling pass. Although, perhaps I should really forget about Fran's words and follow my heart and listen to a master like Van Gogh. You see, he was the one who said "If you hear a voice within you say 'you cannot paint,' then by all means paint, and that voice will be silenced."  Fran or Vincent? I haven't decided yet.

Leave a Comment (5)

Posted: 07/20/10 10:02 PM