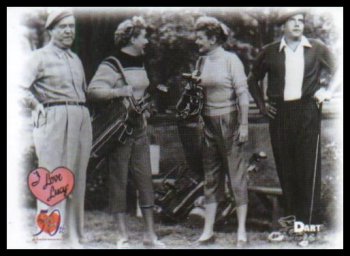 The reason the pro tells you to keep your head down is so you can't see him laughing.  ~Phyllis Diller, Comedian
"It's called chipping," my tall, 20-something,  confident golf instructor named Reed said as we walked to an open grassy area with a bucket of balls.  I mistakenly thought I would be using a driver (the only club I was even slightly familiar with) to take my first lesson.  I also prayed we would be a safe distance from any living beings.   "As a beginner it's best to start with a "wedge" and chip the ball out," he explained.  Yes, I took my first golf lesson this past week. Not miniature golf with the family or whacking balls like a crazy woman on the golf range. No, for this week — Week Two of my 52 weeks — I was going from  looking at blueberries in a whole new way to hitting the links.    Hey, I recently read that 82 percent of women who play golf are over 40.   That was encouraging.
I looked around:  teenage boys and men were everywhere; closer inspection revealed a group of octogenarians hitting together or in solitary bliss. I envied their relaxed vibe, their ability to leave the cares behind.  I wanted that. I wanted to join the "club" – that seemingly closed group of people, especially men of a certain age that passionately love golf and find peace on the links.  I want a place to go to relax that doesn't involve chardonnay, shopping or even my regular tennis game — a long-ago guaranteed oasis now often mired in scheduling conflicts and a frustratingly inconsistent serve that only reminds me of how good I USED to be.  I wanted a new sport, a fresh start and golf was calling my name.  I could hit by myself or find Zen on the greens with a group of like-minded, hopeful novices.  For a split second I was nervous. I am not a morning person.  What if I like the game? Will I be able to tee-off at a respectable time of day?   I decided to push this premature concern aside as Reed demonstrated how to properly hold the wedge.  My nine-year old was along for the ride.  I needed a side-kick and someone to take photos.
Reed was patient.  With each of my slightly-pathetic attempts to properly connect the club to the ball he repeated the many, many, many components of a successful golf swing (who knew?). The grip, the stance, the back swing; where my arms, legs and shoulders should be; where to look, where not to look. He was mellow, pleased to teach me and continued to coach me as I attempted to hit ball after ball – missing some completely, most of the time for picking my head up before I should.  "Keep your head down," Reed said for the 100th time that hour.
I am not sure when I started thinking about golf.  I always liked sports but it's been a while since I tried a truly new one.  I think I was always drawn to the game in some way. Was it the clothes? Was it golf's private "clubby" feel?  I am not sure.  Even scenes from my favorite TV shows stand out in my mind. There was an old episode of I Love Lucy that originally aired in 1954 (I remember watching it in re-runs thank you very much).  Lucy was brilliant as she hysterically tried to swing a golf club following Ricky's made-up rules intended to discourage her from playing.  Even Seinfeld's Kramer made the game appealing to me as he flew into Jerry's apartment, golf clubs hanging from his shoulder, sharing his tales of Titleists and drama on the green. Last year I caught a Curb Your Enthusiasm episode where Larry accidentally kills an annoying bird at a country club, so passionate about the game he snaps. I laugh just thinking about it. Then, just recently, I caught photos of Jill Zarin of Real Housewives of NYC playing golf with Kyle MacLachlan (sorry, Trey to me) at the Hamptons Golf Classic. "Who knew I could play?" was Jill's comment on Hamptons.com.  Good. Maybe there was hope for me.
We moved to an iron about halfway through the lesson.  It was about on the 30th ball that I finally connected perfectly and it all came together. Even the sound of the club against the ball was perfect.  My daughter, fidgety yet patient watched the entire time. "Good shot Mom," she said excitedly. Reed looked pretty happy (and surprised) and said "that's it, you got it". "I know," I said. "I felt that one."  I was proud of myself. I kept swinging, thinking about everything he told me to do.  Would I play again?  I actually think I will. My shoulder was killing me the next day (the price of waiting until you're 40-something?) but I enjoyed the lesson. A few more good shots followed until once again, I swung and missed completely.  But he never laughed.  At least I don't think so. My head was finally down.

Leave a Comment (11)

Posted: 07/6/10 5:30 AM