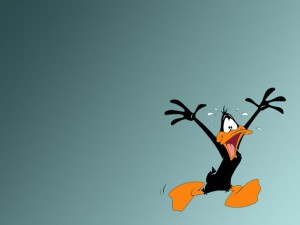 "Oh, I don't know how I could have doubted you!" – Porky Pig
Now I remember dating. The first date you're a little nervous; second date, you're excited; third date, reality sets in. Or how about starting a diet? Best intentions. Monday, you're ambitious; Tuesday, you're in the groove. Second week, you've lost a pound or two, you feel slightly smug. Third week? Well…perhaps you find yourself picking at your kid's Happy Meal French fries?
I was mad at myself last week. It was my third date with my Blog. I didn't do what I had set out to do. Reality was setting in. This was going to be tougher than I thought. How can I make sure life doesn't get in the way of my 52 weeks of fun, challenges, progress and getting "unstuck"? My first two weeks were great. I finally got married to blueberries and took my first golf lesson . How can I make sure this relationship goes the distance?
Okay, first the excuses: It was a million degrees out and a short week because of the July 4th holiday. The day I had planned on going out to conquer something wonderful on my personal list I found myself with my daughter at Despicable Me, the new 3-D movie (something on her list that week!). The air-conditioning and popcorn were a welcome relief from the humidity and heat outside. Good movie by the way. I'll spare you from the "quality time with my daughter" stuff and instead be completely honest: I felt as despicable as the main character in the movie. A strong word I know. Perhaps better saved for Mel Gibson or the horrifying oil spill and the people that failed to prevent it. I simply had failed to carve out enough time for just me this week. Or maybe it was the heat wave. Not sure. But it was my third date with my Blog and I was questioning this commitment.
Okay, maybe I wasn't despicable. Maybe, as Daffy Duck once said, cleverly mispronouncing the word, "I was more dethpickable!" It's less harsh that way and more accurate in this case. But how can I mess up on the third week when I feel so passionate about the whole thing? How will we inspire other people to get off their butts when I couldn't get through the third date?
And then Pam, my partner-in-crime on the52weeks called. Earlier in the week, on the phone, we coincidentally both felt stuck about getting "unstuck" this week! She had taken her daughter horseback riding. This wasn't on Pam's list. It was something she had promised her daughter she would do. Her week had gotten away from her as well. We commiserated, we complained and then we just started laughing a little. "I guess we have to both get back in the saddle next week," I said, amused and slightly and amazed that she was literally on a horse and we both had lost our way a bit this week. But maybe we didn't. Pam's horseback riding outing for her daughter had some surprising results. I smiled and remembered why we were doing this to begin with: to have fun. Relationships should be fun whether it's the first, second, third or 100th date. But reality does set in; there are definitely hurdles along the way. I was glad I had Pam to go through this with. It wasn't going to be easy but I know I will be back in the saddle next week. And it's not just about getting back in the saddle; it's also about being ready for the actual ride. So it's time to hold on and move forward.
Complete disclosure? I didn't just eat popcorn at the movies. I found my hand reaching in my daughter's disgustingly-good box of Nestlé's Buncha Crunch. Some weeks you just can't focus. Glad I have Pam and Porky to remind me not to doubt myself as I face a new week. And, for the record, the main character in the movie learns some life lessons. In the end, he's only dethpickable!.

Leave a Comment (4)

Posted: 07/13/10 10:00 PM