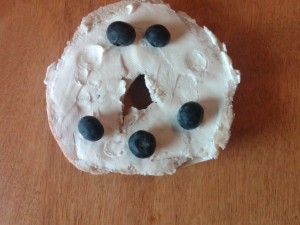 Leave it to Oprah.  Just as I was struggling to find the best words to talk about  blueberries and write my first post, I picked up the July issue of O magazine and  decided to relax and just do some mindless reading. And there it was:  a great article about food, featuring the perfect quote from Winnie-the-Pooh that somehow made it all come together.
"When you wake up in the morning, Pooh," said Piglet at last, "what's the first thing you say to yourself?"  What's for breakfast?" said Pooh.  "What do you say, Piglet?"  "I say, I wonder what's going to happen exciting today?" said Piglet.  Pooh nodded thoughtfully. "It's the same thing," he said.
And that's exactly it.  Or at least that is what blueberries have come to represent to me – exciting possibilities. For the last two years I have told myself that I need to eat blueberries every day or at least "frequently" because they are one of the most healthy foods – packed with antioxidants that counter bad habits (and I certainly have some), low-calorie and easy to eat.  In fact, experts say just a handful a day can do some great things. According to studies, blueberries have the highest antioxidant capacity of all fresh fruit, aid in reducing belly fat and are natural anti-depressants!  But blueberries are more for me — they represent something "different"; something so simple to incorporate in my diet but yet so elusive these last two years.  I have told myself that if I can successfully consume them daily, they will be a powerful statement that I am starting on a new and different path. For approximately 24 months I have purchased them, even splurging for the organic variety, and they remain uneaten in my refrigerator. The best intentions are soon followed by an inevitable craving for carbs, eggs or something else in the morning.  Without fail, they sit in the fridge, taunting me, changing each day from a vibrant, bluish-purple hue to slightly brownish color, shriveling symbols of failure.  In fact, I can not even tell you how many times I have disposed of a container of blueberries, uneaten, raisin-like; tossed in the garbage.  For me, they are not just a fruit; I imagine one huge blueberry as the mascot for feeling a bit "stuck".  If I could truly eat them, enjoy them a bit, then for me, like Pooh, it would represent something more – moving in the right direction, being "unstuck", sticking to goals.  It would mean that something exciting could happen.  So for this week, I bought blueberries on Monday and was determined to eat them every day for a week.  And I did.
I can't believe I am launching this Blog and have committed to this 52 week "do something new, challenging, different" each week experiment. Some people may think, "What's the big deal?  "I always do something new or change things up".  Well, great; good for you.  But I am fairly confident that if you're around a certain age life gets in the way; old habits die hard and there is stuff you are not getting to. Hopefully, in the end, this project will inspire some and show others that there is always something on the list.  I know that many of my 52 things over the next 52 weeks may seem ridiculous to some; even "old hat" to others.  Or, you simply may just not "relate" to what I am doing. But there is one thing I am sure of:  you will relate to the emotions that are part of the ride. It's all about getting off your ass and just doing it — "it" being very personal of course for each person.  The universal message here though will hopefully inspire others to make changes and move forward.    They could be seemingly small things, some "bigger" and sometimes Pam (my brave Blog partner) and I will venture out together. I am sure some weeks we may feel like doing nothing for the sake of doing nothing and we'll blog about that too.  It is real life after all and life gets in the way sometimes.
So back to my blueberry week. Last Monday I ventured out to a top NYC gourmet market and spent too much money on organic blueberries (again).  There they were, sitting on the shelf, those ubiquitous plastic containers holding dozens of those things at a time. I grabbed two containers and went to pay. Maybe it was my imagination but I could have sworn the cashier was laughing at my determined expression.
From past experience I knew this was only the first step; it would mean nothing if I threw them out again.  I also knew I could not go "cold-turkey' and skip carbs completely. So on the first day, just to have a laugh and ease into it I playfully threw a handful on my half a bagel with cream cheese. I am not kidding. That's what I did.  The next day I had a handful "on the side" with my eggs and toast – a colorful accompaniment. By Day Three I smiled as I ate them simply on yogurt. Progress. I was getting there; all of a sudden I felt the satisfaction that only happens when you say you are going to do something and actually stick to it.  By week's end I was simply on the run, having a banana and a handful of those blue things on the way to the gym an hour earlier than usual.   Hey, I was on to something.
Such a simple little thing that is good for you. I did it. This little, stupid change has pushed me out of the starting gate. I hope it will be the fuel I need for the next 51 weeks. I hope that on the 10th week or the 25th week or the 46th week or whatever week I set out on bigger challenges I will be inspired by my blueberry project.  Regardless, Week One is over.  I hope I don't have to ask myself "what's for breakfast?" going forward.  I hope blueberries and other good things find their way into my meals without even thinking about it. I doubt it will be fool-proof but I can hope.  But, I do live in New York City:  home of the best bagels in the world. Thank G-d they will always be just a block away. I wonder…do they make blueberry cream cheese? Till next week…

Leave a Comment (28)

Posted: 06/28/10 3:00 AM